Once you've figured this one out you're in 'good shape' on your diamond buying journey! Here at Rare Carat we see millions of searches. We've crunched the numbers on which diamond shapes are most in-demand: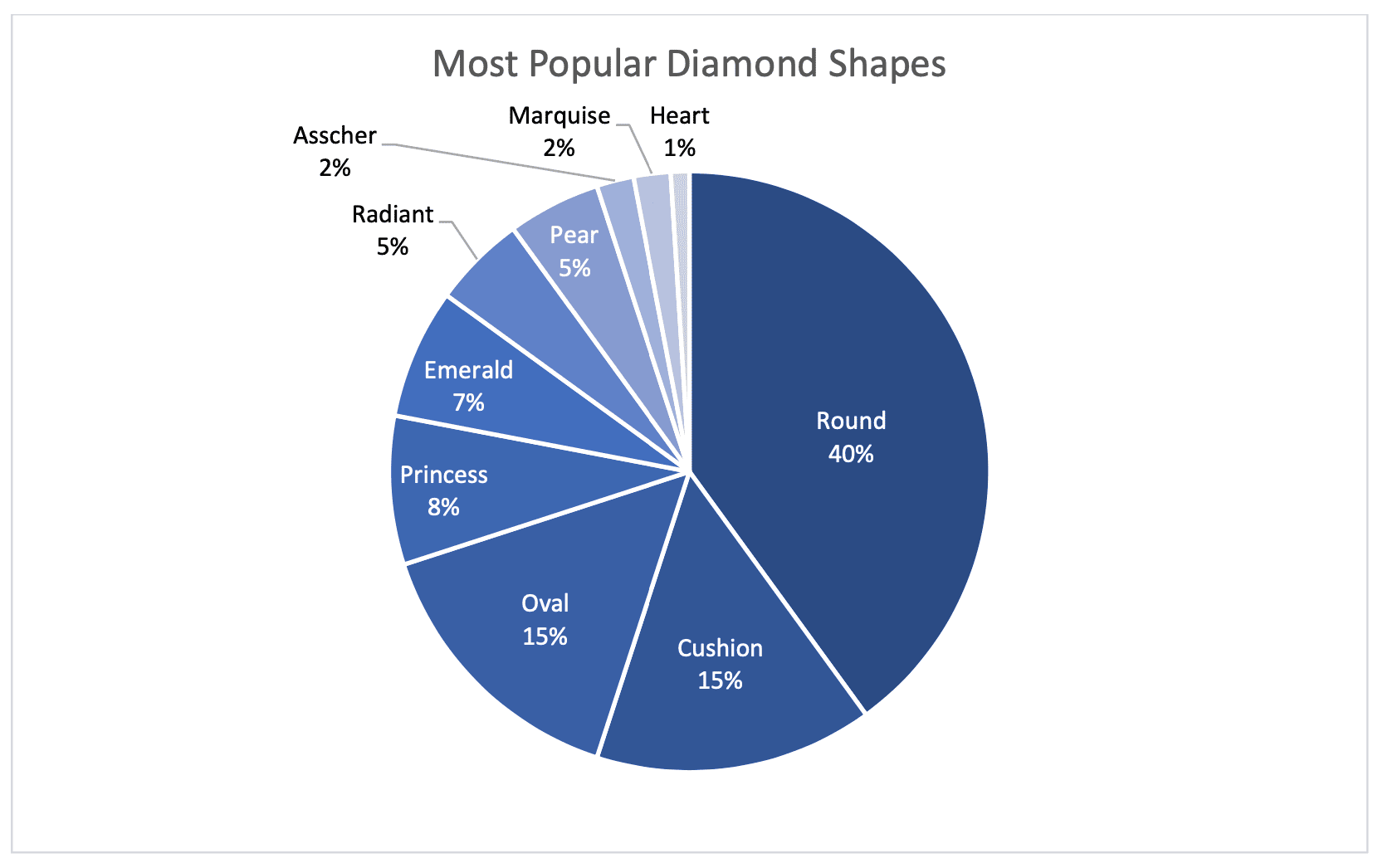 And here's our quick need-to-know on each one in order of popularity - with a rough estimate for the cost of a 1 carat H color VS1 clarity diamond by shape.
Round Brilliant Cut Diamonds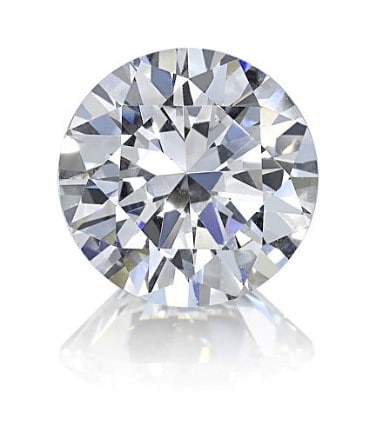 If you're scared of going wrong, this is definitely a safe choice. Classic, traditional, and the most popular one by far. However, you could get the same size (carat weight) in a non-round for less. 1 ct Round H VS1 starting at: $6,200
Read more about the round brilliant cut here
Cushion Cut Diamonds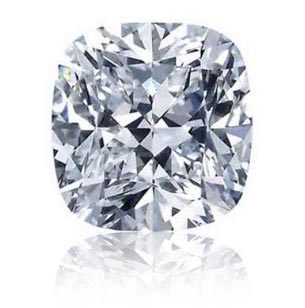 So this is definitely 'in' right now. Meghan Markle, Priyanka Chopra all got cushion diamonds in their engagement ring. It kind of looks like a round from far away, it's still a classic shape, and is cheaper than the round for the same size. 1 ct Cushion H VS1 starting at: $3,400
Read more about the cushion cut here
Oval Cut Diamonds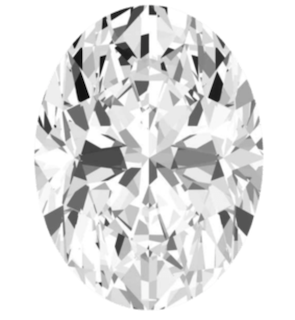 Think round but just a little stretched – and it'll make her fingers look longer and more elegant. 1 ct Oval H VS1 starting at: $4,675
Read more about oval shaped diamonds here
Princess Cut Diamonds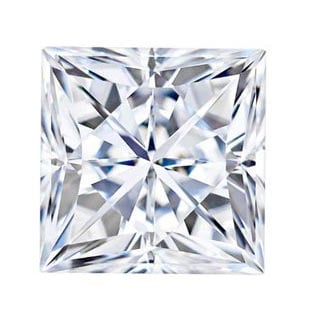 You have softer, rounder shapes like above – and more angular ones like this the princess cut. It comes with a different set of things to watch out for like symmetry and 'chevrons'. 1 ct Princess H VS1 starting at: $4,150
Read more about the princess cut here
Emerald Cut Diamonds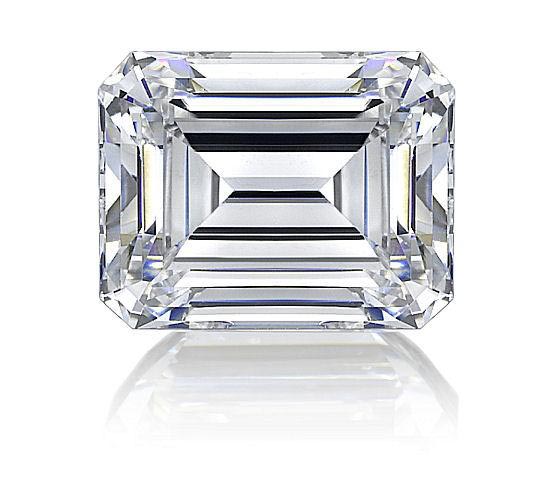 This Great Gatsby look shines in a totally different way – it's more like a 'hall of mirrors' than your traditional sparkle. Beyoncé rocks a massive one that's worth $5m, for what that's worth. 1 ct Emerald H VS1 starting at: $4,150
Read more about emerald shaped diamonds here
Radiant Cut Diamonds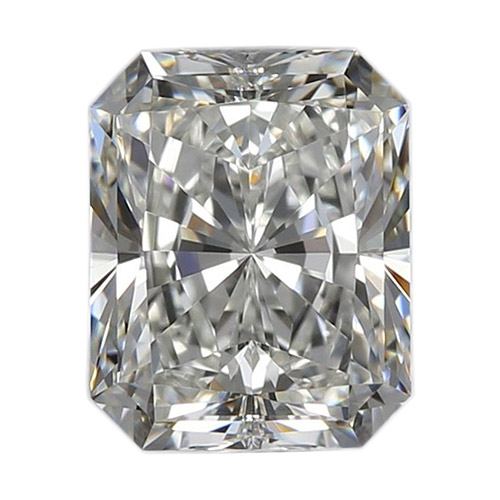 Well, it's like a princess cut and an emerald cut got together, and you know, had a baby. 1 ct Radiant H VS1 starting at: $3,850
Pear Cut Diamonds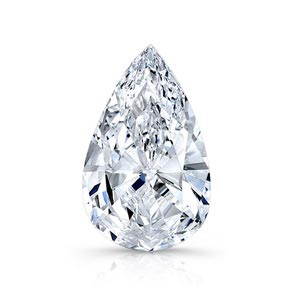 You've got wide ones, thin ones – and the rule to follow is the Goldilocks principle: find one that's 'just' right in terms of length/width ratio. 1 ct Pear H VS1 starting at: $5,100
Read more about the pear shape here
Asscher Cut Diamonds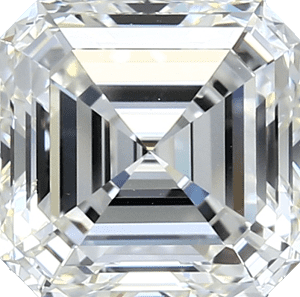 Totally like the Emerald's younger sibling – just with cut corners so it's like an octagon rather than a rectangle – again, very Great Gatsby. 1 ct Asscher H VS1 starting at: $4,000
Read more about asscher's here
Marquise Cut Diamonds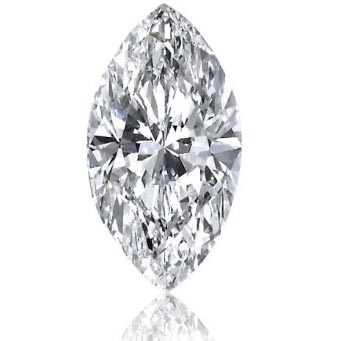 OK, not the most popular but it is one of my favorites. You just need to be careful on getting the right one – watch out for the length/width ratio and 'bowties'. 1 ct Marquise H VS1 starting at: $4,500
Read more about the marquise shape here
Heart Cut Diamonds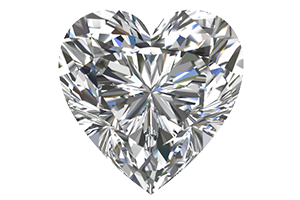 Like all matters of the heart, this is a tricky one. It's an awkward shape to get right when cutting but if you like the symbolism for it, go ahead. 1 ct Heart H VS1 starting at: $3,575
Read more about heart shapes here
Whats the best cut grade for the shape? Rare Carat Ideal! Check it out here
Looking for a deal? Check out all of our promos here
Get started searching for your favorite shape HERE. And, as always, our graduate gemologists are standing by over in the chat bubble to give you a hand searching or to answer any additional questions you may have about diamond shapes.