When it comes to engagement ring styles, the sky is the limit! We love the traditional diamond engagement ring in all of its classic beauty… but sometimes an alternative option is more us, more interesting, or just more appealing amiright??? So, what is a non-traditional ring anyways? What are some of the top non-traditional engagement ring styles? And which trendy stones can be used as an alternative to diamond? If you are curious about any of this, continue on…
What is a Non-Traditional Engagement Ring
To better recognize what a non-traditional engagement ring is, we need to understand what a traditional engagement is. I'm assuming this type of ring is pretty much exactly what you imagined… a solitaire, or single diamond, of any shape (but often round), with a single metal band holding the diamond around your finger. This is most definitely the classic and traditional diamond engagement ring look. So, for me at least, non-traditional would be anything that isn't this characteristic look. This allows a lot of freedom and creativity to discover something you feel to be truly you.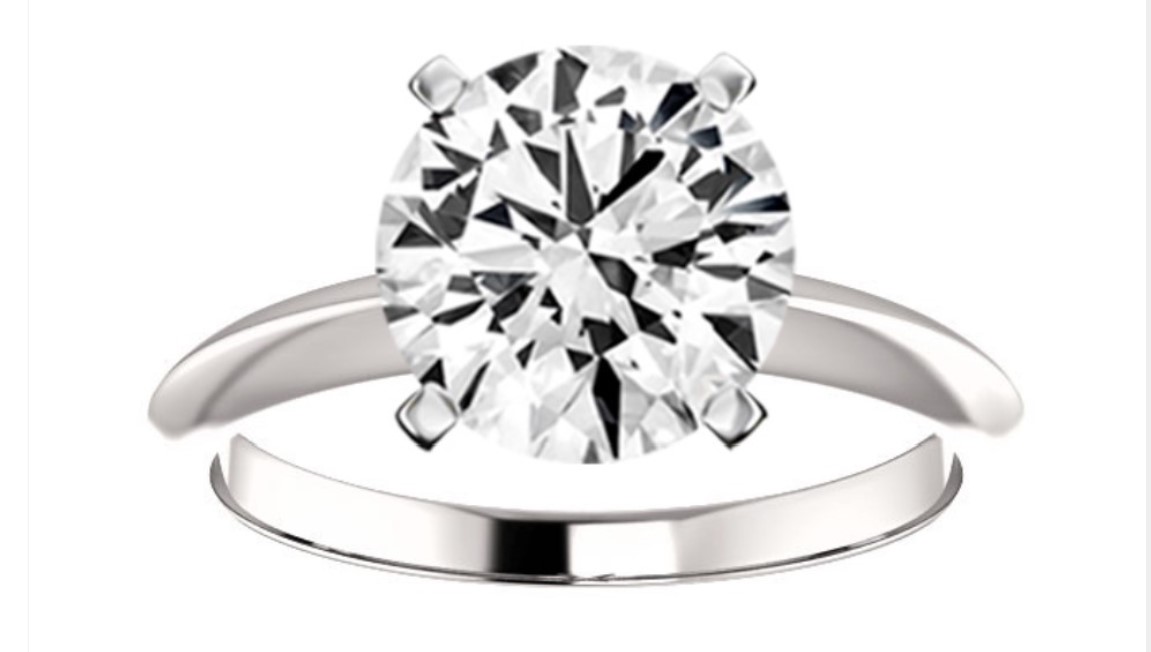 Top Styles
Vintage
Vintage looking or even actual antique rings are extremely popular right now. This style can be achieved by either the setting design of the ring (how and/or where the stones are placed), or by the diamond's cut itself. I wanted to start with the vintage look because there are lots of options here.
For example, art deco engagement rings are characterized by their abstract designs, geometric patterns, and bright or contrasting colors. Often you will see these with a round or oval center stone that is surrounded by brightly colored accent stones - like our beloved emeralds or vibrant rubies. These rings can be very interesting to look at, kind of like little pieces of art.
Another popular vintage style is the cluster ring, where smaller diamonds are clustered together usually in the center, creating a maximum sparkle situation. For a little extra detail, using a vintage looking metal material, such as brass, will also add to the vintage essence we are going for.
The diamond's actual cut can also create the vintage feel. Rose cut, old mine cut, and old European cut diamonds are the prime examples of this. The rose cut was one of the first, more advanced, styles we created once cutting diamonds was possible (took a minute to figure it out how to cut a diamond since diamonds are crazy hard). The rose cut has a flat-ish base with more of a domed top half. It won't sparkle as much as a traditionally cut diamond will, but its subtle beauty is there. Fun fact - we have seen some celebrities donning this unique diamond cut recently (Lily Collins comes to mind first).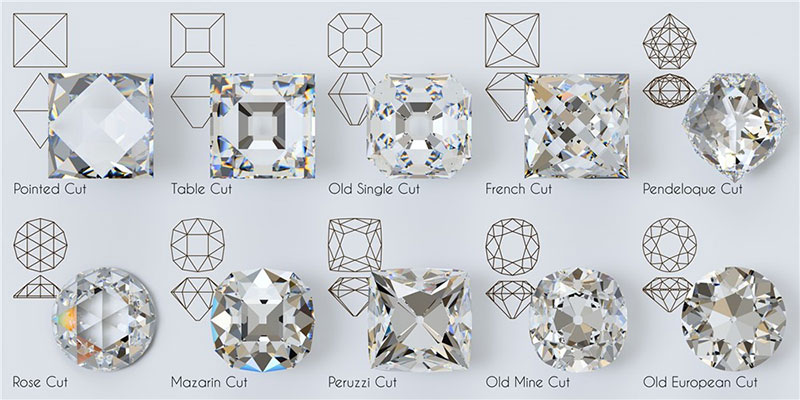 If you're into old school diamond cuts from the past, the old mine, and the old European cut are also starting to make appearances again. Both are recognized as being truly vintage and both have proportions that are different than our standard diamond, but the old mine has more of a square-ish shaped outline, which gives it the distinctive look it has.
The old European cut (and the last of these 3 vintage cuts) is the most brilliant, giving us the best sparkle. The old European is the most closely related to our modern day brilliant round cut diamonds. These are easily recognized by the visible circle through the center of the stone… which is actually the characteristically larger culet (a culet is a flat side intentionally cut at the bottom of a diamond instead of leaving the point).
Band Styles
A split shank (where the band literally splits into two to hold the diamond), band covered in colored gemstones, or thick and wide bands are other current trendy alternative options. Don't be afraid to be creative here. The band is a good opportunity to add depth to the engagement ring!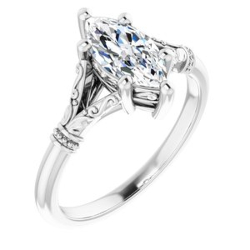 Diamond Designs
Since the traditional diamond engagement ring is a solitaire stone, anything beyond that would be considered non-traditional, so that's easy. Fun designs, like floral motifs, are fashionable and can be a creative use of diamonds or colored gemstones. Additionally, using multiple stones (big or small) in any design arrangement is well-liked and can be beautiful for an alternative engagement ring design.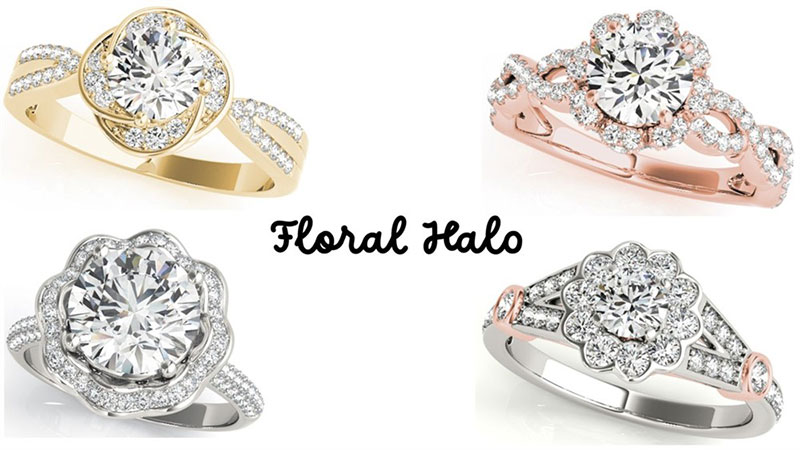 Even having a lack of diamond, or center stone in general, is also an option! Something like a bypass ring, where the metal coils around the finger but doesn't fully close off, would be a great choice here. Adding small stones around the coiling metal would be your opportunity to throw in some color or sparkle or something of sentimental value perhaps.
Alternative Stone Options
There are hundreds of types of gemstones in the world, but only a few of them are hard enough for jewelry, and of those - only a handful are well known to the public masses. Out of the easily recognizable stones, rubies, sapphires, emeralds, opals, and pearls are most definitely the top commonly chosen gems (besides diamonds, of course).
Rubies and sapphires epitomize mystery and romance, and they are both actually quite practical as an engagement ring stone. A very important consideration when choosing any stone for the engagement ring would be its hardness… because this ring is worn every single day. The ring will be vulnerable to scratches and abrasions, going wherever your hand goes. This is exactly why diamonds work so well as an engagement ring stone- they are the hardest substance found on earth. One level down on the hardness scale (or about 4 times softer) are ruby and sapphire. They actually come from the same family of gemstone called corundum (which no one will ever ask you but now you know… you're welcome). This is still substantially hard for a gem and hence, I would say it is also a great alternative option to diamond.
To add to that, I specifically love sapphire as an option because this stone comes in every color! Sure, blue is what comes to mind when we think OG sapphire, which would be perfect for a traditional sapphire lover… but it also comes in a literal rainbow of options. For instance, a yellow sapphire would be a solid, more affordable alternative to a yellow diamond, or purple sapphire would be fun for people who adore purple.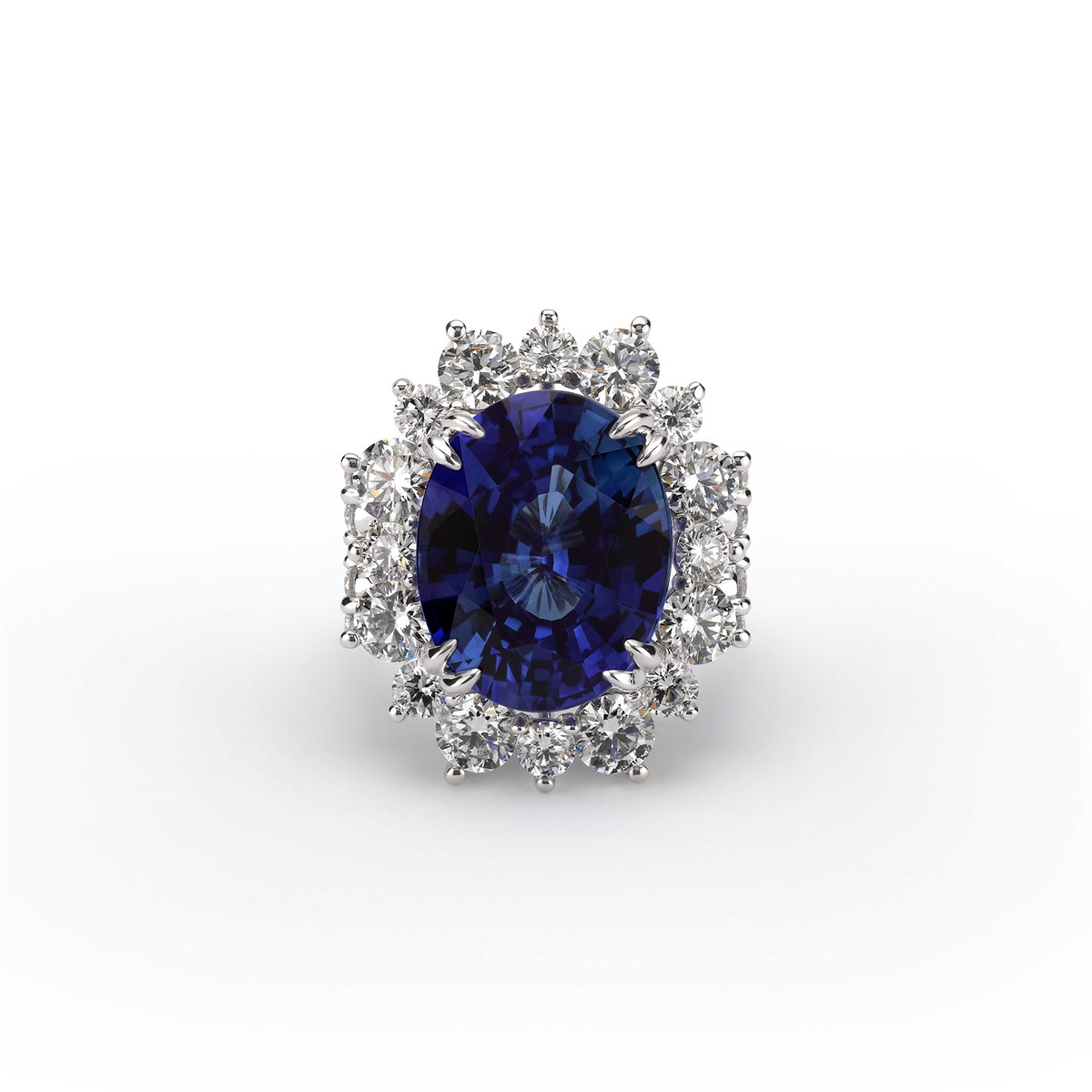 Then we have the emerald. I know emeralds are enchanting, but they tend to be highly fractured stones naturally. This obviously can be dangerous, over time, for a ring worn every day. Some settings can be more protective than others so this can help in damage mitigation if you truly want an emerald (look into bezel settings).
As far as opal and pearl go, on a practical level, they are soft so they both can scratch easily, and both will slowly dry out over time (regardless of proper care, sadly). Don't let this deter you if you really love these gems though. Just know that occasional replacements may have to be made!
Non-traditional engagement ring styles are really a fun way to add some personality to the classic engagement ring. Going vintage, switching up the normal band and/or diamond design, or even swapping the diamond for another popular gemstone alternative are all great ways to achieve something non-traditional.