Now that you've got the diamond picked out (yay, the hard part is done), you're probably wondering what to do about the setting. Well do not fear, we are here to help (seems there is a common theme here lol)!
When it comes to picking out a setting, you really can't choose wrong, since they are based on personal preference and style. Check out our settings page to see all of the options we have to offer!
Already a Pro? Jump to:
Solitaire * Halo * Hidden Halo * Cathedral * Three-Stone * Pave * Bezel
Well, How Do I Figure Out What Style She Likes?
I've got some suggestions dear reader, don't worry!
Ask Her! For real, I'm sure the conversation of marriage has come up a time or two otherwise you wouldn't be here shopping for a ring (amiright?). You don't have to be super blunt about it like "hey babe, I'm buying you a ring, what kind do you want" but you can casually bring it up here and there to get some ideas without blowing the surprise.
Ask her family and friends. Girls talk. We share explicit details with each other. Chances are, her BFF's are going to know what style of ring she wants. I bet her mom and sisters (if she has any) will also know. And even if they haven't had a deep conversation about rings recently, they know her well enough to give you a hand picking out something she'll like. Because as I said before, girls talk. :)
Check out her Pinterest page. This one seems so easy, but is often not thought of. Most likely, she's got a few wedding and ring boards just waiting for you to spy on.
Follow the trends. This one comes with a disclaimer. Ring styles, and even diamond shapes, go in and out of style. Back in the 80s the marquise shaped diamond with a gaudy yellow gold setting was all the rage. Bring in the 90s and early 2000s, princess cuts in white gold dominated the land. Now though, those styles have taken a backseat to ovals (thanks Kardashian's), elongated cushions and pear shapes with thin pave bands.
If all else fails, go with a traditional round shape solitaire. The round brilliant will never go out of style! If you choose a solitaire setting, you can always upgrade the ring later on to something that she loves (and can help to pick out).
We've Got an Inspiration List to Get You Started!
You didn't think we'd just tell you how to find out the style of setting she likes without giving you some inspiration, did you? We don't roll like that! Below you will find some of the most popular styles along with some more out of the box or unique (I like unique better) styles to get you started on your search. Bear in mind, this is just a quick guide. We have hundreds of setting options available on our search page plus all of our retailers offer custom design if you truly want a one-of-a-kind ring. We've got you covered!
First, Let's Take a Quick Look at the 4 Main Setting Types
(and how to search for them on our site)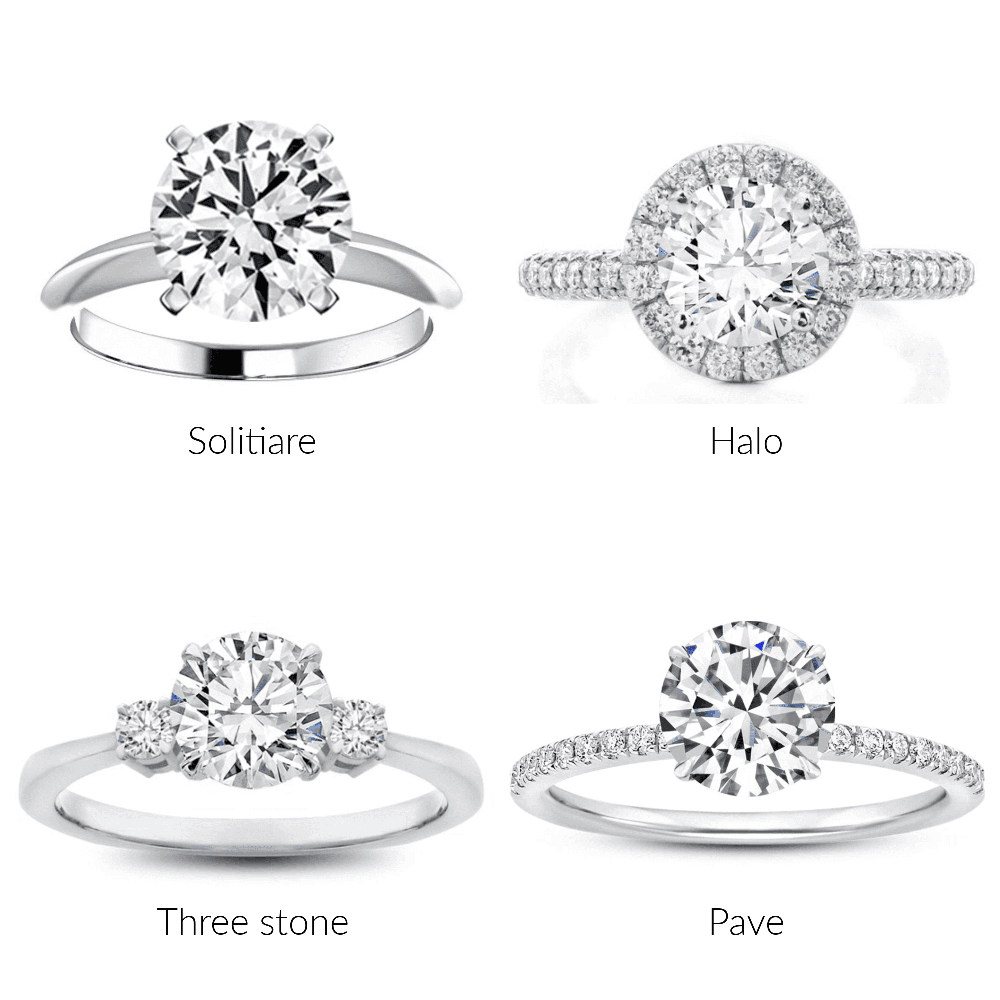 The solitaire, halo, three-stone and pave are the 4 most common engagement ring styles. See one you like better than the others? You can filter on our settings page to see only styles you like! To even further narrow down the results, you can use the keyword search box.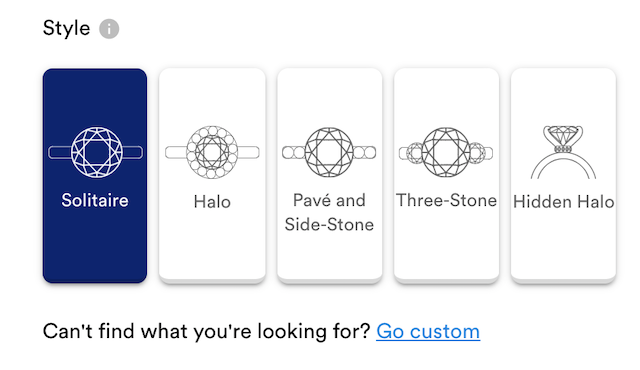 Alright, now that that's out of the way, let's get looking at some rings! Yeah!
Solitaire Setting
This is the classic. A diamond and some metal. The stone is held by prongs that can be rounded, straight, flat or V-shaped. The band can be thin or thick and can be engraved.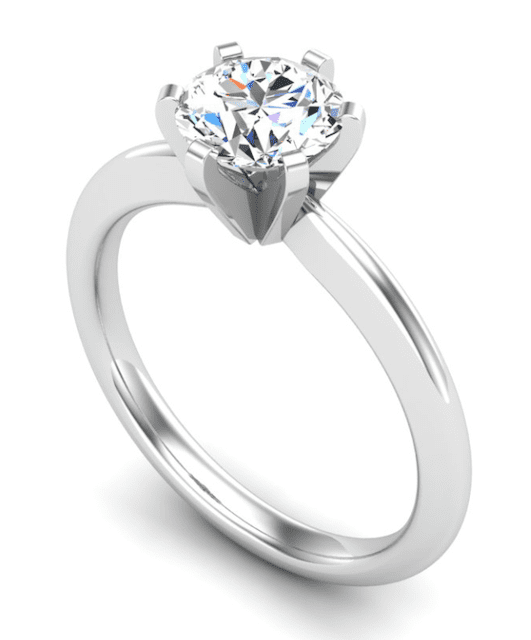 First up we have the Maria 6 prong solitaire ring. It can also referred to as the "Tiffany-style". Shown in white gold, this classic ring style comes in all the metal types (14/18kt. yellow, white or rose as well as platinum). Not only is a 6 prong head (the part that the diamond is secured in) uber secure, it makes the ring look a little different than the traditional 4 prong. Just keep in mind, the more metal around the diamond, the less you will see, so I would reserve this style for a 1 carat or larger center stone.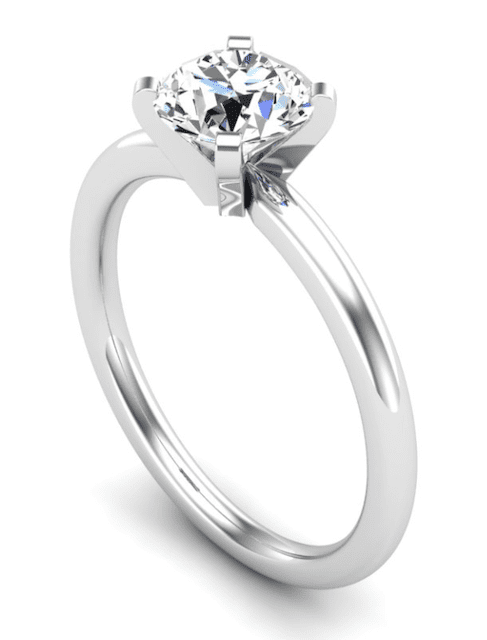 Next, we have the classic Leah 4 prong solitaire ring shown in white gold. It too comes in all the metal types. You really can't go wrong with a classic like this one!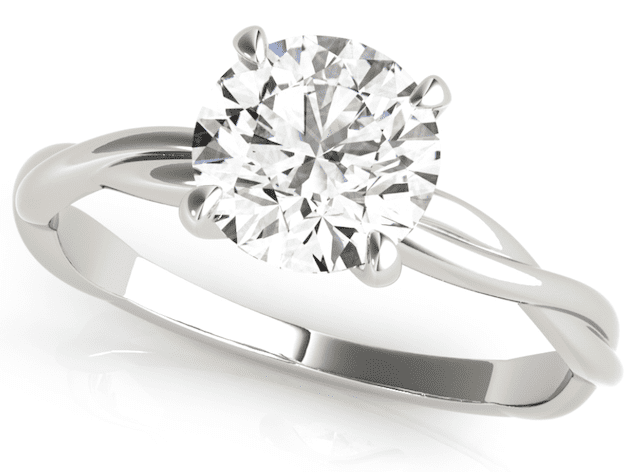 Finally, we have the Celeste 4 prong twisted solitaire. This beauty is still a solitaire style ring, but adds a little flair to the band with a twist!
Search for more Solitaire settings HERE
Halo Setting
The halo setting has a continuous circle of diamonds that follows the shape of the main diamond. It creates the illusion that the diamond is larger which is perfect for a smaller center stone. You can find halos in many different shapes and styles, but typically the most common options are a single or double row of round diamonds.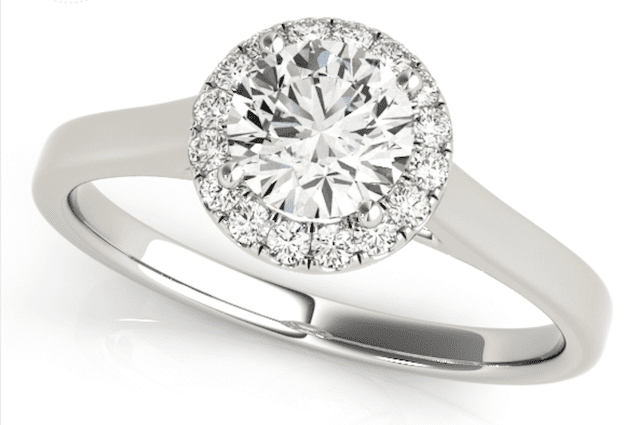 Here we have the Aria single halo setting. It has a single halo filled with round diamonds and a cathedral style ring shank. It's a great way to add a little extra without going crazy.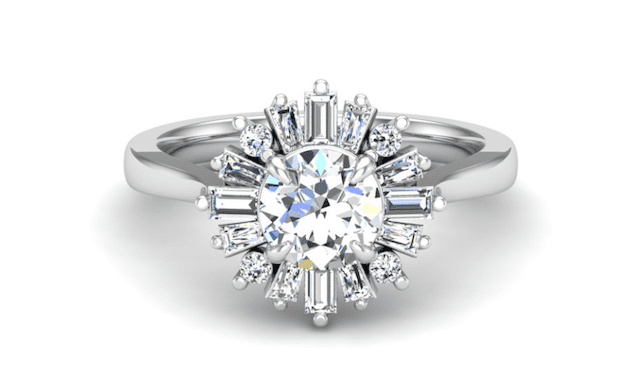 This swoon-worthy ring is ready to make a statement on anyone's finger! Veering away from the traditional round brilliant in the halo, the Alice Ballerina Halo setting is set with straight and tapered baguettes as well as rounds. Want to learn more about what a ballerina style halo ring is? Check out this article about halos.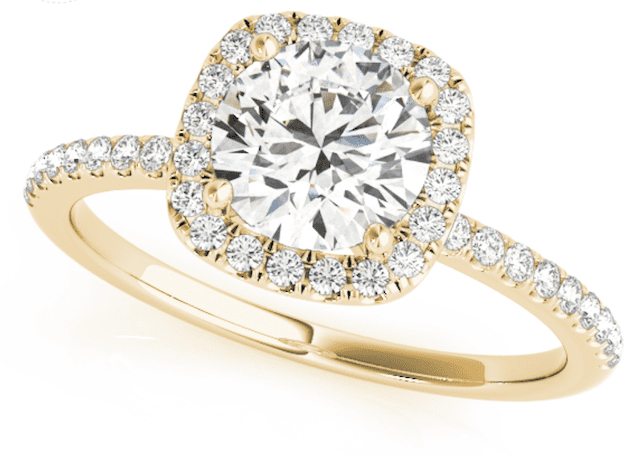 The Chloe cushion shaped halo with pave is a pretty classic halo style. It's shown in yellow gold (it's it purdy?) and can be made in any of the other metal options we offer. If you're looking for some bling, choose this ring!
Search for more Halo settings HERE
It wouldn't be a complete section about halos without mentioning the hidden halo. This can come in many different forms but is usually either a small halo around the peg of the head (see above diagram) or diamonds on the prongs and/or the basket.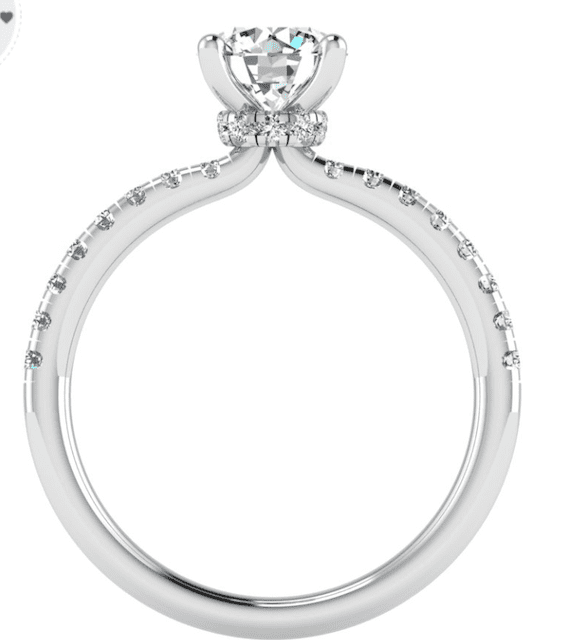 The Charlotte Hidden Halo with Pave is a great example of the halo that sits under the head. It's tough for the wearer to see, but gives off just a little extra elegance and mystery when viewed from the side.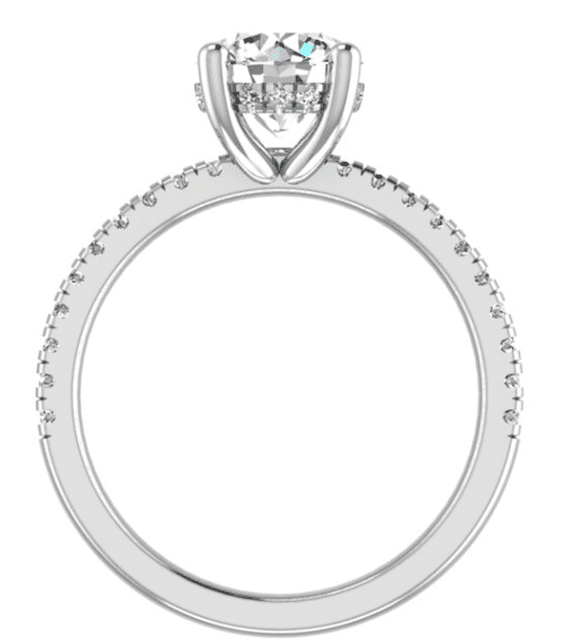 This Gabriella Pave Hidden Halo is a great example of diamonds along the basket of the head. Again, it's not something the wearer will see every day, but anyone viewing the ring from the side will see the extra pizazz it has!
Search for more Hidden Halo Settings HERE
Cathedral Setting
The cathedral setting style uses arches of metal leading to the center stone and is sometimes adorned with other stones. The graceful upwards swoop tends to add extra height so one must take care when wearing it as it can snag easier than most.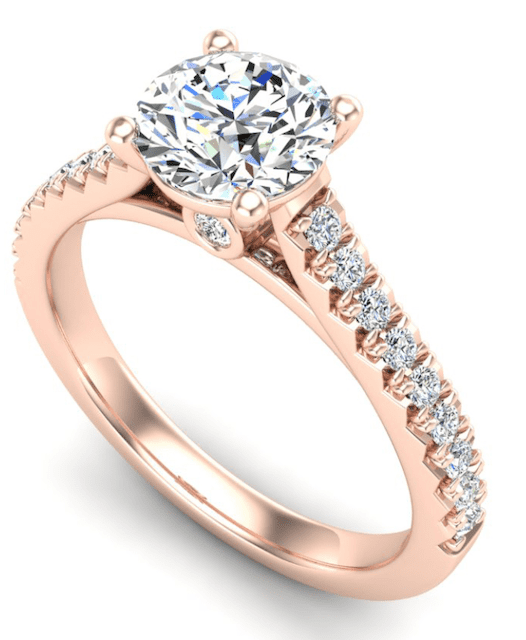 The Gianna French Pave Cathedral setting incorporates the classic cathedral style with 2 peekaboo diamonds on the profiles of the ring. Frech set pave diamonds (we'll learn about that a little later) adorn the band giving it a ton of extra sparkle.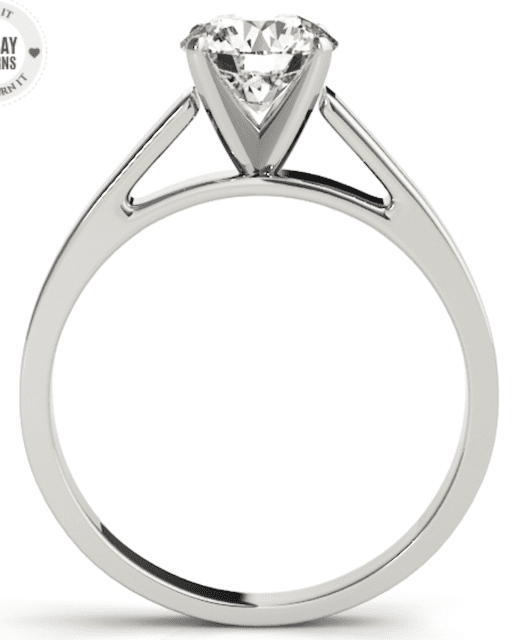 The Nyssa Cathedral Solitaire setting features a wide band (2.5mm thick) which will really make a statement!
Search for more Cathedral Style Settings HERE
Three Stone Setting
*The three stone setting is sometimes considered to represent the past, present, and future. There are three diamonds that take center stage rather than 1. They can all three be the same size and shape or the center stone can be the largest with two smaller stones flanking it. *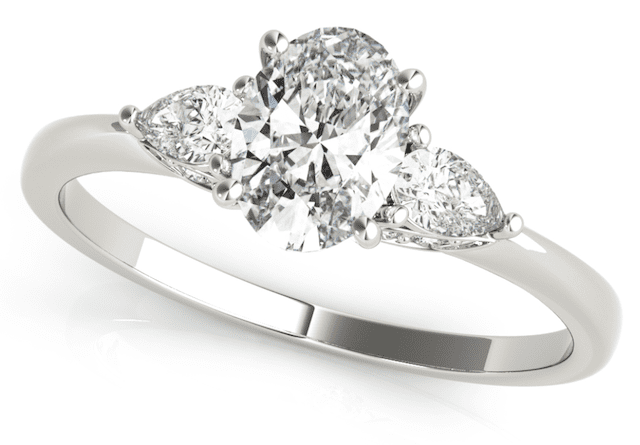 The Kennedy Three Stone has two pear shaped side stones that frame the oval center stone beautifully.
The Rosella Three Stone ring screams elegance and sophistication. It can be set with any shape center stone and has 2 round side stones along with a diamond split shank. Perfection!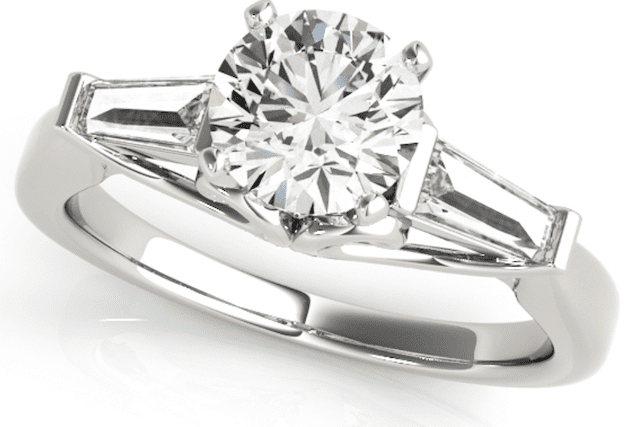 To round out the three stone examples, we have the classic Delilah three stone setting. It can be set with any shape diamond and has tapered baguettes which are super popular for 3 stone settings.
Search for more Three Stone settings HERE
Pavé Setting
The French word meaning "to pave"…but this time with diamonds. Set very close together and held in with tiny prongs. May also be known as "micro-pave" if the stones are extremely small. Note of caution: if diamonds circle the whole ring, you NEED to get the size right from the get-go. Unlike a simple metal band, resizing is a real pain/impossible.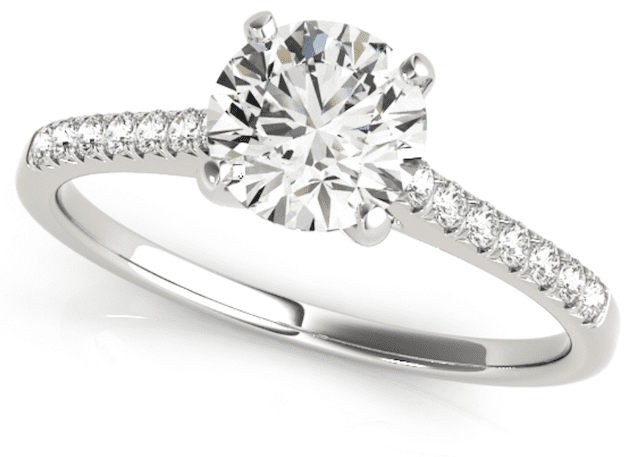 First up is the Eleanor Pave setting. This beauty has a thin (1.6mm) cathedral band with diamonds that go 1/2 way down the shank. It's a great way to have a little extra oomph but still have the center stone be the star of the show!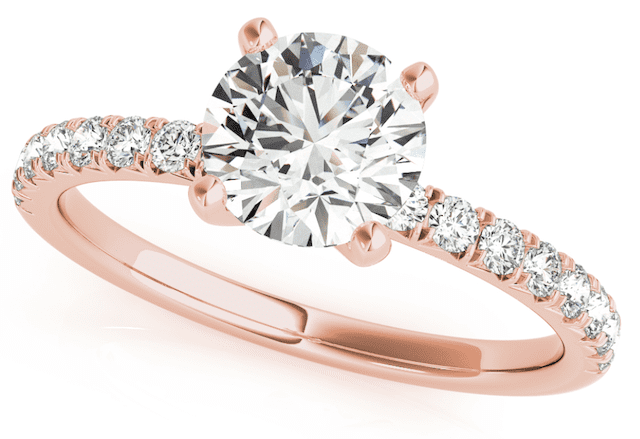 The Hazel Pave setting looks quite similar to the above Eleanor, but the side stones are a little larger. Doesn't it just look spectacular in rose gold?!
Search for more Pave Settings HERE
Bezel Setting
This is a modern look, with the metal surrounding the stone or stones. A "semi- bezel" partially circles the stone. This type of setting is chosen by people who are active or perhaps wear gloves as part of their profession (snags less easily than prongs and higher settings).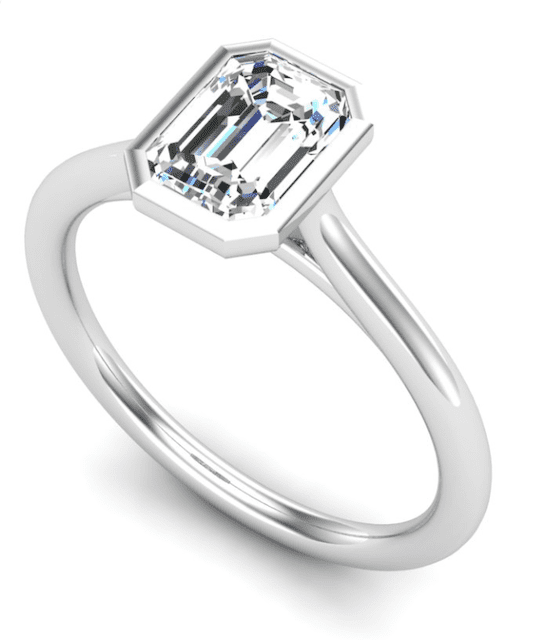 The Emery Bezel Setting is a classic full bezel solitaire ring that is suitable for any shape diamond you choose.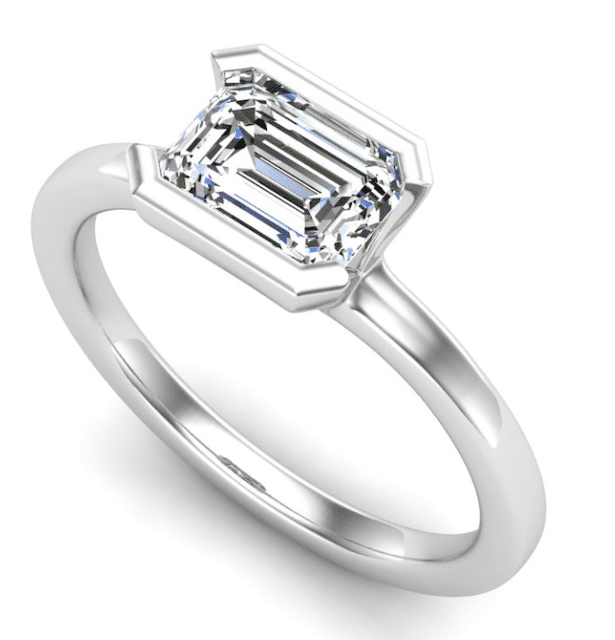 The Adeline is a great example of what a 1/2 bezel looks like. It can fit any shaped diamond, but be cognizant that it will be set East/West for those elongated stones (oval, radiant, etc.).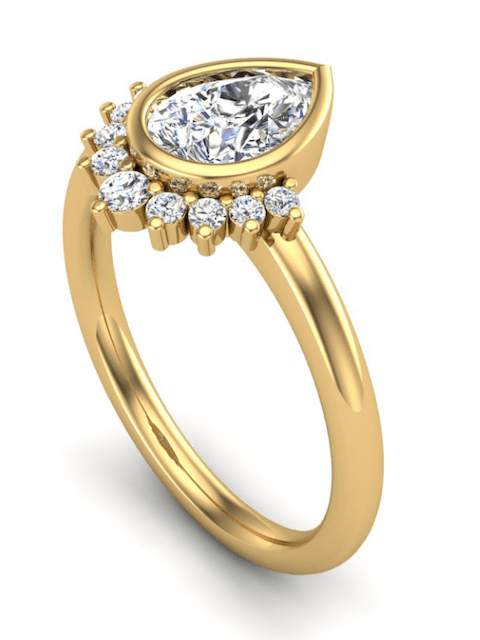 Finally, we have the Cora Pear Engagement Ring. This setting can be altered to fit any shape. It features a full bezel with feather-like decorative melee around 1/2 of the bezel.
Search for more Bezel settings HERE
Other Setting Styles to Mention
(These can be searched using the keyword bar on the settings search page.)
Bar
Cluster
Engraved/Filigree
Antique/Vintage
Split shank
Channel set
Well folks, that's a wrap on our settings guide! I hope it's inspiring to you. As always, if you have any questions feel free to jump on over to our live chat bubble to speak with a graduate gemologist.