Ring Setting Styles
So we keep getting the question, well what about the setting? What happens is, you come in with a budget, and want to know how much you can blow on the rock.
Well we tried to put together a guide – which was a pain in the @** - because there are many variations. Keeping that in mind, we still decided it will be helpful to share. If you have a picture of a ring that she'll like, you can try to match it up here.
That said, the prices here are estimates. The things that change prices are are the metal weight, the metal type (14k, 18k, Platinum), the size and quality of the small diamonds adorning your setting if that's what you choose.
These are listed from most to least common, so you unless you know what you're doing drop off earlier rather than later before you pick some esoteric ring that makes her say no...
Solitaire Setting
This is the classic. A rock and some metal. The stone held by prongs that can be rounded, straight, flat or V - shape. The band can be thin or thick, and can be engraved.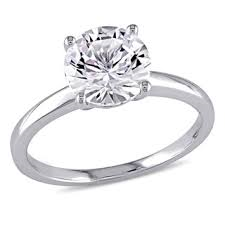 $800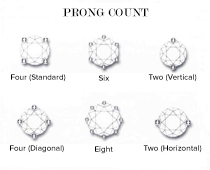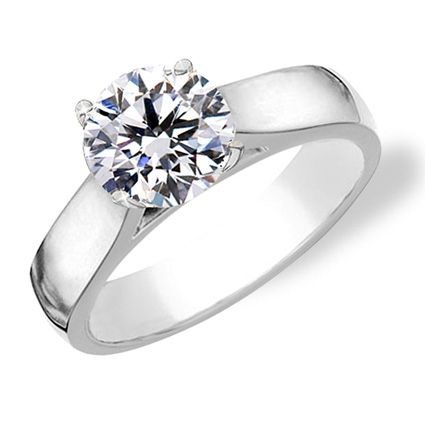 $1100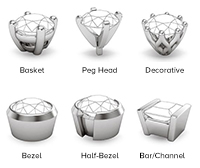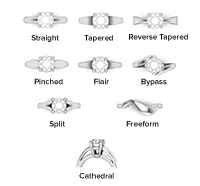 A special solitaire: The "Tiffany" Setting
Unless it comes directly from the "Blue Box" shop you will have a Tiffany 'Style' setting which consists of a solitaire with a six prong "knife life" claws. If you have zero idea of what to go with, choose this style, it's a classic. That's what our founder, Ajay, ended up picking for his now-wife, and he is still married. Random fact: it's so popular that Tiffany sued Costco for infringing on the design.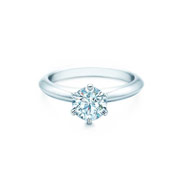 The actual Tiffany setting is above – a Tiffany style setting will run you about $900
Cathedral Setting
This one uses arches of metal leading to the center stone, and is sometimes adorned with other stones. The graceful upwards swoop tends to add extra height so one must take care when wearing as it can snag easier than most.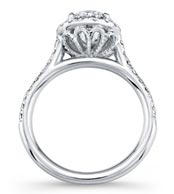 .45 ctw $1800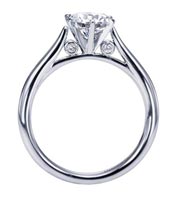 .10 ctw $1150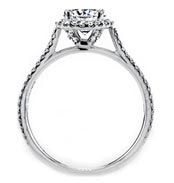 .60 ctw $2100
Halo Setting
These have a concentric circle of diamonds around the center stone. It creates the illusion of a larger stone. Halos can be a single or double, and often the shank (the part that wraps around the finger) also has a row of diamonds.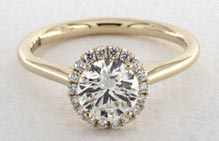 .25 ctw $2100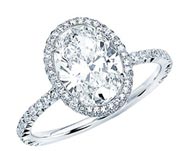 .40 ctw $2950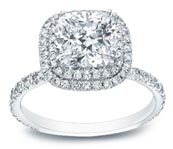 .50 ctw $2200
Side Stones
Here the center stone is accented with smaller stones on each side. For these you can go traditional or modern.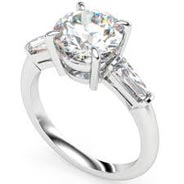 .33 ctw $2100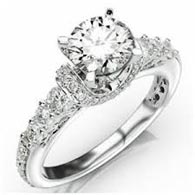 .55 ctw $2250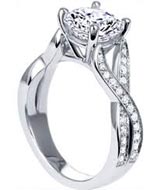 .25 ctw $1700
Three Stone
The center stone is larger than stone to the right and left or top and bottom. Typically, they are all the same shape.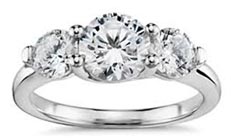 .55 ctw $2250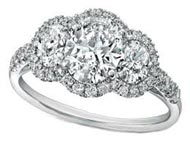 .50 ctw $2650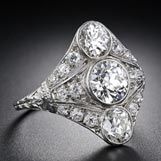 1.30 ctw $4500
Split Shank
As mentioned, the shank is the part of the ring that surrounds the finger. Rather than one continuous circle the band splits before it meets the center stone. The look does well with all diamond shapes.

.18 ctw $1700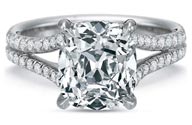 .33 ctw $2100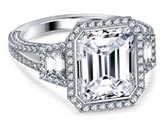 .75 ctw $3590
Pavé Setting
The French meaning is "to pave"…but this time with diamonds. Set very close together and held in with tiny prongs. May also be known as "micro-pave" if the stones are extremely small. Note of caution: if diamonds circle the whole ring, you NEED to get the size right from the get go. Unlike a simple metal band, resizing is a real pain/impossible.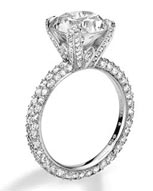 .88 ctw $3200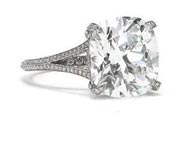 .25 ctw $1600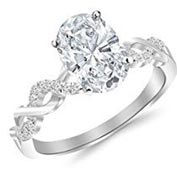 .33 ctw $1600
Channel Setting
Think side stones. Stones are set flush within the metal. Round, princess, emerald…the stones "kiss" each other all set in a row. No prongs are used to set the stones.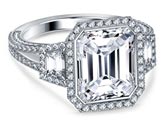 .75 ctw $3750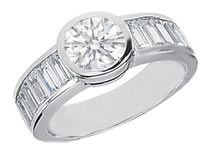 1.00 ctw $5200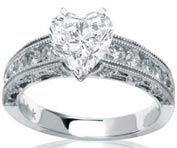 .40 ctw $1400
Bezel Setting
This is a modern look, with the metal surrounding the stone or stones. A "semi- bezel" partially circles the stone. This type of setting is chosen by people who are active or perhaps wear gloves as part of their profession (snags less easily than prongs and higher settings).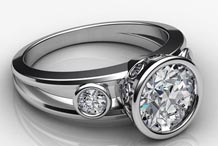 .20 ctw $1650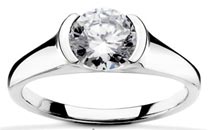 $1050 (setting only)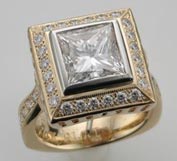 .25 ctw $2350
Tension Setting
Looks like magic! The center stone is nestled between the metal. Can be one stone or complimented with others.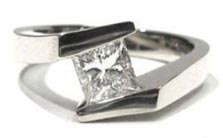 $880 (setting only)
.33 ctw $2250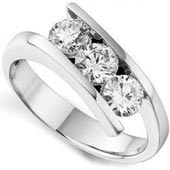 $980 (setting only)
Bar Setting
Rather than prongs (claws) metal bars are used to hold diamonds on both sides leaving the top and bottom exposed. These are used mostly on the sides of a center stone or as a total look on a wedding band.
.25 ctw $2100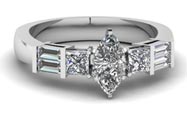 .50 ctw $3200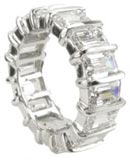 $1800 (setting only)
Gypsy Flush Setting
The diamond is set into a drill hole and is even with the surrounding metal. All diamonds can be set this way including the center stone. This is also a popular setting technique in wedding bands.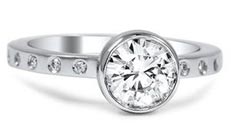 .20 ctw $1800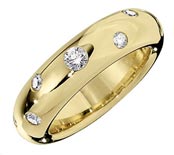 .30 ctw $2050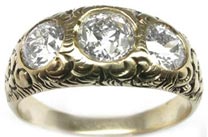 .50 ctw $2600
Engraving and Filigree Settings
Engraving is a raised or recessed design usually on the shank of the ring. Filigree is delicate metal work that twists and turns as seen below.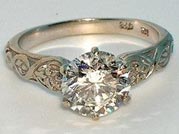 $1350 (setting only)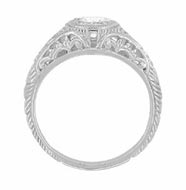 $1580 (setting only)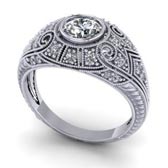 .20 ctw $2450
Cluster Setting
A bit different but close to the Halo Setting with larger diamonds around the center stone.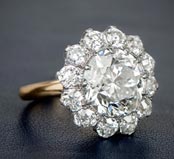 .40 ctw $2900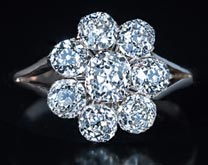 .70 ctw $3800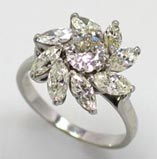 .40 ctw $2300
Eras...
Antique or Estate Setting
Old is new and new can appear old. These rings are designed to fit different periods in time, like Art Deco, Victorian, or Edwardian to name a few. Each with embellished detail such as intricate metal work or engraving.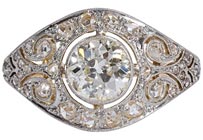 .40 ctw $3200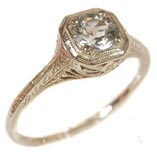 $1300 (setting only)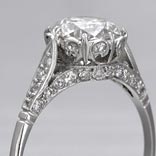 .18 ctw $1900
Victorian Era Setting
Refers to era during the reign of Queen Victoria (1837 – 1901). This is when engagement rings first became a thing, for better or worse ;) Yellow and rosy yellow gold & halo settings.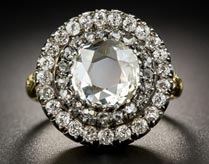 .75 ctw $3390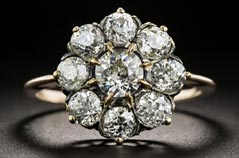 .24 ctw $1550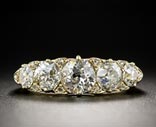 .60 ctw $3200
Edwardian Era Setting
From the time period during King Edward (1901-1910). Rings made of platinum or platinum overlaid yellow gold. Bows, curves and flowers were the preferred motif.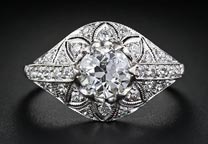 .33 ctw $2150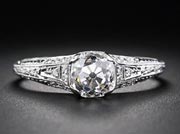 $1100 (setting only)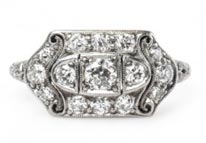 .80 ctw $3600
Art Deco Setting
Still very popular today, but this look began in the 1920's. Think Leo from the Great Gatsby/Empire state Building/you get my drift. Hard lines, symmetrical, geometric shapes but also features soft curves with a dose of elegance. White gold and platinum were widely used.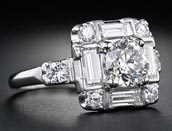 1.20 ctw $4800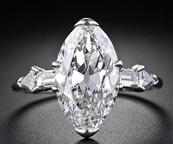 .50 ctw $3000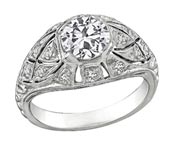 .25 ctw $2100
Mid Century Setting
The nifty 1950's through the 1960's. Classic and tradition. What we think of when we think "engagement ring". Solitaires and center stone flanked by baguettes.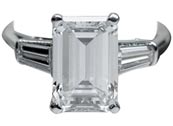 .50 ctw $2800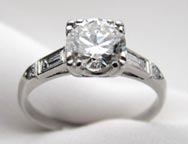 .30 ctw $2100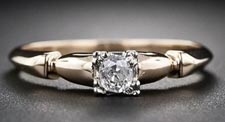 $900 (setting only)
Search and compare prices and deal scores from over 20 retailers with a click
SEARCH NOW