Rare Carat is a search engine that helps anyone buy diamonds from our retailers and wholesaler direct companies. It provides tools like the Rare Carat Report and Rare Carat Deal Score to help diamond shoppers evaluate diamonds for sale intelligently using machine learning and human expertise.
How Does Rare Carat Work?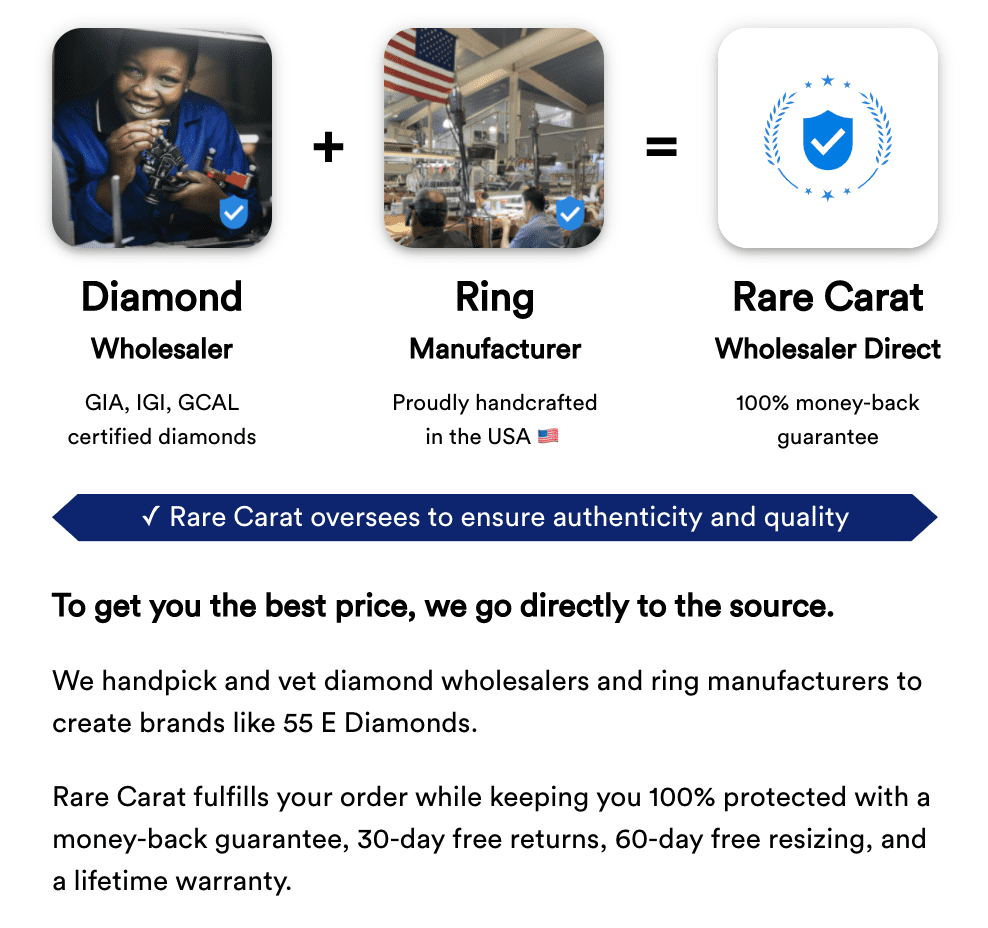 Essentially we cut out the middle man to offer you lower prices on diamonds. Since we have no retail locations or sales agents, it saves you the cash! We connect you directly with wholesalers that provide GIA certification for all of our natural diamonds, and IGI, GIA or GCAL certification for lab grown diamonds.
Once you've ordered your diamond, if you're getting it set in a ring, the diamond is shipped to one of our ring manufacturers to be set. All packages are shipped overnight via FedEx or UPS. Each package is fully insured and will need to be signed for by someone 18 or older upon delivery. You will get tracking information sent via email the night before the package ships out to ensure someone is home to sign for it.
From start to finish, Rare Carat is here for you every step of the way.
How Do I Know I'm Being Given the Right Information?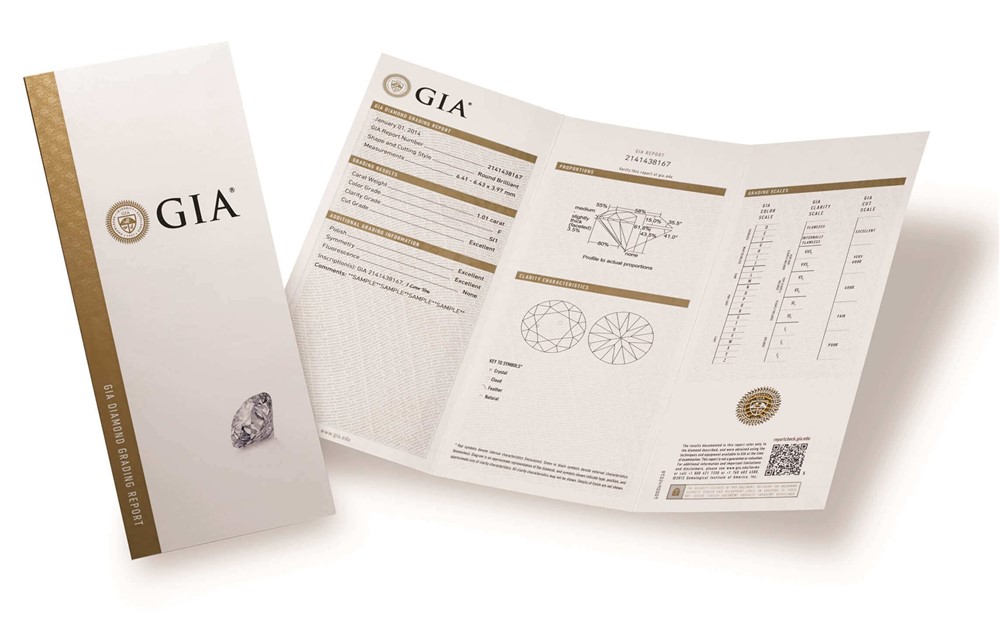 We have a full staff of unbiased, GIA-trained graduate gemologists to have good-old-fashioned human conversations about diamonds and engagement rings that you are considering purchasing. This is something that's hard to find anywhere else - and is our secret sauce. If our gemologist gives you a thumbs up - you can be 100% sure it will be gorgeous in person. We've reviewed tens of thousands of diamonds objectively for customers. When you chat on the other sites ask the person on the other end a simple question: are you a gemologist?
The answer is almost always, "no".
Not the case here at Rare Carat, where every single person you interact with will be a GIA Graduate Gemologist - a true expert with a diploma to prove it. See our reviews to find countless who will attest to our honesty. We give more thumbs down on diamonds than thumbs up.
Is It Safe to Buy on Rare Carat?
Yes, it is safe to buy on Rare Carat. All diamonds sold on Rare Carat come with a certification report diamond report, so customers can be assured that the diamonds are authentic and of the exact quality represented.
We take great care to make sure our vendors are held to the highest standards. On top of that, you can be assured that you are safe when you purchase through us. We provide a 100%, no-questions-asked, money-back guarantee if you do not get what you ordered. We also ensure that you have 30-day returns, with no shipping fees or restocking fees. Plus, you can resize your ring at no cost within 90 days of receiving your order.
Does Rare Carat Have a Warranty?
Absolutely! All of our products are covered with a manufacturer's defect warranty. Take a look at it here - Rare Carat Warranty
What if I Have No Idea What I'm Looking For?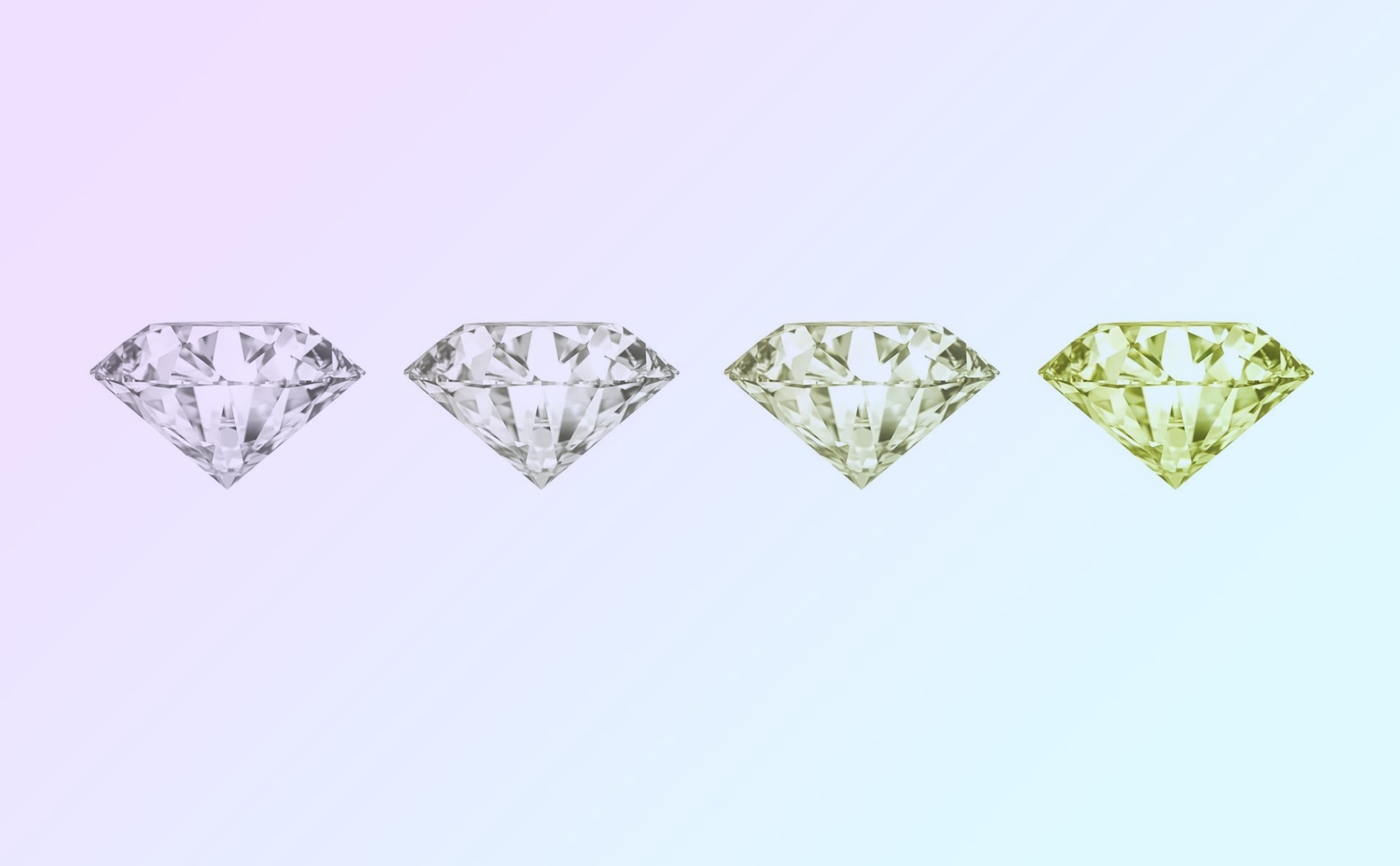 If you're not a pro, that's totally fine! Click the blue chat bubble in the bottom right hand corner to be connected with a gemologist, or check out our blog section to learn all there is to know about diamonds, shapes and settings in your own time.
What Do Consumers Say about Rare Carat?
"Online Diamond Shopping at its Best! I was nervous about buying a diamond online since it's hard to judge a diamond from pictures and I was worried about scams or theft. However, I was more than happy with the product that I eventually purchased. Even my local jeweler (who had been trying to sell me lower quality diamonds at a higher price) admitted that I had a great quality stone and at a price he would never be able to offer me. As someone who cared a lot about quality, metrics, and of course price/value, Rare Carat was the perfect place for me. I do recommend going to a few jewelers in person to find out what you like and don't like, but then use those metrics and features to find the right stone on Rare carat - the value can't be beat." - Michael Knight, April 2021 ★★★★★
All reviews:
Where to Find Rare Carat?
Press Mentions:
The New York Times: The Secret to Buying the Perfect Diamond, by Paul Sullivan Dec 7, 2018
Business Insider: Rare Carat partners with Everledger to launch the first digital tool to check diamond price, quality and provenance,Aug 9, 2018
Tech Crunch: Rare Carat's Watson-powered chatbot will help you put a diamond ring on it, by Jonathan Shieber Feb 15, 2017
Forbes: This Diamond Startup Wants To Change the Way You Buy An Engagement Ring, by Rachelle Bergstein Oct 4, 2016
Glamour: Everything You Need to Know About Buying Diamonds Online, by Lauren Chan Dec 15, 2016
Still have questions? Check out our FAQ section.