Congrats on your diamond search! It's an exciting time, and we're here every step of the way. If you aren't a pro quite yet (let's face it, who really is right out the gate??) then this is a great quick overview on how to use our site to find that dream diamond you're on the hunt for!
To Start The Search for a Diamond...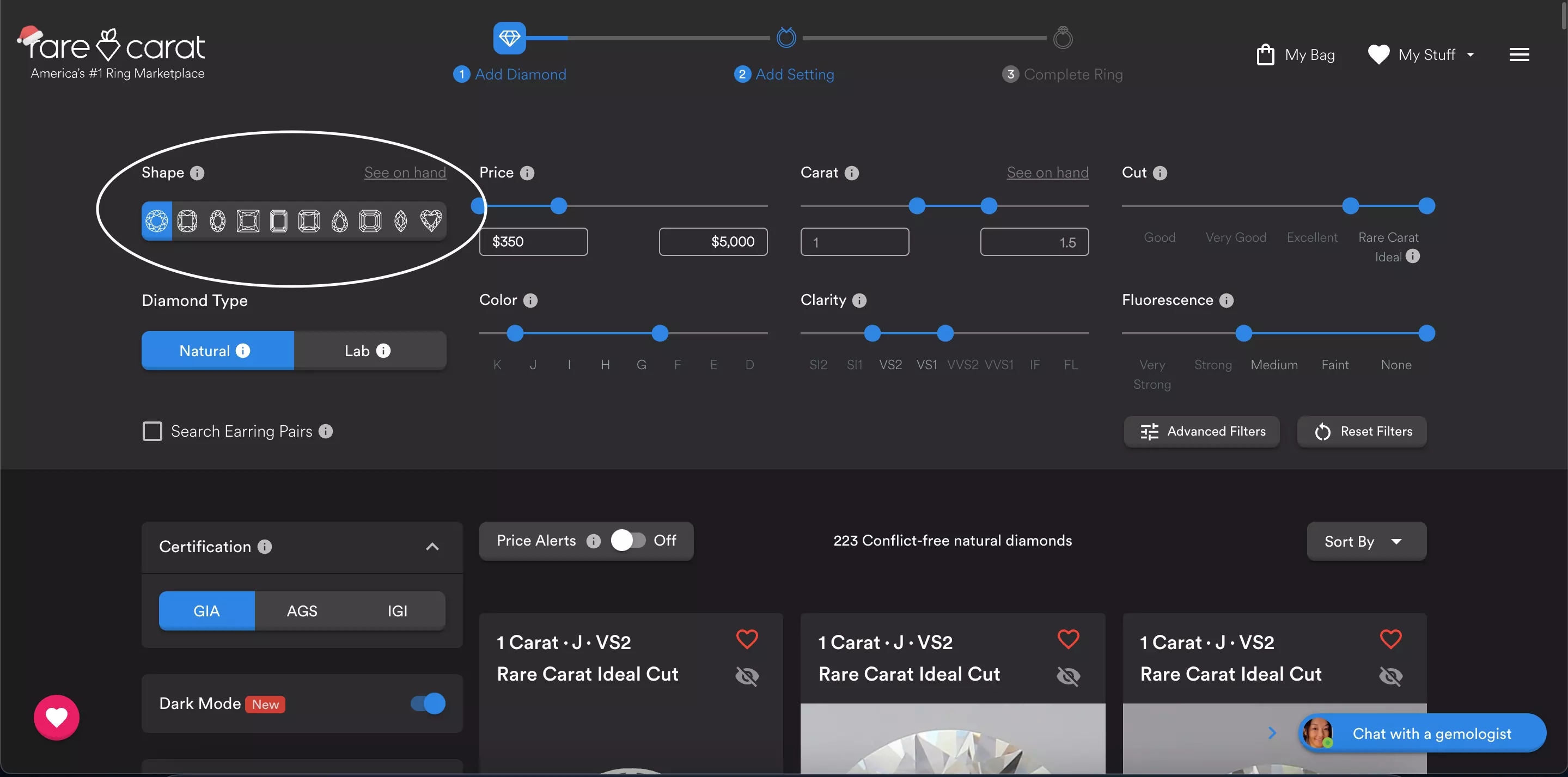 Diamond Shape
Here you'll find an array of filters to narrow down your results. First off, good place to start is to choose your diamond shape. There's so many great options- whether you want something classic like a round or princess cut, or unique like an Asscher or oval cut, this is a great way to start narrowing down your options!
Lab Grown vs. Natural Diamonds
You'll also be able to choose lab diamonds versus natural at this point as well. Once you have all of your filters set, you can bounce back and forth between the two to compare.
Next Few Steps...
At this point you've started to narrow down to your search and congrats on that! (hint hint, click on any of the blue hyperlinks to get to a fantastic article that deep-dives into the particular factor!)
The next few options you have, is to adjust for price (minimum and maximum dollar amount), carat weight (how big the diamond is), cut (how nicely those facets line up and a handful of other contributing factors), color grade (how bright white or slight yellow tint the diamond may have), clarity grade (how many noticeable inclusions the diamond has internally or blemishes on the outside), and finally fluorescence (the amount of color that is produced when the diamond is subjected to UV rays).
Once you've found that dream diamond, next come the fun part!
Searching For a Ring Setting
Adding the diamond to cart will automatically move you over to the setting portion, and will only show you results compatible to the diamond you chose (making sure carat weight and shape are all good to work together) and if you just want to take a gander, then you can click at the very top of the search page where it says "Add Setting".
At this point there are lots of categories you can look into, and if you are searching for something you don't see yet, try the keyword search in the middle above the results (shown in the image above). Try finding some cool options like vintage, thin bands, twist shank bezel and so on.
Stud Earring Diamonds and Settings
In order to search for diamond pairs, click on the "Search Earring Pairs" and it will allow you to view the diamonds side by side to see the similarities.
Once you've chosen your diamonds, just click to chat with a gemologist or email marketplace@rarecarat.com to learn about the different settings and pricing. We'll write the invoice on our end from there!
Pendant Diamonds and Settings
For necklace pendants, the diamond choosing process is the same. In order to choose the setting, on the left hand side of the filters option, just choose "pendant setting" and the results will show you different options you can choose from, and options like halo, solitaire or decorative side stones.
In conclusion...
Hopefully this article has helped to understand how the searching process works! If you still need some assistance, feel free to reach out at any point to our gemologists by clicking "Chat with a gemologist" blue chat bubble. We'll be here every step of the way!