Remember the old acrostic KISS (keep it simple stupid)? This is especially good advice when it comes to how we live our lives. I am a simple man. I don't like drama. It is so easy to complicate our lives. Have you ever met a drama Queen (or King)? The ironic thing is that many of them have everything we think should make them happy…a fulfilling job, home in the suburbs, money in the bank, 2.5 kids, a dog and an SUV. But for some reason they like stirring the drama pot, keeping people on edge. Contentment and quiet scares the heck out them!
For the past 40 years we have lived in a consumer driven society. We are told that more and bigger is better. When it comes to choosing an engagement ring, sometimes less is better. Engaged couples sometimes feel the pressure (especially from social media) when shopping for an engagement ring. In a rush to stand out, they spend countless hours researching and designing a ring that will WOW their contemporaries. This is a zero-sum game. First of all, you are just as married with a fancy ring as you are with a simple one. Second, even if you love the ring, others might not be so thrilled with it!
The Minimalist Mindset Is Making a Comeback.
Simple Elegance Is Always in Style.
Here are some popular minimalist engagement ring styles. https://www.rarecarat.com/education/engagement-rings
• Solitaire. The most popular minimalist style. Considered to be the classic engagement ring. The diamond can be prong or bezel set and accepts round and fancy cuts. The prong set has either four or six prongs. There are different options when it comes to the shank. You can opt for a traditional rounded style or chose a knife edge design.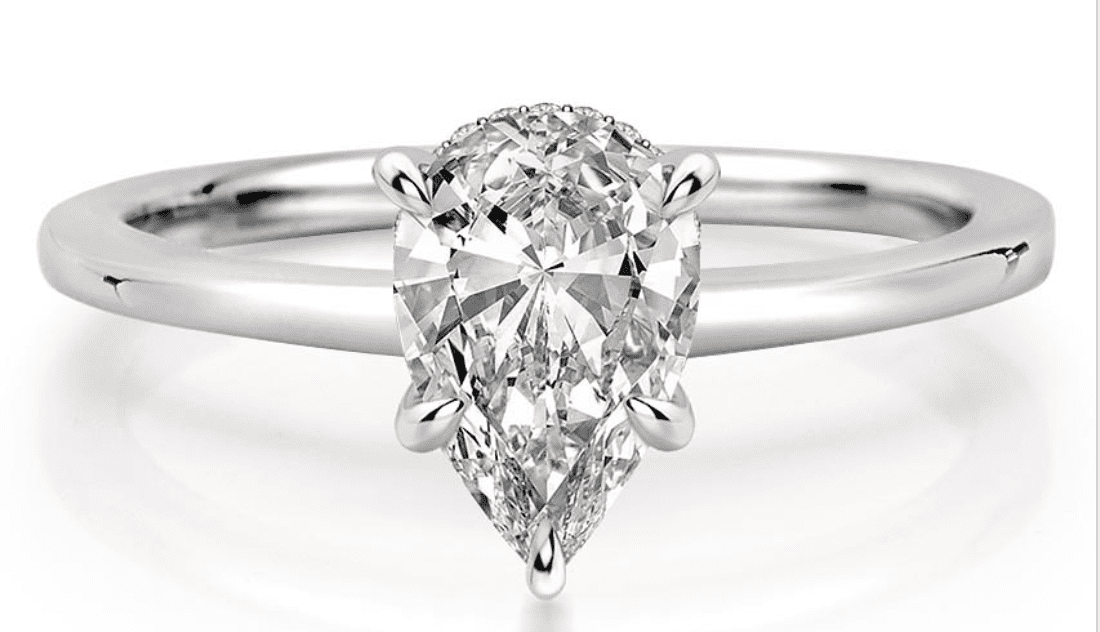 • Three Stone. An example would be the past-present-future style. The center diamond represents the present. The first diamond on the left represents the past and the third diamond represents the future.
• Halo. The halo style has a center stone surrounded by smaller diamonds. Typically, round diamonds are used in this design. I have seen people use this style in lieu of purchasing a wedding band.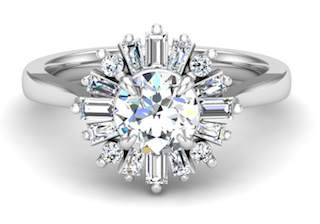 • Tension Set. Diamonds are set between two gold bars.
• Flush Set. A band with one or more diamonds set down into the metal with just the table (top of the diamond) showing.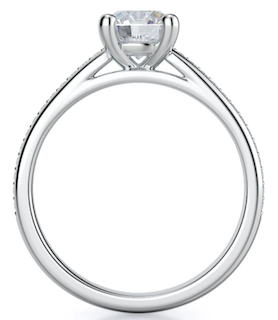 • By-Pass. Channel set diamonds in a swirl design.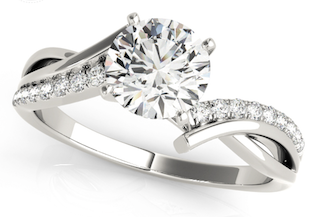 • Bezel Set. Diamond is surrounded by a ring of metal.

Advantages of Minimalist Engagement Rings.
Diamonds Are More Prominent
Minimalist rings use less metal and fewer diamonds. This accentuates the stones. Sometimes less is more!
Simpler Settings Require Fewer Repairs
Rings with complex designs and settings require more maintenance. Gold is soft and wears down over the years. Prongs, channels, bezels, etc., need to be reinforced with more gold over time to guard against stones falling out.
Lower Cost
Typically, the less complicated the design along with fewer stone means lower prices. However, you could have a solitaire with a large diamond that costs tens of thousands of dollars.
A Few Disadvantages
Fewer Options
It goes without saying that the simpler the design, the fewer the options.
Lower Profits
Normally, we at Rare Carat are looking for ways to maximize your purchasing power. The retailers on our website offer significant discounts over traditional retail stores. Selling online means lower overhead costs than brick and mortar stores. Our vendors can then pass the savings to you.
The Style Of A Ring Does Not Define A Relationship
Many people do not need or even care about owning an extravagant engagement ring. To them, a simple design with moderate carat and metal weight is perfectly acceptable. An engagement ring is a symbol of one's love and devotion to another. Whether you design a custom ring or settle for a simple solitaire, the success of the relationship still depends on how couples treat each other. Some people get off by buying the biggest and best of everything. If that is what turns your crank, good on you. If you are ego driven, the minimalist engagement ring is probably not in your future.
We Will Be Remembered For How We Treated People; Not Our Possessions
Minimalist engagement rings offer a nice option for the budget-minded consumer or the "I don't care for bling" buyer. I am an ordained minister and have officiated many funerals. I have never stood beside a casket comforting loved ones and heard someone remark, "she had the most magnificent engagement ring I have ever seen!" Hopefully, your family, friends and spouse will have fond memories of who you were as a person, not the style or cost of your engagement ring!