So you want to buy a solitaire, eh? No elaborate halo/pave/three stone settings for you! No suree-bob. You want classic, elegant and timeless. You want simplicity. You want iconic. You've got style and you're not afraid to show it. We're loving it, and we're here for you.
Now, I bet you think picking a solitaire ring is easy breezy, don't you? 'Tis just a plain band and a rock after all. Think again! There are actually lots of factors to consider when choosing the perfect solitaire engagement ring, so you best buckle up while we lay it all out for you. In this short(ish) yet highly entertaining blog post, we will take a look at all the most important factors you'll need to consider including what shape stone you might choose, what sort of band you'll want, and finally what style of setting you can go for (spoiler alert – there are loads). Ready to get your learn on? Awesome, let's have at it.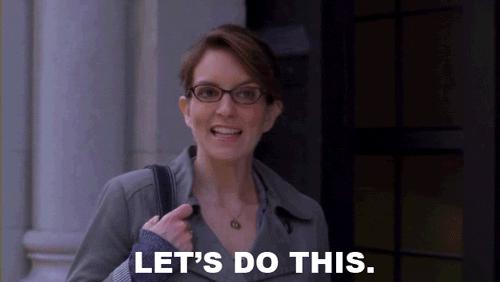 Get Your Rocks On
A solitaire diamond engagement ring is simply a ring with a single, solitary diamond. No sparkly side stones. No fancy halo setting. Nothing. This ring setting is ALL about that center stone, and because of that, you really need to get the right center stone to show off. Now according to our awesome data (which you can peruse at your leisure here), round diamonds are by far the most popular shape today. And yes, they are the ultimate in classic solitaire rings. If you want to go timeless, choose a round stone for your center diamond.
However, if you want something with a little bit more pizzazz, why not go with another shape? I've seen asscher cut solitaire engagement rings that I would pretty much do anything to get my mitts on, and pear shapes that I would almost certainly steel from your finger if I got half the chance.  Beyoncè has an emerald cut solitaire ring. Need I say more?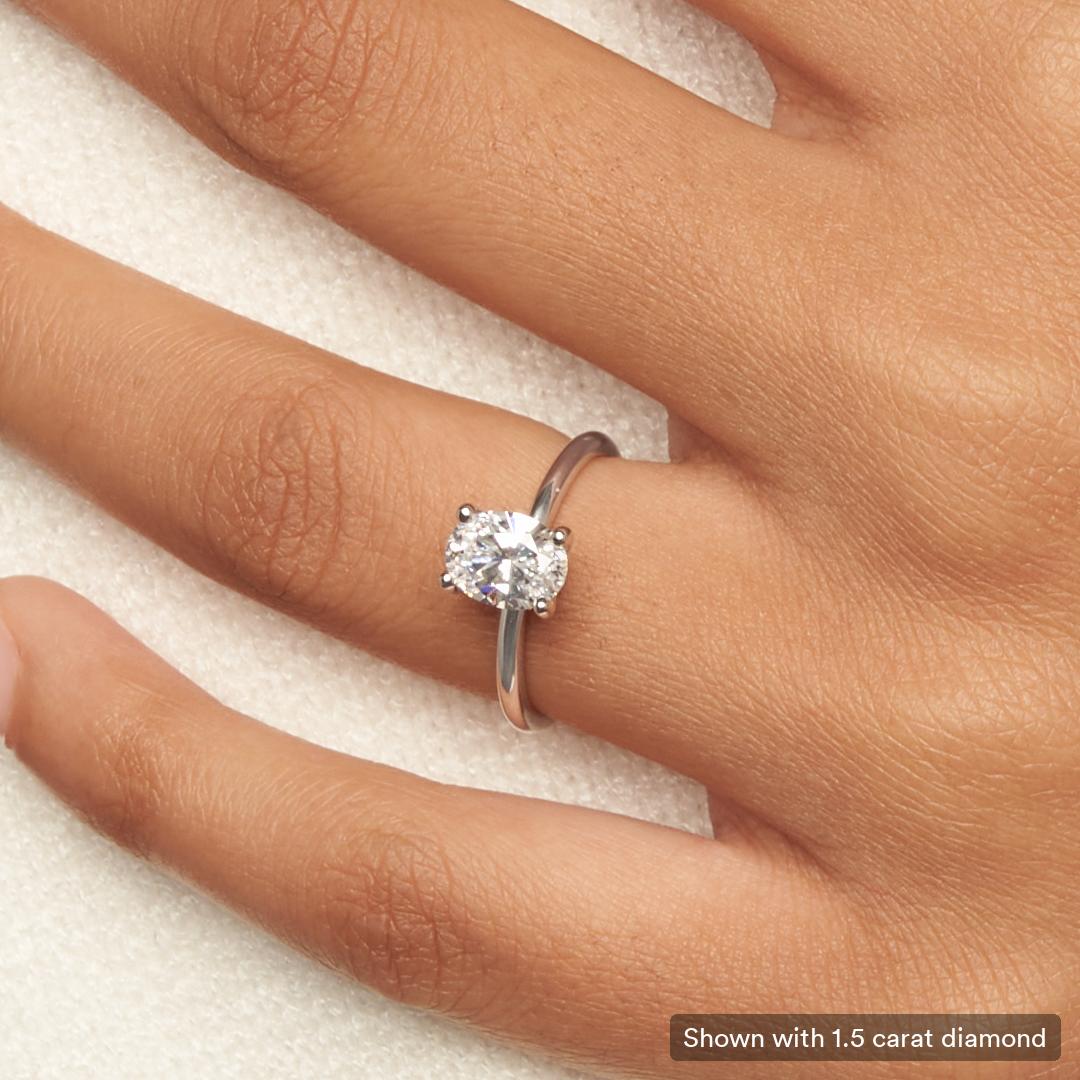 This Cushion Solitaire is NOT Messing Around
The main thing when choosing the rock, is to get the best quality diamond you can afford. This is important, because with a solitaire ring there's really not many ways to disguise a rubbish stone (#TruthSpeak). A yellowish center stone can be made to look whiter with complimentary side stones, and a halo/pave setting might even distract the eye from an ugly black inclusion. This is not so with the mighty solitaire. You want it, you gotta do it right.
Now this doesn't mean that you have to go with D color IF clarity loose diamond in order to rock a fab solly (I'm calling them 'sollies' now) but it does mean that you should try your best to choose a diamond with no visible dark inclusions or weird greyish undertones, because that will be the first think peeps will see when you shove that ring under their noses. And the single most important thing to remember, is always ALWAYS go for excellent cut/Ideal cut diamonds. The best cut will give you a fantastic sparkle, and that's really all that matters!
Your Band of Gold:
OK, you've chosen your rock, now let's get down to the nitty gritty. What type of band do you wanna set that baby in? There are three main things you need to think about here; what type of shank you want, what type of metal you'd prefer, and what texture you'd like on the band itself. Sound complicated? Tough! Pull yourself together and let's dive in.
First to the shank, and no I'm not talking about that thing you make in prison from an old toothbrush (how do I know that?) – I'm talking about the lower part of the ring that fits around your finger (i.e. the band);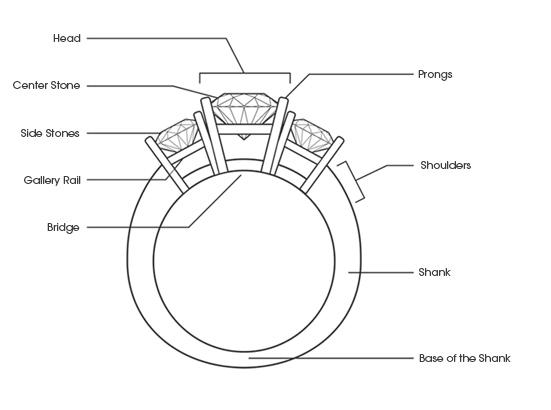 Example of Non-Violent Shank
There is literally a whole world of possibilities when is comes to the style of your engagement ring shank (this sounds creepy, but I've decided I'm going to lean into it). You could go for a straight shank, or indeed a split shank, where the band splits in two as it nears the top, resulting in a very pleasing effect. Beyoncè has a split shank, need I say more?
They're All Awesome, Let's Be Honest Here
What you want to do is to choose a shank style that will complement your diamond shape and size. A pear-shaped diamond might not look so awesome in a 'bypass' style shank ring setting, while a 'reverse tapered' style could work wonders in making your stone look a little bigger! By smart about your shank.
The shape and width of the whole band itself matters too though. Did you know that a thinner band can make a diamond appear larger? Yup, dainty band = poppin' stone. Equally, you can go for a pretty style on the band for added oomph! You don't just have to go for a flat band – shake it up! The half round style is my favourite, as again it can make your diamond look bigger AND your finger appear slimmer. SIGN. ME. UP.

I'll Pass on The Knife-Edge
Once you've settled on a shank style, next thing you need to think about is the metal of the ring itself. Has your diamond got a more yellowish hue than you'd like? Get yellow gold! This will drown out any yellow undertones in the ring, making it appear much whiter! Are you actually loving that soft yellow tone? Make it pop in a white gold band! Take a look at these, just to get an idea of the wealth of possibilities on offer: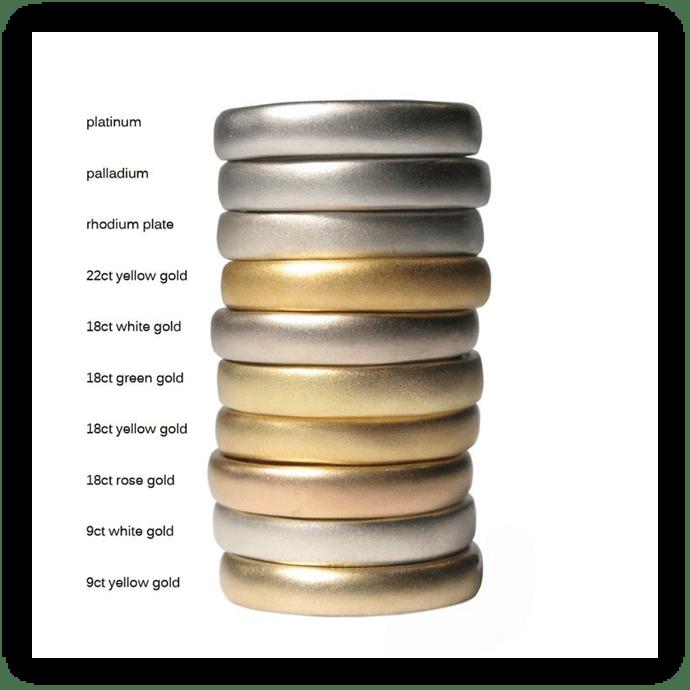 Yes, You Read Correctly - Green Gold!
But wait! You can get an even more bespoke look if you avoid the classic polished gold look that you find on almost all ring bands… why not go crazy and get that gold/platinum TEXTURED. Yup, you can get super cool textures on that band, which can really give you a fresh, modern vibe. Just take a look at some of the options here: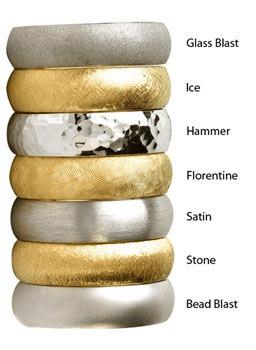 I'm All About That Ice, Ice Baby
I mean, why go polished when you could have a band that looks like THIS….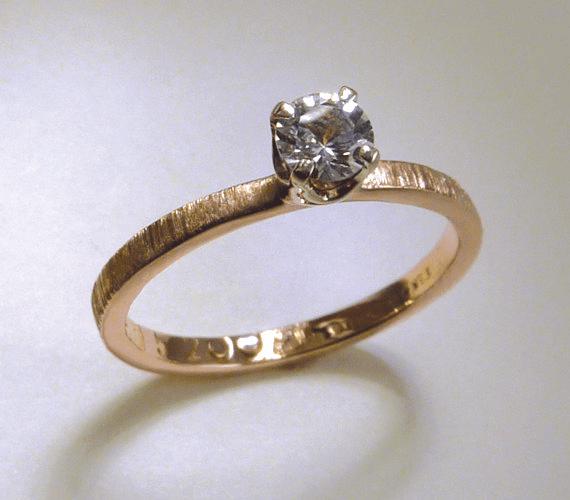 HOW COOL IS THAT?!
Setting the Scene:
You've almost made it through the selection process now, and all that's left is to choose the setting. Of course, they're not making that one easy for you either as there are many, many setting options for you to choose from….

TOO MUCH CHOICE, AMIRIGHT?!
The most popular engagement ring settings in the solitaire category are the prong, bezel, cathedral and tension settings: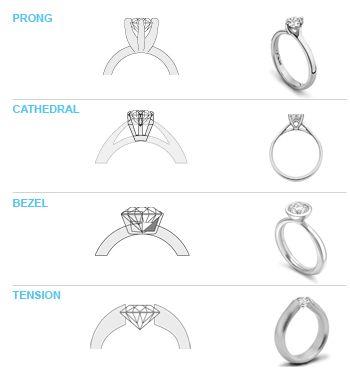 The prong setting is basically an all-time classic diamond ring setting style. Most popular are the four and six prong versions, although you can actually get eight prongs too! There is an upside to a six-prong setting however, and that's safety. Those two extra prongs really do give you more security, especially if you have a job or a hobby that means you are constantly banging your hands off of stuff. Whether you go for a four or a six prong is up to you, and for realsies you are going to get a stunning ring either way, so we're pretty much splitting hairs right now! Have a look at these two babies and you'll see what I'm saying here: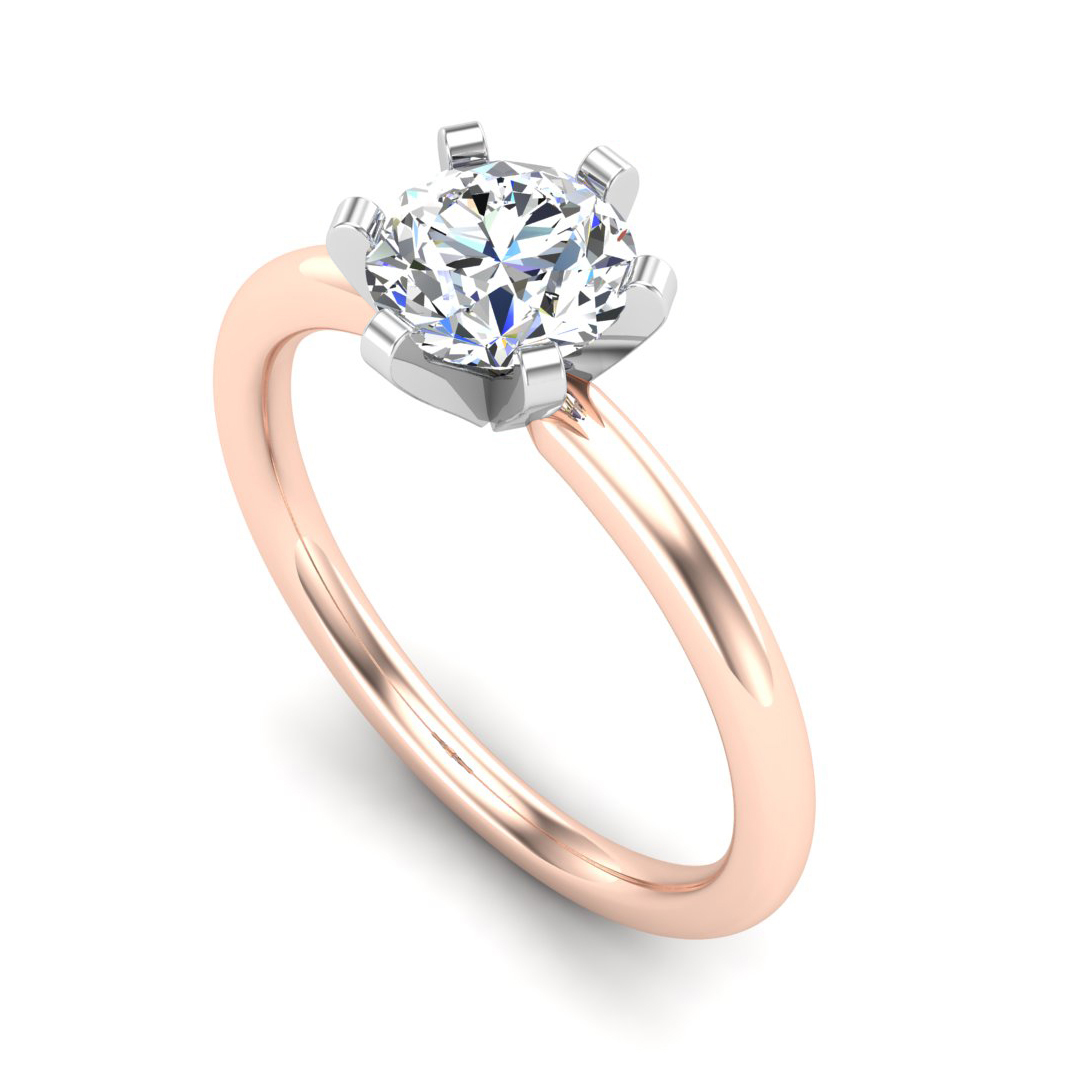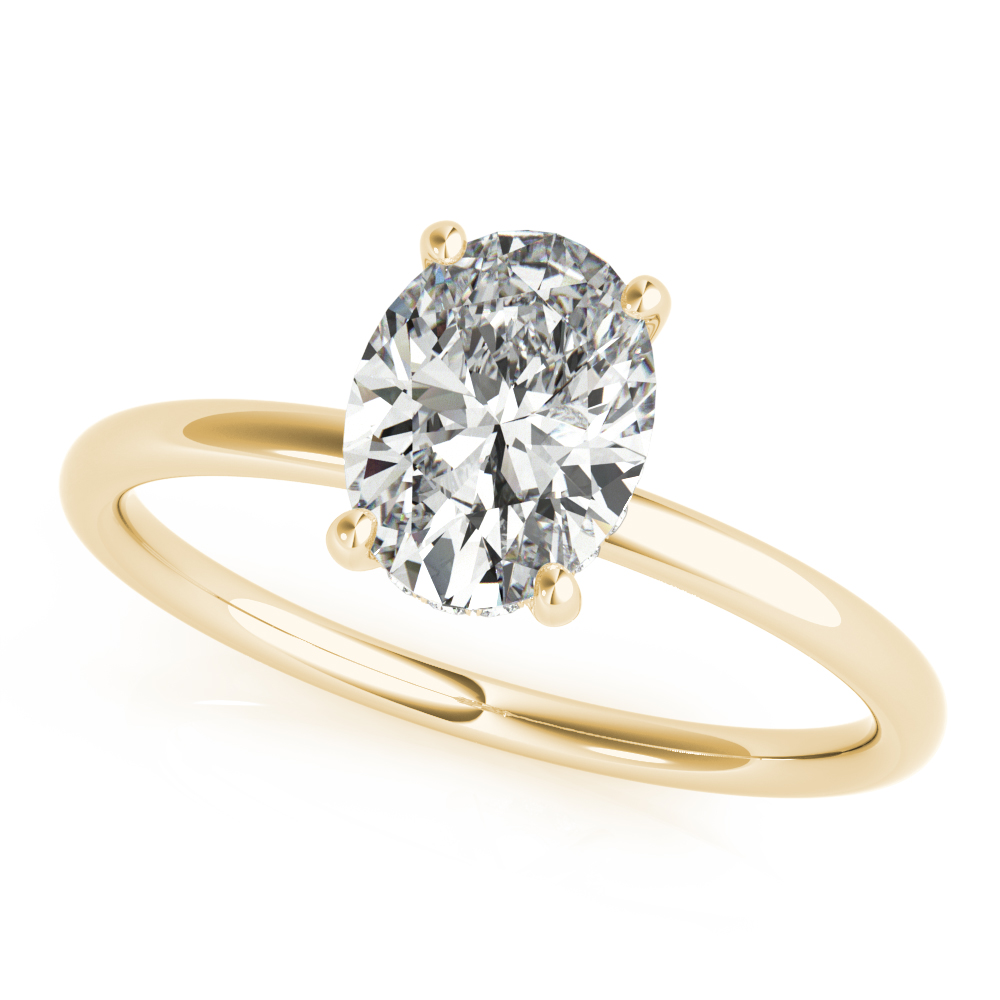 I'll Take Both, Thanks.
The 'Cathedral' setting is so called because the design is graceful and lofty like the arches of a cathedral. Not only is this setting pretty AF, but it also gives you an opportunity to play around with two-tone gold, which as you can see below, is gorgeous. Be careful though, these setting sit high up on the finger and because of this they are more likely to hit off things and snag clothing. Last thing you need is to damage that fabulous engagement ring, after so carefully selecting it. That would be foolish indeed.
Positively Graceful
A bezel setting is also a great option if you want something a little bit different. These are super stylish options, and are sure to turn some heads, but do remember that a diamond in a bezel setting will be less sparkly than there pronged and cathedraled cousins. This is all down to the way that light enters and leaves the stone, which you can read much more about here. If you are willing to sacrifice a little bit of sparkle in exchange for something truly different and unique however, I say go for you bezel setting and enjoy it! Go on with your bad self.
Bezel Heaven
Finally, let's take a quick look at the 'tension' setting. In my humble opinion, these are AWESOME. There's something really funky and fresh about this style of solitaire. Not only is your engagement ring going to be a damn good conversation starter at boring dinner parties, but you'll also get to view your diamond from a very unique vantage point. This is because there are no prongs in the way, obstructing your view of the main event – that rock. There is a downside for this sort of setting however, because they are a pain in the bum to resize. And if you are like me and your finger has gotten…. 'larger' since you first popped that ring on your finger, well you are going to run into trouble trying to find a jeweler with the skill needed to take on the task. Still, that's a small price to pay for such a fabulous and quirky ring style:
Sold on Solitaire:
See, I told you there was a lot to learn! Having gotten to the end of this post then, you are pretty much an expert in all things solitaire. You know that the choice of diamond is important and the quality is key. You've learned that the band (shank) can add pizzazz to your ring and millimetres off your finger. You've hopefully realized that a simple solitaire doesn't have to mean plain, but instead they can be jazzed up with the type of gold and even the texture you choose for the band. And finally, you've become an expert on all things 'setting' related. You know your prong from your cathedral, and your bezel from your tension. I think you are pretty much ready to get out there and buy a damn ring now. So, what are you waiting for? GO!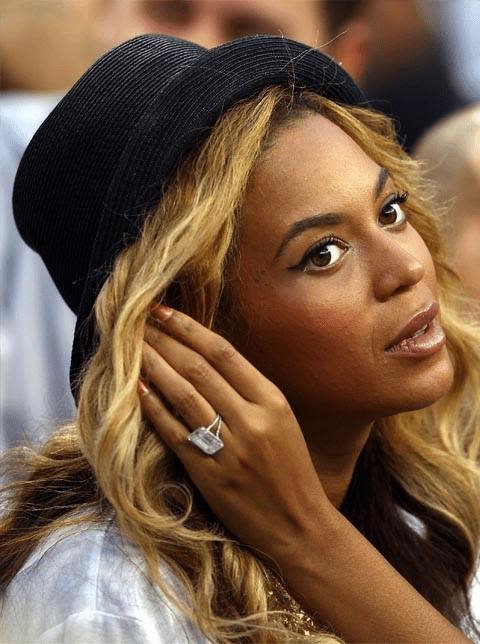 Now THAT'S a Solitaire *hearts in my eyes*