Hey fam! We are here today to talk about the ultra-glam, exceedingly glitzy, double halo engagement ring. If you are new to the halo game, then I've got you! I will explain what the standard halo is, and then we will talk about doubling it… if you are looking for ways to elevate your bling queen game, then the double halo might be screaming your name! Okay just kidding that was terrible but I know some people are very curious if it's a do, or a don't, so I'm here to try to answer that question for you.
The Classic Halo
The OG halo ring has been around for centuries… but the classic modern halo design we are used to seeing has been on the scene since the 1920's. This standard halo engagement ring has a larger center stone, usually a diamond, that is surrounded by a circular halo of smaller stones, also typically diamonds. The main goal of this style is to enhance the center stone by add extra sparkles, but it also helps the main diamond to appear larger. There are different setting options used for the halo itself and many different diamond shapes that can be utilized, but essentially this is the basic overall design.
It's important to touch on the typical setting options for the actual halo since we are about to have two right??! So basically, the diamonds within the round halo have to be set (or held in place) somehow - which is what the setting does. Easily the most common setting is a pavé (pah-vay) or micropavé style. This is where little metal prongs hold each tiny diamond separately but still very close together, creating a "paved road" of small sparkly stones.
The channel setting is the other popular halo setting we see. In this design, we have a row of diamonds that is lined by two strips of metal, creating a "channel" of diamonds. Both of these settings are popular and both are very safe for securely holding those little accent diamonds.
The Double Halo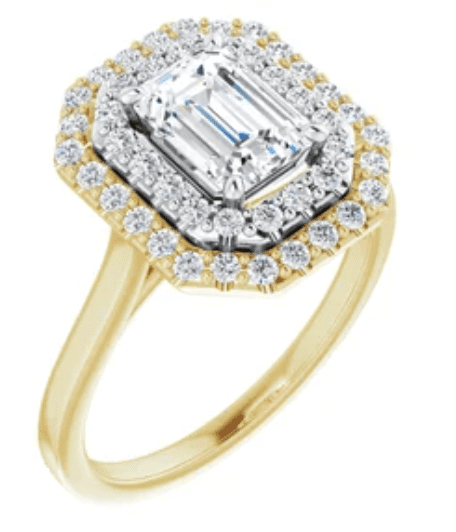 I don't know if I really need to say it at this point but a double halo is simply two halos surrounding the center stone, instead of the one standard halo. These can be two pavé set halos, two channel set halos, one of each, or whatever other form of halo you can find- just has to have two!
So, what is the benefit of having two halos? Well - it's twice the size and double the sparkle of a single halo… and it can also add another interesting design element, especially if you opt for two different halo styles.
The cons to a double halo you ask? It will for sure be more expensive than a single halo since we are adding more diamonds (duh). It is also harder to clean because of all of the extra tiny crevices created by the two full circles of smaller accent diamonds. Clean diamonds are sparkly diamonds so cleanliness matters if you want full brilliance!
The real question is - are two halos too much? My thoughts are…for the average person…yeah it probably is a bit too much. I think double halos should be reserved for those of us who love bling the most. Listen, if you aren't a halo person in general then you definitely won't be a double halo person. But! If you have bedazzeled everything you can touch since being legally old enough to operate a bedazzler gun, then you might be one of those people that the double halo engagement was fated for.