You are one of those go-getters. For you, the standard offering of rings from all the big name brands just won't cut it. It is going to be an extra special occasion and the diamond, the star of the show, should be extra special too. So, you decided that this time you will be the captain of your ship and go find the land of perfect diamonds at the best prices on your own.
After many arduous journeys to the exotic shores of online stores, one website catches your eye called Rarecarat.com. Listed is a fantastic loose diamond, perfect in every way. Amazing color, cut, clarity and carat weight. Most importantly the price is so good you have a hard time believing it.
Wait! Is it too good to be true? Is the digital eye strain from the days-long search playing a trick on you? How do you know this is the best place to buy that dream stone? Here are some guideline to lead you to the best place to buy loose diamonds:
Always See an Image and Video
A picture tells a thousand words, a video even more! Always be sure to see an image of the diamond to check out the clarity and overall look of it. Most online retailers will have both pictures and videos, but if you don't see one on a listing from Rare Carat, just reach out to one of the Gemologists and we can get it for you.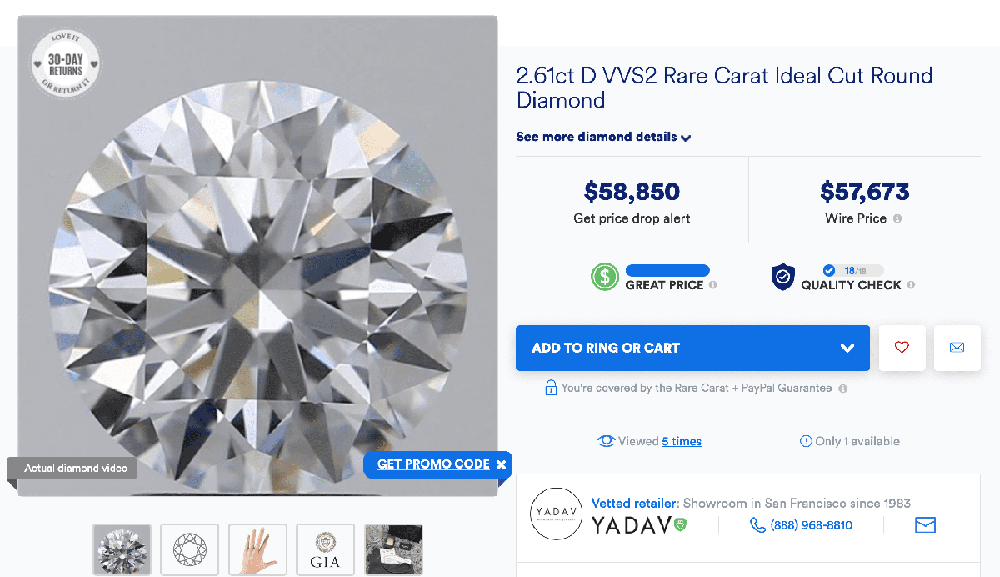 Diamond Grading Reports are Key
Almost every diamond, even down to 0.10ct, has a diamond report nowadays. Many reputable gem labs such as GIA, IGI, and GCAL have a way to search and verify diamond reports online. So check if the information provided matches the website. Also, many diamonds have laser inscriptions of the report number inscribed on the girdle (the middle) as an added security feature. If the diamond is inscribed, check to see if the diamond report mentions the inscription and the inscription matches the report.
Reviews
Would I buy a diamond without checking the reviews of the retailers? Definitely not. Are some reviews going to be unhelpful? Sure. But some could really make a difference, especially if you see someone warning others to stay away. The same goes for only 5-star reviews or no reviews. Don't let your guard down. At Rare Carat, we have our retailers go through a strict vetting process, so you can spend more time on finding the perfect diamond, we also provide the Rare Carat Guarantee as a bonus layer of protection on your order.

Compare, Compare, Compare
Just like Policygenius for insurance and Kayak for traveling, Rare Carat pulls all the diamonds from our vetted retailers into one place so you can find the best diamond at the best price. Our search page makes it easy to pull up diamonds with very narrow specs or find a slew of different options to get a broad idea of what's out there. When using the gallery view, you can quickly look at images and select what diamonds you'd like to get a closer look at. You can always do it the old fashioned way too, but Rare Carat really is here to make this step easier.
The Return Policy
What do you mean I can't return it? No refund? Some ridiculous fee? These are phrases that no one in the history of humankind wants to hear. Ever. Please check the return policy of the retailer and read it as if your life depended on it. A good retailer should give you a reasonable amount of time to make that decision and not charge you excessively for changing your mind.
At Rare Carat, all of the retailers offer a 30 day, no questions asked, 100% money back guarantee.
Now that you know what to look for in a diamond website, why not head over to Rarecarat.com to check out some amazing diamonds at great prices!