There is something just so magical about the holiday season! With family gatherings, mouthwatering feasts, and dreams of sugar plum fairies, it feels like anything is truly possible. With so much enchantment in the air, naturally this is the perfect (and most popular) time for an engagement! If you are one of these people looking to take advantage of all the holiday feels for the perfect proposal - then I have you covered. I have creatively and uniquely crafted the most unforgettable ways to pop the question for the ultimate holiday season proposal! So, let the gift giving, food gorging, love declaring festivities begin!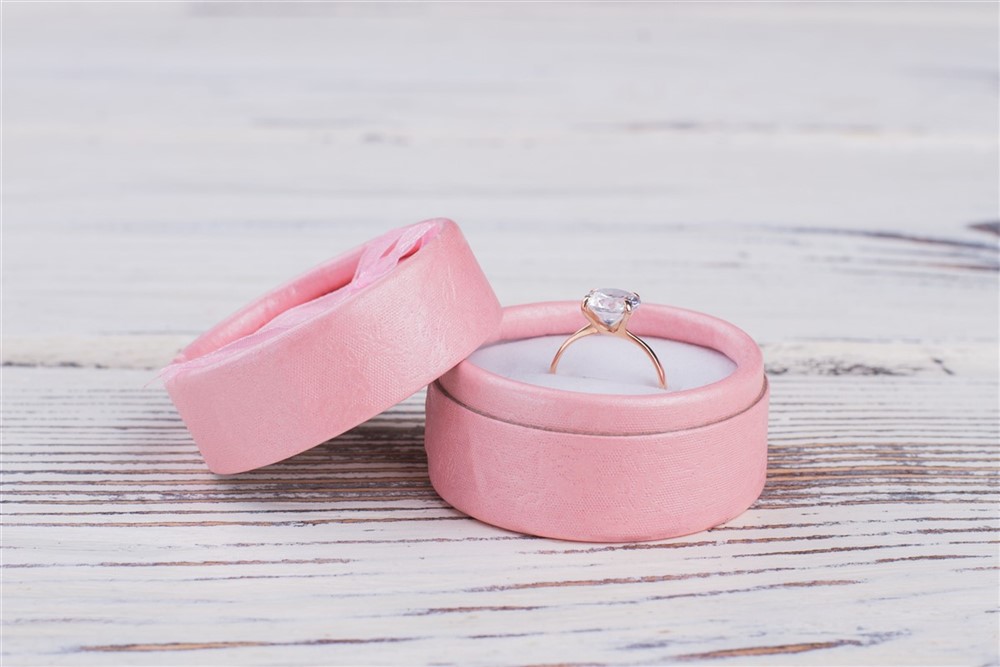 Advent Calendar
An advent calendar is just the technical name of those popular Christmas countdown calendars. We see many different versions of it but here specifically we want the type where a small door is opened each day, revealing a tiny present, leading up to Christmas. Choose the door you want to hide the ring behind and just wait until that chosen day arrives!
Boat Parade
If you have never been to a parade of boats covered in holiday décor, then now is the time! Watching festive vessels glide across the water at night, snuggled together under a warm blanket, sippin' on hot cider… the perfect setup for the ultimate question!
Carolers
Enlist a group of festive carolers to show up at your door (or any other predetermined local) to sing custom choruses of love and eternal happiness to you and your about to be fiancé.
Chocolate Making Class
Okay whether you go with a group class, private session, or an at-home kit, the smell of cocoa, the taste of decadent truffles, plus the experience of hand-crafting chocolates during the holiday season really set this simple date up for a night to remember. (sub any other candy if you're not chocolate people; like candy apples or candy canes for example)
Christmas Lights
Anything involving those romantic twinkling lights! Cover a dreamy gazebo, wrap them around your favorite park bench, create a backdrop of hanging twinkling strands, spell it out in the yard and light them up at dusk… literally anything with Christmas lights is a win!
Corn Maze
Intentionally get lost with your love in a corn maze. Find the perfect dead end amongst the rustling stalks of corn to ask your question… bonus points if you can secretly organize family and friends to be waiting outside the maze for when you two emerge!
Cookie Deco Party
Decorating sugar cookies is one of my absolute favorite things to do during the holidays with my friends. Somewhere between the flowing river of sprinkles and the mountains of red and green frosting would be the perfect time to pull out a ring shaped sugar cookie for a super sweet surprise.
Dancing Around the Tree
As a little Frank Sinatra Christmas music plays, and the fire glows warmly, take a spin around the living room for a very special moment. It's okay if the Christmas tree is your only witness in this super romantic scenario.
Fall Festival
With warm apple fritter smells and children's giggles swirling through the air, find the perfect autumn colored tree to propose under for all the perfect fall feels.
Garland Making
Have an old school garland stringing dating night, with either popcorn or cranberries, where you hand each piece over to your person as they add it to the garland. At some point, slip them the ring instead of a popcorn piece for the best garland crafting night ever.
Giant Candy Cane Lane
Create a pathway fit for any childhood dream! I'm thinking those overly large, lite up candy cane decorations, surrounded by snow (or fake snow!) would be perfect to line a sweet pathway leading to a stunning proposal setup you've created.
Gingerbread House Decorating
Go ahead and put together the base of the house, aka the 4 walls and the roof, before anyone else arrives. The trick is to hide the ring, or ring box, within this house. After the decorating is done, pull off the roof (or smash the house) to reveal the true surprise within.
Horse-Drawn Sleigh Ride
Okay I know this one might not be an original idea, but it is such a great one that it is worth including. Very few things could ever be as romantic as a horse-drawn sleigh ride through gently falling snow while being snuggled up together.
Ice Skating
What goes perfectly with the bright glistening of smooth ice? Well, a sparkling diamond of course! Bonus points if you can find an outdoor rink under the stars for extra romantic twinkles.
Leaf Jumping
For all of us who are still kids at heart hear me out… one of my favorite things about fall are the amazing leaves (of course). So- I'm thinking (if you happen to have a large yard with lots of leaves), that a day of leaf raking into giant piles and then proceeding to jump and frolic and play in said leaf piles would be so much fun! Somewhere between making leaf angels and throwing leaf confetti will be the perfect time to present the stunning ring.
Mistletoe
Whether you pull a sprig from your pocket once you are at the perfect location, or you build an entire arch of mistletoe, this idea is adorable. You can enjoy both your last kiss as a dating couple and the first kiss as fiancés under the holiday's perfect symbol of love.
New Year's Eve
With balloons and champagne and the official ball drop, this is such a fun night to propose! Instead of the countdown ending with a "Happy New Year," end it on one knee with a marriage proposal. Simultaneously starting a new year and a new chapter in a relationship feels like everything has beautifully aligned.
Present Wrapping
This is a little twist on the typical gifting of the ring… Instead of bestowing the ring on Christmas day as a present, ask your partner for help with wrapping gifts for the family days before. After they wrap a couple presents with you, toss over the ring box for an unwrapping instead.
Pumpkin Carving Contest
This can either be just you two or invite the friends and family for added excitement… but no matter what, this contest has one rule- no looking at anyone else's pumpkin until everyone is done. I would go with either a carving of an outline of a ring or the words themselves for the big pumpkin reveal.
Santa Photos
Take a trip to your local mall together for some normal holiday shopping… but insist on getting a photo with Santa this year! Right before the photo is snapped, drop to one knee for the most memorable picture ever.
Snow Trip
Calling all snow bunnies! Whether you ski, snowboard, or just make snow angels, the snow is always romantic. Take a trip to your local mountain for a day of snow fun… and when you're ready- head into the dreamy lodge for a cup of hot cocoa in front of a crackling fire for the warmest and most memorable part of the entire season.
Tamale Making
If you're lucky enough to have a family who partakes in tamale making every year, this could be a fun idea for you. Include your significant other in the festivities… but while they aren't looking, create a faux tamale to hide the ring in. Later, when everyone unwraps their tamales to eat, your love will be unwrapping something a little extra delicious.
Thanksgiving Dinner
This seems like the perfect time for a proposal since you already have the family around to celebrate… but we need to get creative with the presentation! Maybe during an after dinner champagne toast? Maybe serve the ring up on top of a piece of cheesecake? Or maybe you ask right before walking through the front door… whatever feels perfect for you two!
Tree Decorating
This is a classic… In the middle (or beginning or end) of decorating the tree, pull out a custom made ornament, hang the ring from the tree itself, or just take advantage of the beautiful photo op of being on one knee in front of the decked out tree.
As if the holidays aren't already special enough, throwing an engagement into the mix really amplifies the true magic of the season. Everything about this time of year is enchanting and special and warm. Don't be afraid to take full advantage of this vibe! Most importantly, finding something that is true to you two as a couple is key. Congratulations to all of the soon to be engaged couples! May this be the best, most memorable holiday season yet!