In football, there is a situation when the ball carrier has been tackled while more defensive players continue to fall on him. This is referred to as Piling-on. For those of you who are not familiar with football, once a player's knee touches the ground they are considered down and the play is over.
Although pilling-on (stacking-on) is not a pleasant experience in football, in jewelry, it can be very enjoyable. We are talking about adding additional rings to an engagement/wedding set. The classic engagement ring is the solitaire (single) stone design. A wedding band is typically added to the engagement ring. The set can be soldered together but does not have to be.
Stackable Engagement Rings Are Gaining Popularity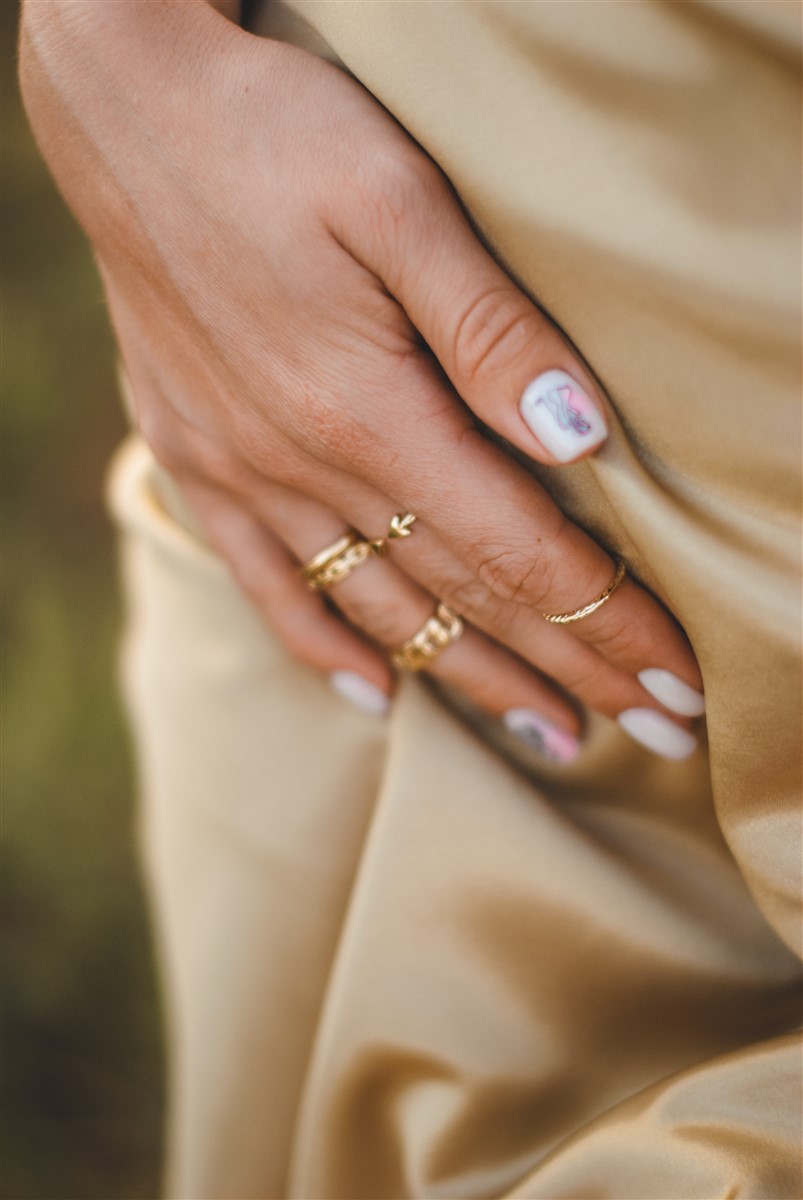 In the twenty-first century, the sophisticated jewelry lover has become more eclectic. Mixing and matching styles together and adding multiple rings on a single finger is becoming increasingly popular. The good news is there is no right or wrong way to accomplish this. Here are a few suggested methods of stacking engagement/wedding rings.
How Deep Are Your Pockets?
Buying jewelry can take a big chunk out of your wallet! Personally, I enjoy big and bold. If I had unlimited resources, my jewelry box would be filled with exquisite, expensive pieces. Budget-minded folks must be strategic when considering ring stacking. The type of metal, gems, size and rarity determine the ultimate cost.
Make It Personal
Stacking rings should be fun. The best part is creating a design that fits your taste and personality. Stacking can be as simple as adding a single metal band. You can vary the types, colors and shapes of metal bands. Integrating colored gemstones adds variety and pop. The possible combinations are endless.
It is recommended that you decide on the look you are going for i.e., contemporary, classic, minimalistic or bold. The optimum goal would be to have a unified theme and being able to identify and appreciate each ring individually.
When To Stack
There are no rules about when you should stack. You can take advantage of special occasions like anniversaries, birthdays and personal accomplishments. Sometimes it's fun to "just do it" whenever it strikes your fancy.
Why Stack
Because you can. The old saying goes, "Variety is the spice of life." The traditional style is one engagement ring and one matching wedding ring. There is nothing in the world wrong with that combination. However, adding additional rings over time enhances the look and feel of the set. As a former jewelry appraiser, I evaluated hundreds of different styles of both traditional and stackable engagement/wedding rings. Sometimes I would be amazed at the creativity of some individuals. Other times I would wonder, what were they thinking?
The Rush
If you love jewelry like I do, shopping for a new item gets your adrenaline pumping. I have never been a hunter but I know many who are. For most of them, the thrill of hunting is pursuing the animal and not the actual kill. The process of selecting a ring to complement your set is exhilarating and challenging. There is so much to learn about gemstones, precious metals, design and pricing. The more you know, the more enjoyable the journey.
Caution
More is not always better. Adding too many rings can be a distraction to beauty of the other individual components. You can reach a point of no-return. At some point, enough is enough!
How Do I Know If I Should Be A Stacker?
There is no right or wrong answer to this question. But let's have some fun. In honor of the comedian Jeff Foxworthy and his famous, "You Might Be A Redneck" book, here are some reasons you might not be stacker:
• If you can't match your when socks getting dressed, you should not be a stacker. • If you brag to your friends about your 5 carat CZ engagement ring, you should not be a stacker. • If you think a Carat is a long orange vegetable, you should not be a stacker. • If you think Walmart sells fine jewelry, you should not be a stacker.
Sorry, I could not resist having a little fun. The reality is, stacking can be for anyone willing to give it a shot. If you are fashion or gemstone challenged, you might want to seek the aide of a jewelry professional to assist you in your stacking adventure.
A Few Stacking Guidelines
There are not a lot of hard and fast rules when stacking engagement/wedding rings. However, as a jewelry professional I can offer a few suggestions:
Stick with a style theme.
Example, if your basic set is contemporary, add more contemporary rings. Mixing styles may become confusing and distracting to the eye.
It's okay to solder the original engagement ring to the wedding ring.
Any ring you add after that should be loose. Otherwise, the rings become too cumbersome when removing them.
If you are going to mix metal colors, stagger them.
In other words, if you have three rings and two of them are yellow gold and the other white, place the white ring between the two yellow rings.
Remember, there is a whole world of colored diamonds and gemstones to utilize in your design.
You don't have to stick with white diamonds when you stack. CAUTION! When adding color, consult a gemologist or seasoned jeweler. Educate yourself on treatments, synthetics, simulants, rarity and how impact pricing.
It's a good idea to place a thinner band between two wider ones or two thin bands on either side of a wider one.
This gives the set more symmetry.
Try to use comfort fit rings.
The shanks are more rounded and polished. Some rings have hard edges and are uncomfortable to wear.
Wrapping Up
I hope you've enjoyed this light hearted look into the vast possibilities in adding rings to your engagement/wedding set. Buying jewelry should be fun and fit your personality and tastes. The one big advantage of stacking is that each component is interchangeable. You can add or remove a piece whenever it strikes your fancy. In that sense, you can't lose. As I mentioned in the beginning, stacking on in football is not pleasant. However, stacking rings can be a pleasurable challenge!