There is a beautiful eternity ring in the Victoria and Albert Museum in London. It is formed of a double band of baguette cut diamonds, each set at an angle so forming a chevron pattern around the finger. It was a gift from a Russian Jewish émigré called Nathan to his wife, Doris on their thirty-fourth wedding anniversary. She must have been delighted. But, as much as this ring represents a long and loving marriage, it also suggests that Nathan was a sucker for a bit of good advertising.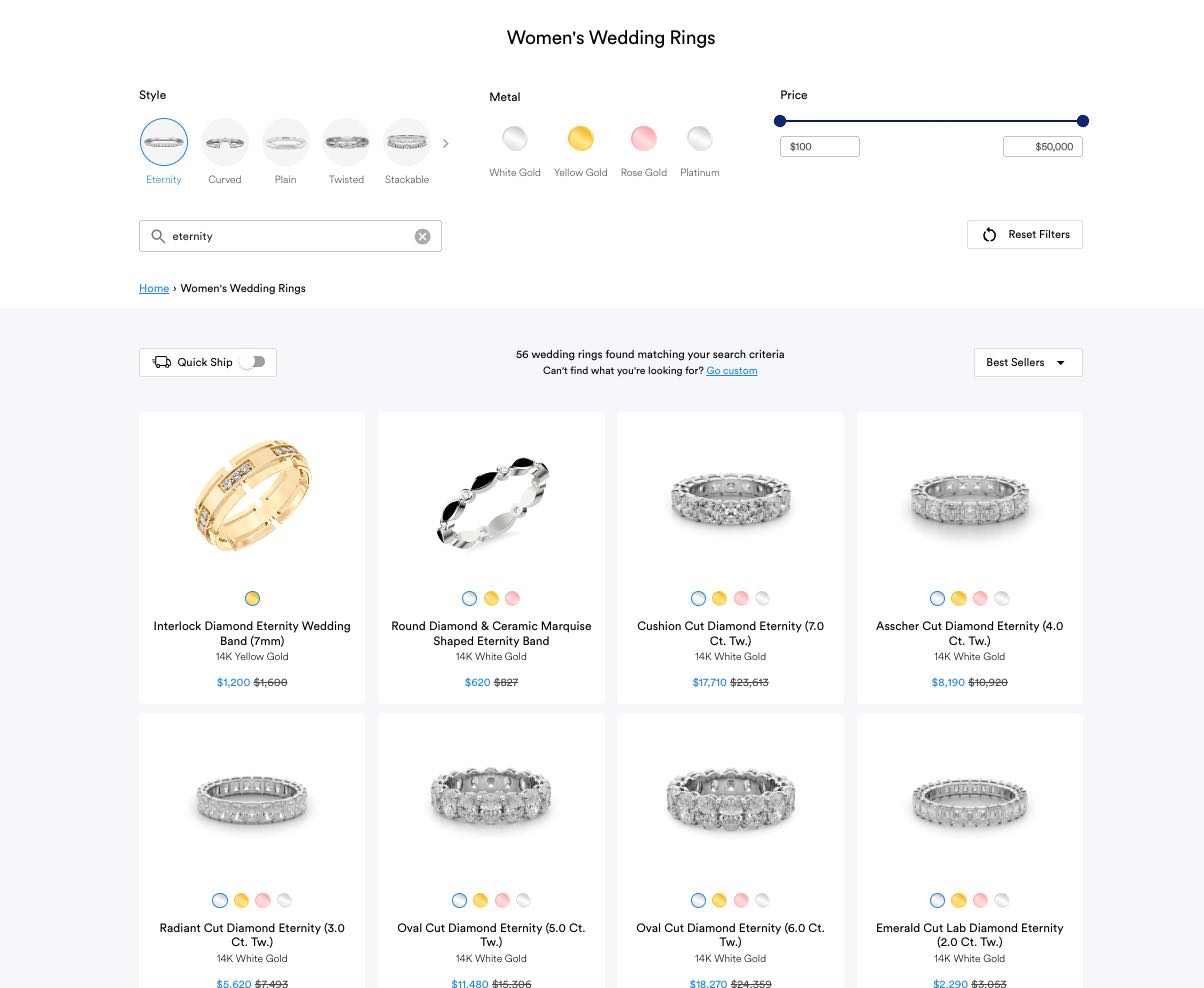 Nathan gave Doris her ring in 1961. At this point in history, although De Beers, the South African diamond mining company, had established control of the world's supply of the precious gemstones, they had recently become a little unstuck. In the late 1950s, Russia found its first primary deposit in Siberia (found by a female geologist, Larisa Popugayeva, I hasten to note). The deposit was in no way small (in fact, it is now the biggest reserve in the world), but the diamonds were, with many of them no bigger than 0.25 carats. Therefore, with a LOT of small diamonds threatening to flood the market, De Beers decided to step in. Just to keep on top of things. They joined forces with the Russians and came up with a strategy to sell off all these numerous iddy-biddy diamonds.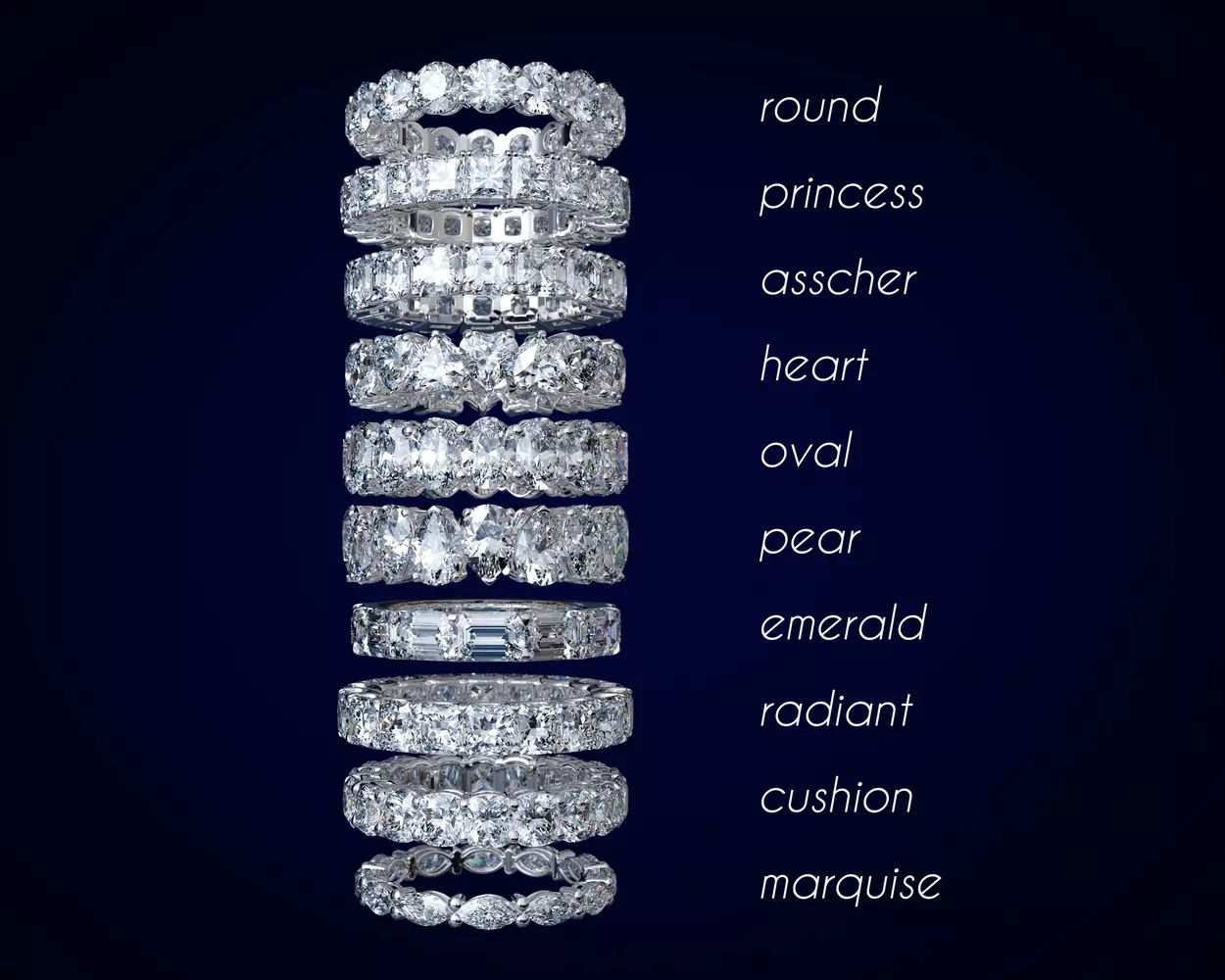 The 'eternity ring', thirty-five small diamonds in a single row around the finger, was born – targeted at older married couples, like Nathan and Doris, as a 'renewal of romance'. And it worked. As is proven by the continued purchase of the diamond eternity ring today. (I concede I am a Doris. And I love my eternity ring. It sits comfortably between engagement and wedding band and I think it my fav in the trio. Pretty, simple and with a three-hundred-and-sixty-degree sparkle.)
It is only fair to state though, De Beers wasn't the first to come up with the idea, really. In fact, it has been around for thousands of years. In theory, an eternity ring is a tautology. The ring in itself has represented 'eternity' since we first started playing around with the idea of objects as symbols. For instance, the ancient Egyptian symbol of the ouroborus or 'tail devourer' is a closed ring representing a snake eating its own tail in perpetuity. As a concept, it invites ideas of continual rebirth and eternity, therefore it is really of no surprise that the symbol found its way into tangible form as a ring for the finger. And that was 4000 years ago. The Greeks and Romans then picked up on the idea, and began exchanging plain metal bands during wedding ceremonies as a sign of fidelity and devotion.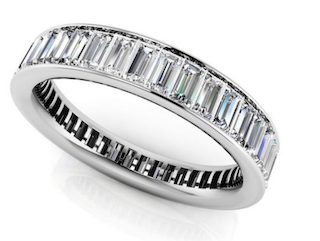 But the idea of a band set with a single row of gemstones is one that warms up through the centuries, although not with the same emotional weight that is imbued on it today. In fact, the design could be considered a precursor to the all the rage 'stacking ring', when a larger gem-laden jewel was worn below a smaller and simpler 'keeper ring' to stop it slipping off.
The trend wasn't adopted as a gift of love until the 18th century, when in 1761, King George III of England slipped one on Queen Charlotte's finger. And they keep creeping into history from that point forward.
Perhaps one of the most famous diamond eternity rings was that gifted to the Hollywood icon, Marilyn Monroe in 1954 by her new husband, baseballer Joe DiMaggio. It was a simple band of baguette cut diamonds set in platinum. When it was sold at Christies auctions in October 27, 1999 it hammered at a crazy $772,500 – and it was missing a stone, perhaps highlighting the greatest flaw in the design. With a band of thirty-five small diamonds, when one pings, the repair often ends up costing a fair amount more than the original little stone!
Today, though, the eternity ring isn't exclusive to the wedding finger. They are just as beautiful as a gift to a friend, a mother, a child – even a little on the side 'what the hell, I deserve it' personal indulgence. And why not the reminder to love yourself forever? It's a great place to start.