Hello friends! I'm back again to talk about my newest diamond obsession, the baguette diamond band! There is just something about this long and slender diamond shape that excites me… and while baguettes are dainty and super cute as stud earrings, they are stunning when lined up across as a band. So! I'm going to tell you all you need to know about this fun shaped diamond - including what it is and the most popular band styles we see. I think if you weren't a fan before, you are about to join me on team baguette after this!
What is a Baguette Diamond?
The baguette is simply the shape of the cut diamond, like a round cut or princess cut. If I had to guess, the baguette diamond is probably named after the French baguette itself… because that is basically the exact silhouette! It isn't a full rectangle like an emerald cut, but more of a long and skinny shaped stone. We also have a tapered baguette in which one end is wider than the other, creating a small, but very cool, trapezoid looking diamond.
I say small because baguettes actually tend to be on more of the petite side. These diamonds are designed to look delicate and graceful, so they are often cut into smaller sized stones - which also means they are usually less expensive than the other cuts (totally a win). And, because of the complementary nature of the baguette, they are regularly used as accent stones to a larger diamond in a ring. This is why, for me at least, using only baguettes in a band is such a fun and interesting style flare!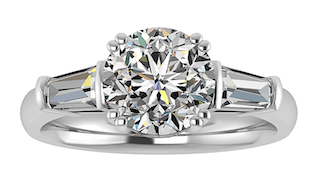 Styles
Solitaire Ring
Exactly as it sounds, the solitaire ring is simply a single baguette diamond showcased within a ring. This diamond can be set long ways, short ways, side-ways, or whatever ways you would prefer to have it, as long as it is a solo stone. (Side note: While this shape is usually cut in daintier sizes, of course larger baguettes can be found if you are interested. Reach out to one of our graduate gemologists in chat to find out more about sourcing.)
Eternity Band
An eternity band is essentially an endless line of diamonds that wraps around the finger - and it just so happens that using baguettes as the diamond shape for a band like this is currently my favorite look! It is kind of like a white picket fence for your finger… but way better. And if we are talking favorites, one of my fave fave designs is when the gems are lined up like fence posts but staggered in height instead of straight across. It gives the eternity band an edgy glam feel.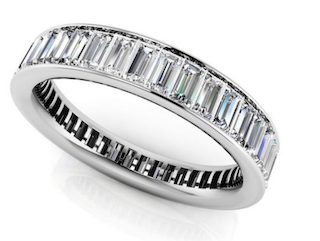 The baguette diamonds can also be set long ways, where the short ends are touching side by side. This creates a skinnier, less intense looking band, which is also more cost effective since fewer diamonds are needed. It doesn't matter which way the diamonds are set as long as the ring has a continuous row of them!
Baguette Halos
Otherwise known as a ballerina halo, this design is definitely attention grabbing. Instead of the familiar halo that is studded with tiny round diamonds, the ballerina halo uses baguettes, pointing outward from the center stone, to dramatically encircle the main diamond. If you are into halos (or even if you're not), this might be the uniquely vivid design you never knew you loved.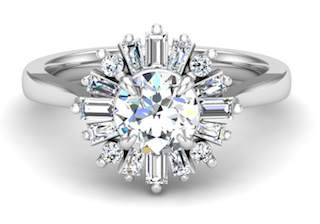 Everything in Between
Okay so maybe you just want a half band of baguette diamonds, maybe you only want a 3 stoned band, or maybe you want an alternating baguette diamond and blue sapphire combo. We can go vintage, modern, bohemian, or chic. Whatever it is, there are a million different designs out there so don't be afraid to explore some of those beautifully creative ideas.
Settings
Also, and importantly for every style of ring (but especially for the solitaire design), is the setting. A setting is what holds the diamond in place, but it also gives us the main visual aesthetic of the ring. The prong, where the diamond sits in a small metal like claw that comes up and over the sides of the stone, is good for showcasing the diamond because the setting doesn't fully enclose it.
The channel setting is also a popular setting where the diamonds are set in a line surrounded by metal on both sides - creating a continuous channel of sparkly stones. Similarly, the bar setting is comparable to the channel setting but with a thin metal strip between each diamond. It isn't as common, but I mention it here because I really like the way it looks with baguette diamonds specifically! It does a great job of highlighting them as the fun shapes that they are.
The bezel setting, however, has the gem set into the metal so that only the top of the diamond is visible…which also makes it the safest setting we have in jewelry. So, for settings, these are our top options- all safe, all practical, it just comes down to which look you would prefer!
Metal Options

This too is mostly a personal preference call. Generally, the metals we use in any piece of jewelry are white gold, platinum, yellow gold, and rose gold…but sterling silver and palladium are popular as well. And while the golds and platinum are the best options because of their durability, they are also going to be more costly. Ultimately, what matters the most is just making sure that the metal protects the diamond, and all of these will do that for you!
Does Diamond Quality Matter?
Short answer - not necessarily. When diamonds are this small the quality of the diamond isn't a huge priority because you won't be able to see the teeny inclusions within the petite stone anyways. But, with that said, I would always advise looking for eye clean diamonds! If you see any obvious dark spots or fractures, then just keep it moving...
Also, when using baguettes as accent stones to a larger diamond, it is important to make sure the colors match that center stone. I know this seems like obvious advice, but diamonds can range from colorless to yellow or brown tinted - so it isn't a given that they will be the same. Even if your entire band is only baguettes, look to make sure they are all similar! It is the small details that will make all the difference in your super fab ring.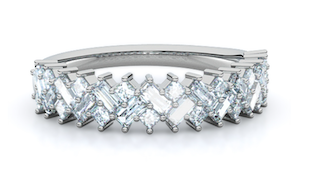 Whether your baguette diamond band is used as a wedding band, an anniversary band, or just an amazing everyday wear - I am so here for it! Turn the diamonds long ways, short ways, stagger them or stack them, use them as a halo or even in an eternity ring. There is no shortage of creative ideas for incorporating these cutesy little diamonds into a flashy diamond band. I'm clearly team baguette… and after all the fantastic reasons I've given here, I'm sure you are team baguette now too!