The Lingo
Getting to know diamond lingo can take some time and research. But, you know what they say, knowledge is power. But here's the doozy on the pave diamonds situation. Pave does not actually refer to the diamond type, cut or shape. Ok, quick French lesson here from your friend in New York who took one year of French in high school and remembers maybe one percent of what she was taught. Pave is the french word for pavement. I'm pretty sure anything with a french name is pretty fancy stuff, wouldn't you agree? I mean, how awesome is your fiance? Are you not asking guests to respondez s'il vous plait? Are french fries not the best thing ever invented. I know you get me. Ok, french lesson over.
Pave diamonds look as if they were literally paved into the setting. This style of setting creates an extra burst of sparkle to any piece of jewelry. The diamonds that are used for this particular style setting are very small, approximately one to two millimeters in size. The diamond is held in place with tiny prongs or with beads of metal and are situated very close together. Setting the diamonds close together gives the look of an unending sheet of diamonds.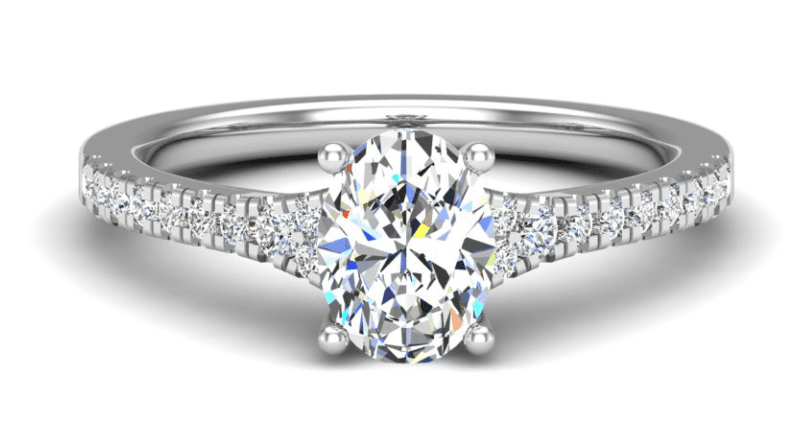 The Upside and the Downside
What is really nice about these wrongly named "pave diamonds" is that you get a lot of brilliance, sparkle, shine and beauty without cashing in your savings. This setting type is set with tiny stones that are usually not colorless and are usually more included. Set the way they are, the color and clarity of the stone is not noticeable to the eye.
Pave diamonds should not come loose and get lost but it is certainly a possibility in a normal everyday wear situation. The good news is that it should not be too pricey to replace the stone and most jewelers can make that repair easily.
Searching rarecarat.com/settings will give you an opportunity to see so many types of settings. Deciding what's best for you is part of the journey and don't forget "la vie est belle"!