"Finally, it's official! Congratulations on your wedding!
Planning to find that meaningful, special and personal wedding ring takes a lot of work. With a broad range of alternatives available for a wedding ring other than just a plain gold band, it only gets tougher. We get it, that's why we have composed a comprehensive guide for you to be able to choose that perfect wedding ring at ease!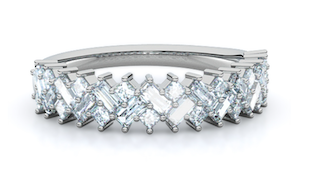 A wedding ring, also known as a wedding band, can be traced back to the Ancient Egyptians almost over 6,000 years ago when the Egyptians exchanged rings made from braided reeds and hemp, known as "rings of love". It is a band with no end representing eternal life and love. So let's delve into how to make the perfect ring of love for you.
Wedding Ring Budget:
As for everything else, it is important to set a budget to buy a wedding ring even though they are emotionally priceless. But we're setting a budget so that just buying the ring doesn't burn a hole through your pocket. Wedding rings are available for as low as $100 to over $10,000.
Wedding Ring's Style:
As wedding rings are usually exchanged at the wedding ceremony it is made with a relatively simpler design and is less glamorous than an engagement ring. You can choose one that either complements the already existing engagement ring, or the ring can be a statement piece of its own. There are different styles available for a wedding ring. The choice of selecting the style is absolutely personal to what aesthetically appeals to you.
Let's take a peek into different styles for a wedding ring.
Plain wedding ring: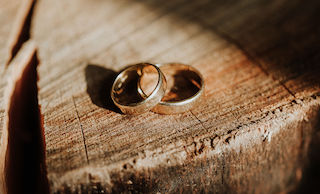 Plain metal bands are a classic and traditional choice when it comes to choosing a wedding ring. They are available in plenty of options in precious metals such as platinum, palladium, yellow gold, white gold, rose gold etc.
Shaped wedding ring:
They are also known as notched wedding bands or 'v' wedding band. They are designed to be set lower or are curved so that an engagement ring (which has a slightly raised stone) can sit perfectly next to it.
Diamond set wedding ring:
These are wedding rings set with diamonds/precious stones.
Celtic wedding ring:
A celtic wedding ring or claddagh ring is a ring with Irish design elements that are imbued with a romantic meaning.
Wedding Ring Metal:

Finding the right metal is as important as selecting a pattern, style or diamond for the wedding ring. Moreover, choosing the metal now has become an even more challenging decision than before as there is a wide variety to choose from.
It is always recommended to choose the same metal type as the engagement ring to make it a compatible set.
So let's get going and understand the different metal types:
Platinum:
Most popular choice for wedding and engagement rings because of its hardness, rarity and white sheen that will never allow it to become dull or lose color. It is also recognised as the most luxurious option amongst the metal types.
White Gold:
White gold is an alloy of gold, meaning it gets its silvery white color from mixing yellow gold with copper, zinc and nickel (or palladium). It is then plated with rhodium (a platinum group metal). It's the perfect choice for those who prefer white silvery appearance over yellow gold.
Yellow Gold:
Classic and timeless, yellow gold is one of the most precious metals. It is a combination of pure gold, copper and silver which gives yellow gold it's signature warm lustre.
Rose Gold:
Also known as pink gold, it has a warm pink hue created by adding yellow gold with a copper alloy. This gold is becoming very popular because of its romantic, contemporary look.
Wedding Ring Size:
It may not seem so crucial to choose a wedding ring with the right ring size, initially, but overlooking this factor could be frustrating and possibly be expensive later on. As a wedding ring will most probably be worn every day, the size shouldn't be too big for it to be lost or too small where it would be too tight and uncomfortable. Also resizing wedding rings made in some metals, such as titanium, becomes quite difficult later on. Therefore, when placing an order for a wedding ring, always make sure to get the ring size properly measured by a jeweler.
Wedding Ring Width and Weight:
So you might wonder what width and weight the ring should be. Normally thinner rings are the most preferred choice as they are more comfortable, especially for slender fingers. Broader rings are best suited for larger fingers.
A bandwidth for a wedding ring usually starts between 2mm and 10mm, where 2mm to 4mm widths are usually recommended for a lady's ring. It is normally recommended to keep the width of the wedding ring of the bride the same width as her engagement ring. As for the weight of the wedding ring, it depends on the width of the ring one chooses. It's always better to choose a width that is comfortable on the finger of the wearer.
Wedding Ring Finish:
Finishing is an important part of the manufacturing process because they put the final touch on the piece of jewelry. Different types of finishes that add beauty to the wedding ring are:
High Polish:
This finish gives a mirror-like appearance to the ring surface and is one of the most popular and common types of finish.
Satin Finish:
This type of finish gives a slightly matte-like appearance to the ring and reflects light in a more subtle way than a ring that has a polished finish.
Hammered Finish:
As its name suggests, this type of finish gives off an appearance that the ring has been hammered, leaving behind a dented design.
Sandblasted Finish:
Also referred to as a rough finish, this type of finish has a cool, frosted appearance and a textured slightly rough surface.
Florentine Finish:
It is a crosshatched decorative technique engraved into the surface of a precious metal.
Wedding Ring Engraving:
If you chose to personalize your wedding ring more, you can do so by engraving it with messages, words or phrases that are meaningful to you.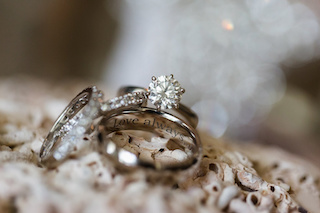 Types of Engraving:
Hand engraving:
The oldest and most laborious method-the wedding ring is hand engraved by a skilled worker with a small engraving tool.
Machine Engraving:
This type of engraving uses a tool that is controlled by a machine to produce an engraving.
Laser Engraving:
This is the most contemporary and adaptable type of engraving method. Here, a highly concentrated laser beam is used to perform the engraving.
Here's hoping that this comprehensive guide has helped make the process of buying the wedding ring easier for you!