A Graduated Engagement Ring
The first design to mention is geometric and beautiful, as well as simple and sleek. A graduated diamond engagement ring comes in many shapes and sizes but there are a few key characteristics. This means that the side stones go from smaller to larger as they approach the center stone. This is an elegant design that works great with all diamonds and gemstones and can be used on a variety of different shaped bands.
The Marquise
Another design you may not see often but is as timeless as it is fun is a marquise diamond ring. Its elongated shape and pointed ends make it an edgy choice that is sure to make you look down at your finger a few times a day (if not more) in admiration. A solitaire can be set in either direction, north-south or east-west, and you can choose to add stones to the band or a halo etc. The shape of this stone makes for an eclectic modern design with a vintage flair.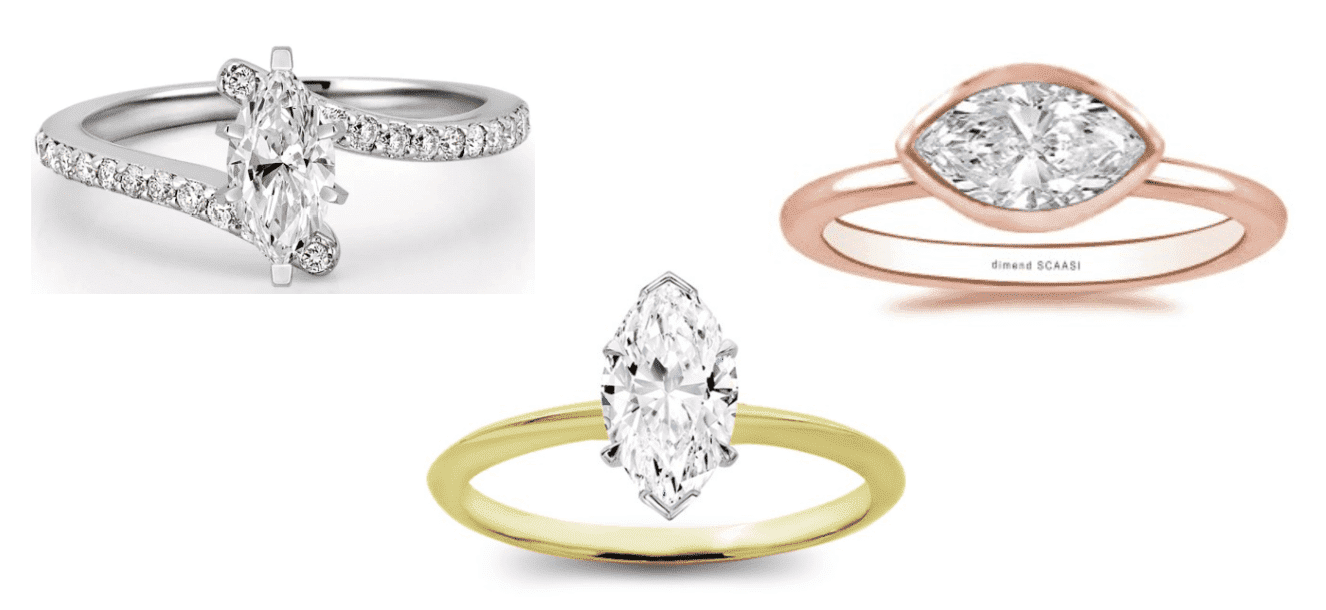 Oval Halo's
You thought I wasn't going to mention the all-famous Oval Halo ring? How could I forget?! This is a very trendy and super popular style featuring an oval center stone and a delicate outline of smaller diamonds surrounding it, sometimes with smaller diamonds on the band itself as well. This is a modern, sparkly option for a gorgeous ring to last a lifetime.

Flower Power
An old classic look that is quite different than the rest is a flower-shaped ring. Usually, a ring like this features a center stone with smaller stones placed around it like petals. Sometimes the petals are also distinguished within the metal of the setting itself. This style of ring is feminine and fantastic with an old school elegance and endless design options.

These are just a few of the top engagement ring styles to keep in mind when on your search. Remember you can always play with the colors of the metals, the types of settings and certain visual nuances to perfect your design! Happy Shopping!