Solitaire Emerald
The solitaire style looks especially ravishing when the center stone is an emerald cut. No matter the carat weight or your price point, any size emerald looks gorgeous in a solitaire setting. There are a few ways to set your emerald stone, the classic way being from north to south and a more modern design would be to set it horizontally. When featuring an emerald cut diamond it is important the color and clarity of the stone as it will be the focal point of your design. The step cuts of an Emerald shaped diamond give it a lucid shine where inclusions on the table can easily be spotted, so make sure your solitaire ring features a stone you love!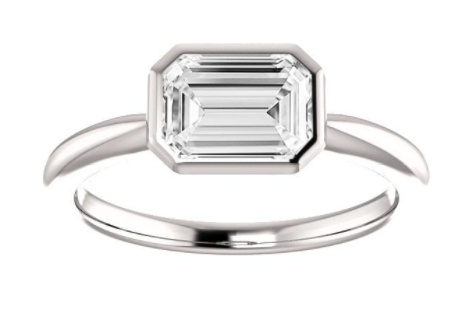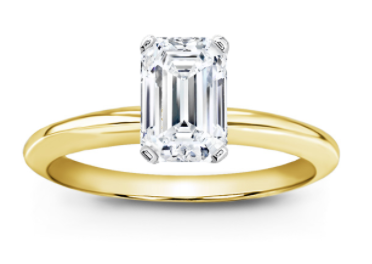 Three Stone Emerald
If one Emerald cut diamond isn't enough for you… maybe try 3! A three stone emerald engagement ring is one that has gained a lot of popularity in the past few years and when matching emerald diamonds are put together the outcome is a stunning engagement ring! The center emerald is usually the heaviest in terms of carat weight while the side emeralds are proportionally smaller. For example, if your center stone is a 1.5 ct diamond, you may add two .25-.50 carat diamonds so that the ring remains proportional and just the right amount of sparkle is added. If you are thinking that three emerald cuts just doesn't seem right for you, an Emerald center diamond also looks great with side stones of other shapes, like baguettes or trillions.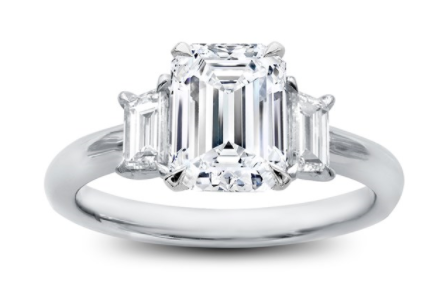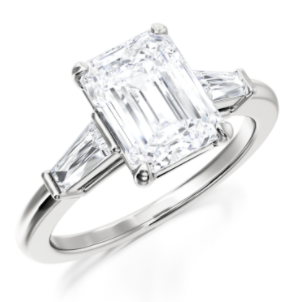 Split Shank Emerald
A split shank ring gives off a different vibe because there is negative space in the design of the band making it edgy and fun to customize. An Emerald center stone can be played up by two different colored metals, that twist and meet, or a split shank that is simple and set with smaller diamonds. There are a ton of up and coming Emerald cut engagement ring ideas featuring a split shank so if you are looking for something a little more alternative, this ring design might just be the way to go.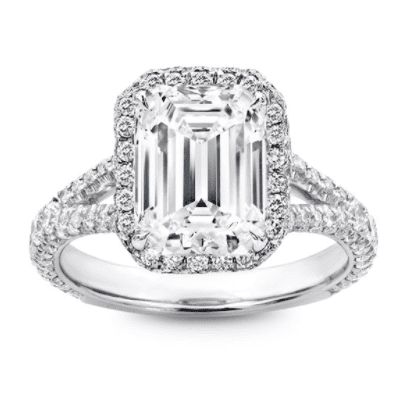 Emerald cut diamonds look gorgeous when paired together with other emerald cuts, with diamonds of other shapes and even with semi precious gems like sapphires or rubies. If the facets of a round brilliant stone are not for you because you like something a bit more elongated and rectangular, the sophistication of a step cut emerald ring is totally for you!