"She's beauty, she's grace, she's Miss United States…"
I imagine William Shatner singing this to our very own Miss Congeniality in the diamond world, the princess cut diamond. With its clean and modern look, this style has been one of the most popular shapes for engagement rings. Collectors and lovers alike have coveted square-shaped diamonds because of the cutting pattern that helps the stone reflect light back to the eye. Developed to fill a market gap in the '60s, the princess cut is a true reflection of the evolution in cutting over centuries.
While the princess cut is technically considered a modern style, this shape is closest to a diamond's most natural form. Natural diamonds grow in an octahedron that looks like two pyramids connected at their flat bottoms.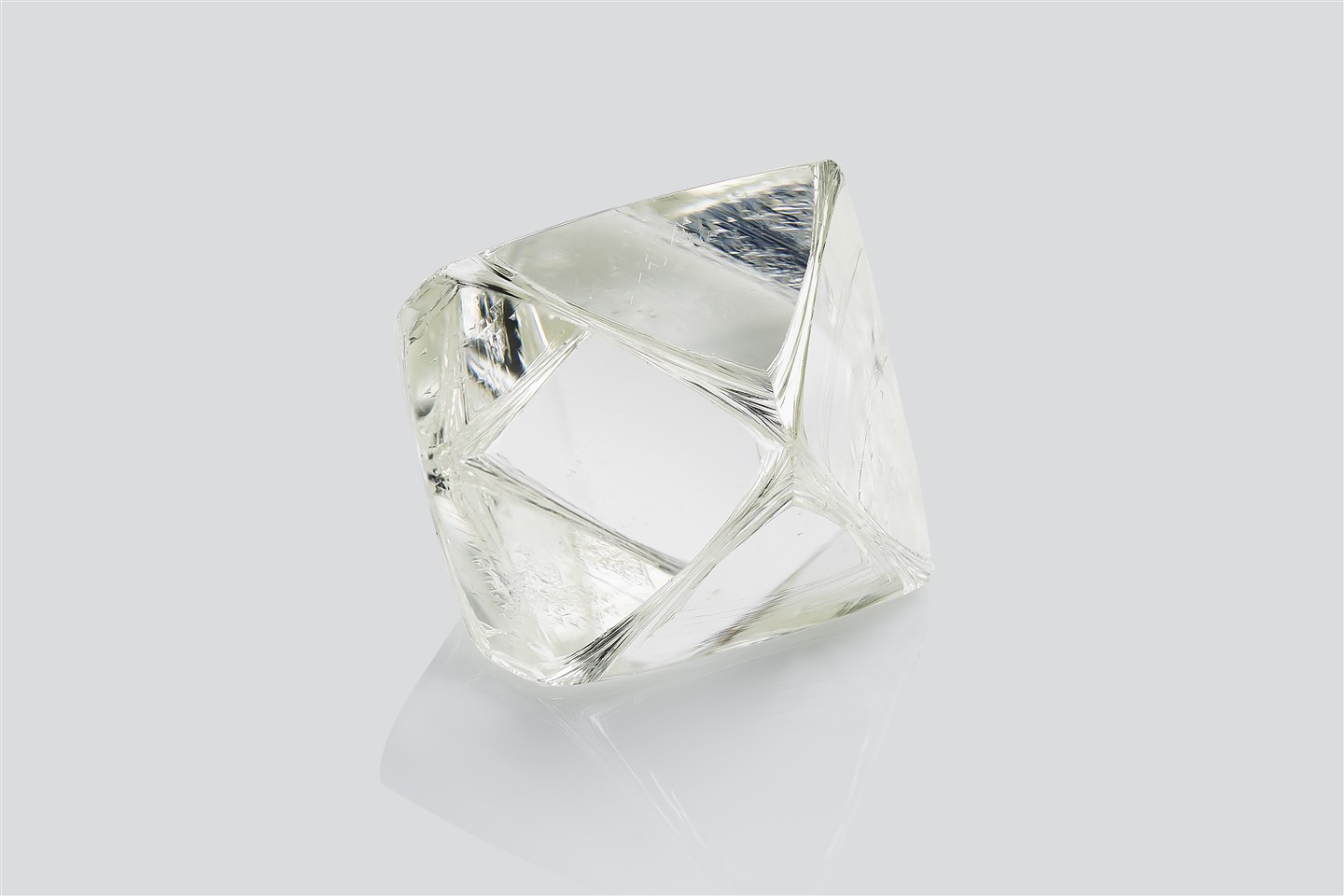 Primitive gem cutters would keep the octahedral shape or split the diamonds in half. A square diamond yields more material because less rough diamond is compromised during the cutting process. As you can imagine, this shape was ideal for early gem cutters to keep a high value on their stones. Technology progressed and more facets were added to produce more light return. Throughout the Art Deco period, the French Cut reigned supreme and by the 1980s the Princess Cut took its place as the most popular square diamond.
If you're looking for a diamond with lots of sparkles, high value, and feminine edge, the princess cut might be for you! Since the corners of square diamonds are so fragile, finding a protective setting is crucial. Check out some of our suggestions offered at Rare Carat below.
Solitaire Princess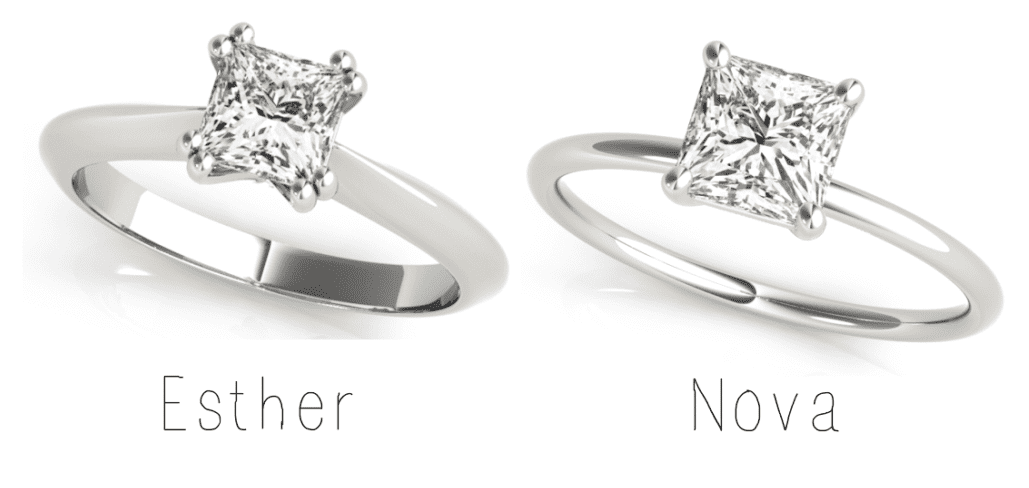 If the brilliance of your princess cut diamond is enough of a statement, a solitaire setting keeps your ring classic while allowing maximum light to enter. This will keep all attention on your diamond and may even create the illusion of a larger carat weight. Solitaires are some of the most comfortable bands with their rounded edges offering a smooth and snag-free style. The four prongs on each corner will also keep it safe. An addition of a hidden halo can bring a little more glamour and visual size to the ring.
Esther Double-Prong Setting on Rare Carat
Nova Solitaire Setting on Rare Carat
Channel Set Princess Mountings
Adding more sparkle to a smaller princess cut diamond is affordable with a channel setting. This setting gets its name from nestling accent stones within a "channel" of two strips of metal. The accent stones are customizable and a great way to express your creativity.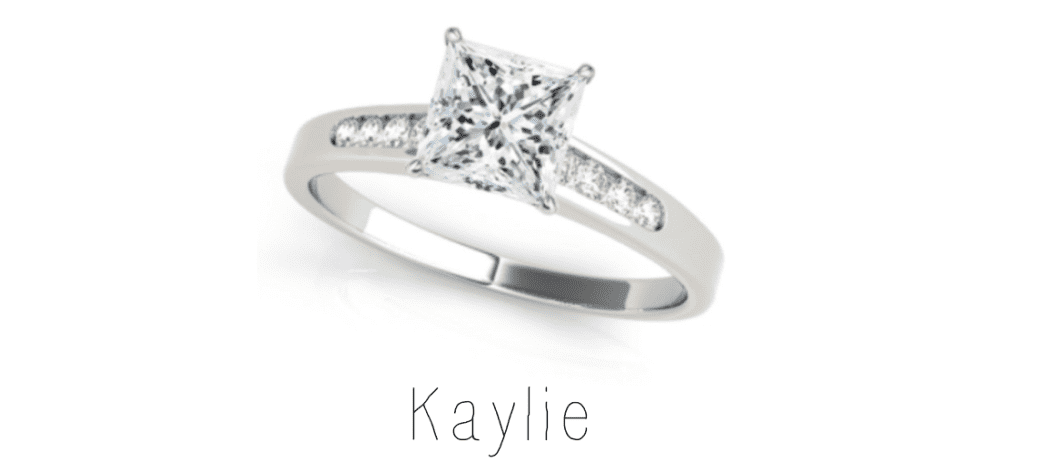 Kaylie Channel Setting on Rare Carat
Vintage Princess Cut Rings
A vintage-inspired setting is an incredible way to honor the origins of the princess cut. These settings highlight the charm and style of old-school designs and are the perfect union of old and new. While princess cut is relatively new, setting your diamond in a vintage style band is a great way to make your ring unique.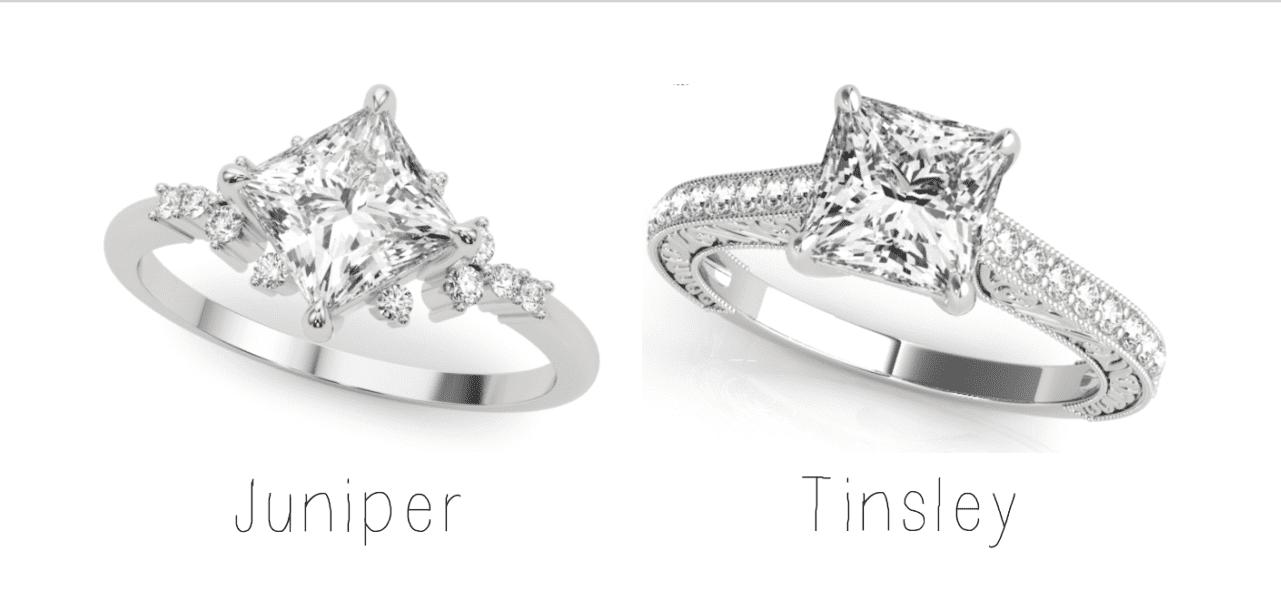 Juniper Vintage Setting on Rare Carat
Tinsley Vintage Setting on Rare Carat
Three-Stone Princess Cut Rings
Fit for a true princess, the three-stone setting will crown your finger with two additional stones flanking the diamond on display. This setting is versatile for any occasion, from anniversary to engagement to right hand ring. It also is one of the most popular options for a princess cut diamond. Keep it classic with all princess cuts or make it unique with two half-moon diamonds.

For more information on how to find the perfect princess cut diamond, check out our buying guide here.