Will people think you're cheap if you don't get her a diamond? Here's how to outwit the haters.
Right or wrong, for many people (possibly even your bride-to-be!) the thought of anything other than the classic diamond engagement ring automatically labels you as cheap. And the struggle is real. You have no idea how you're going to find the perfect diamond ring at the perfect price.
The topic of buying a diamond engagement ring is rife with impassioned opinions on both sides. If you're not sure which side you're on, we're here to help you take an informed stance so you can stand up and be proud of your decision to go diamond, or not. Dammit.
The legit case for a non-diamond engagement ring
Obviously, the #1 argument against a diamond engagement ring comes right back to the holy wallet. For many people, spending a couple grand (or more) on something that's primary purpose is not exactly functional is the equivalent to flushing that cash down the proverbial toilet.
But contrary to popular belief, you do NOT have to sell your car (or your plasma) to get your future fiancé the sparkly diamond rock of her dreams. And even if you do have the cheddar, some women just prefer to go against the diamond-loving grain, or don't care all that much about the type of rock in the ring. Others simply favor unconventional gemstones and like black diamonds, and non-diamond rings like royal blue sapphires, blue topaz, morganite and even green amethysts. All non-diamond center stones that are majorly growing in popularity. The personality and personal taste of your partner has everything to do with if a non-diamond ring rocks on her ring finger - or not.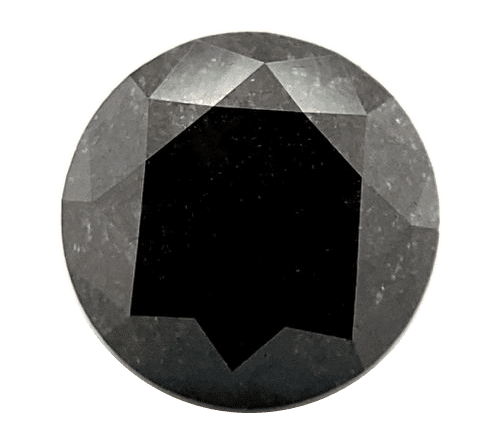 Black diamonds can be a unique choice for an unconventional partner.
Even real-life princesses like Napoleon's wife, Empress Josephine and everyone's favorite modern royal, Kate Middleton donned some seriously stunning sapphire engagement rings. And American princess Jackie O. rocked an emerald engagement ring with ZERO shame. Talk about some geological miracles. And their husbands were far from cheap.
The second major argument against diamonds comes down to ethics. And this is a point we definitely don't take lightly. But thanks to insanely cool tech like Everledger, it's almost impossible to create fake origins for conflict diamonds. With blockchain in the mix, if a supplier is acting shady, you'll know about it.
You can't lose with a classic diamond
Ok. So we now know that you don't HAVE to go with a diamond. But be warned, the argument for doing so is STRONG.
According to some sources, up to up to 87% of brides prefer diamonds to any other type of stone. Deep down, many women actually want a diamond, but are too afraid to come right out and say it. That could be why a minimum of one in six women are instantly disappointed at the sight of their engagement ring. And we DO NOT want that to happen to you. We've basically dedicated our entire professional existence to making sure than doesn't happen.
So let us ask you this, if money were no object, would you (and she) go with a diamond? Here's another hard-hitting question. Would she rather sport a small diamond than a larger, but different gemstone? Or do you think a pretty, less-expensive vintage ring would be still a better option than a non-diamond?  If the answer is even a reluctant maybe, you owe it to yourself and your future bride to take a closer look at your options.
If it's the budget holding you back, have an honest convo with your soon-to-be fiance about what she really wants. What's more important to her? The setting or the rock? Can you score a deal by going with .97 carat instead of 1 full carat diamond? (Answer: Yes, you can. And no one will ever be able to tell it's not a full carat). Get clear on what you want so you can get creative with your search and find the perfect rock (diamond or not!) for your situation.
So, will people think you're cheap if you don't get her a diamond? Unfortunately, yes. BUT those people (cough, cough haters) don't know your bride-to-be or their engagement ring history as well as you do. Also consider that most people still think the traditional ring is best, even when so many celebrities and people with cash choose otherwise. Fact is, you DO have options. Real, affordable, ethical options. As long as you make an informed decision about your choice, you'll be the last one laughing.