Halo settings are so beautiful and versatile, almost as if they were sent down from the diamond gods themselves. They make little diamonds look larger, add more sparkle to a lower grade, put some artistic flair on an otherwise plain diamond, the possibilities are endless. We'll deep dive into those and some other areas to pay attention to when you're looking for a dazzling diamond halo ring.
So what is a Halo Setting?

Halo translates to a dreamy row of sparkly diamonds that wrap around the top of your center stone diamond. It can add a beautiful touch to any cut of diamond, which makes it a great option no matter what shape your heart is after.
Benefits of a Halo
Ah, so many advantages and benefits to having a halo setting for your center diamond. The first and usually most common is to help a smaller carat weight center stone look bigger. This is done by adding a halo, which tricks your eye into thinking the main stone is bigger than it actually is because of the surrounding diamond accents. It adds sparkle and brilliance that takes away from thinking it's anything but a pretty shiny ring.
Halos also add a layer of protection to your center diamond. An additional row of setting prongs and accent stones will help to guard the main stone against accidental chipping, knocking, or whacking of surfaces or doors (honestly, we all do it, no shame, just know when you need a little extra protection).
Adding a halo setting is less expensive than getting a center diamond of the same size visually. You can turn a .3 carat diamond into one that visually looks like a .75 ct or even a full carat. That's huge when you look at price differences. Plus you get a sprinkle of sparkle… who doesn't love that?
Drawbacks
While there aren't really any that should totally prevent you from getting a halo setting, there are a few things to keep in mind when searching for one.
One of the biggest things you have to pay attention to in a halo setting is the number of prongs you have to watch out for. A solitaire may only have 4-6 prongs holding the main stone, while a halo is going to have 2-4 prongs per accent stone, which can be a lot (I'll save you the counting headache, most halos usually have between 16-30 stones, depending on how big the middle diamond is). Prongs can get caught on little threads from sweaters, to washcloths to gloves, this is a lot of little arms to keep track of to make sure don't get bent and allow a stone to fall out. Which brings me to number two...missing stones.
Obviously, the more stones you have the more chances you have to lose them. It's quite obvious if you're missing an accent stone, and that's something you'll need to watch out for, and to be able to get them replaced should you lose some (it's not the end of the world if you do, a lot of jewelers have warranties to replace the halo stones, no biggie).
More stones equal more shine. But, this also means you can notice the lack of shine too… halo settings may need a cleaning a little more often than a regular solitaire diamond. But if you give them a good scrub (check those prongs first!) every now and again you should be fine.
So now we know the good and the (let's just say slightly less good, nothing bad about 'em!), let's get into the fun stuff!
Size Matters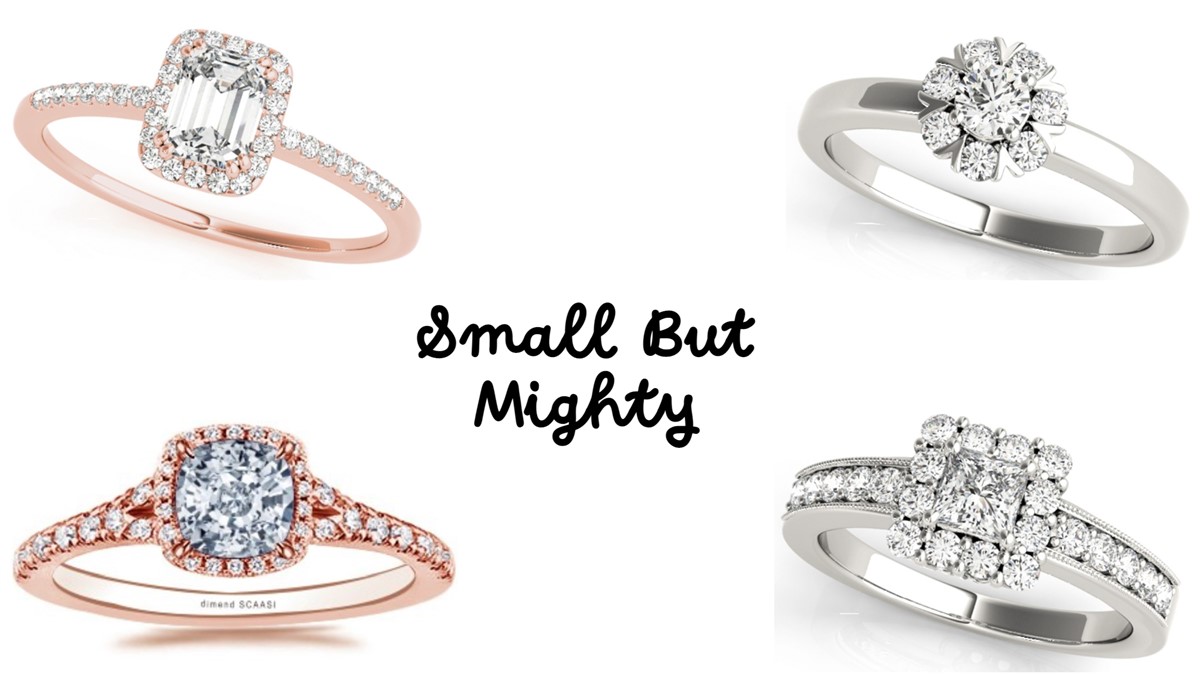 As we talked about earlier, you can have a very small carat weight diamond that has a halo setting and it will create a larger-looking diamond that is just as extravagant without spending an extravagant amount of money. Add some sparkle, save some money. Win-win.
Bold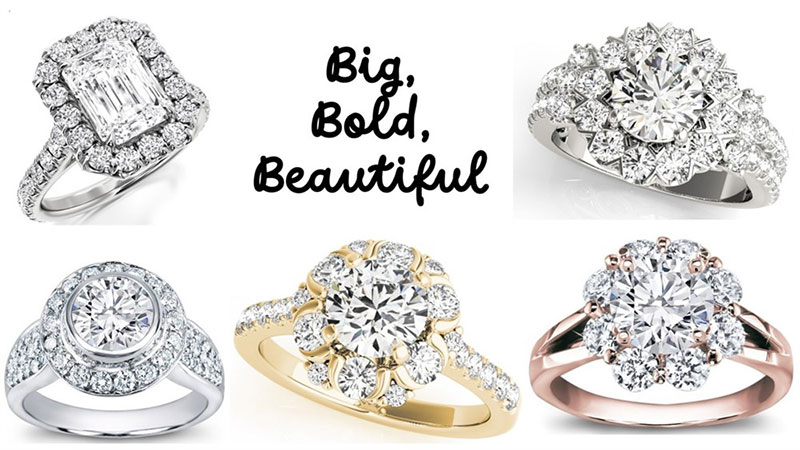 In contrast to our last paragraph, halo settings are awesome for creating big, bold fantastical rings. You can have a decent sized center diamond with lots of good sized friends surrounding it, to turn into a bold statement piece that you will want to wear every day. While they may be big, they are not too gaudy looking, they have just enough accents to make them impressive, but stay sophisticated and classy as well. These are great for anniversary rings or an upgrade to your current wedding set, they show off their size nicely and still allow the center diamond to have its own spotlight.
Floral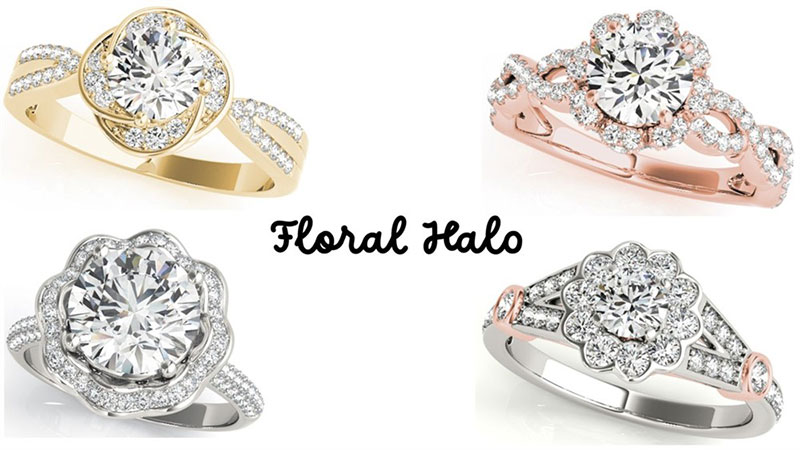 One of the best uses of a halo setting is to create floral diamond arrangements. Diamonds and flowers just go hand in hand, don't they? Of course, a flower has a center with delicate pretty petals all around it, and as you can see these settings also embody that. A mix between the classic diamond ring and a modern flare of floral, and you got a pretty great halo ring that will be sure to turn some heads.
Dainty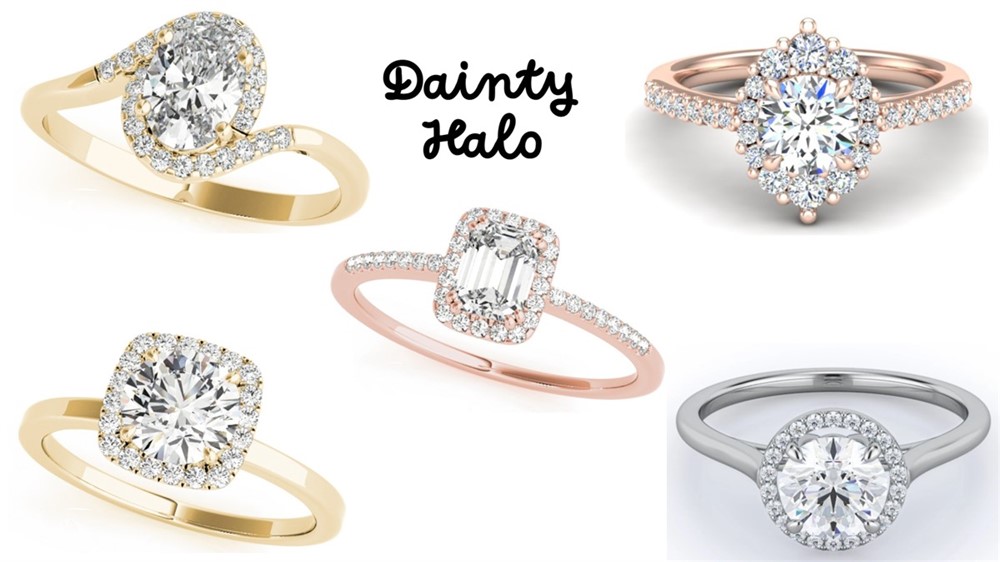 So maybe you want a ring that has a little extra bling but not over the top? You got it. A diamond halo ring doesn't have to be big and in your face. It's very easy to have smaller accent stones around the main diamond to add some glitter but not overpower it. This is great especially when you have a plain band and let the main stone sparkle with its accent stones. It makes for a very classy and clean look.
Artistic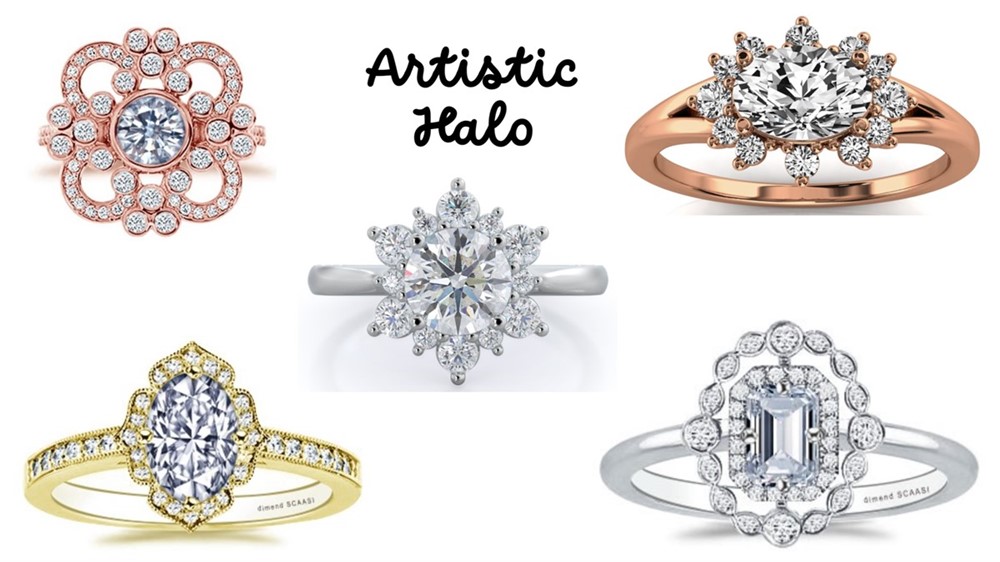 A halo setting is going to have diamonds set around the main stone, but not always necessarily in a circle. You can have fun with this, some settings are very artistic, snowflakes, art deco and more are common when you start to look for the less common halo settings.
Dual Tone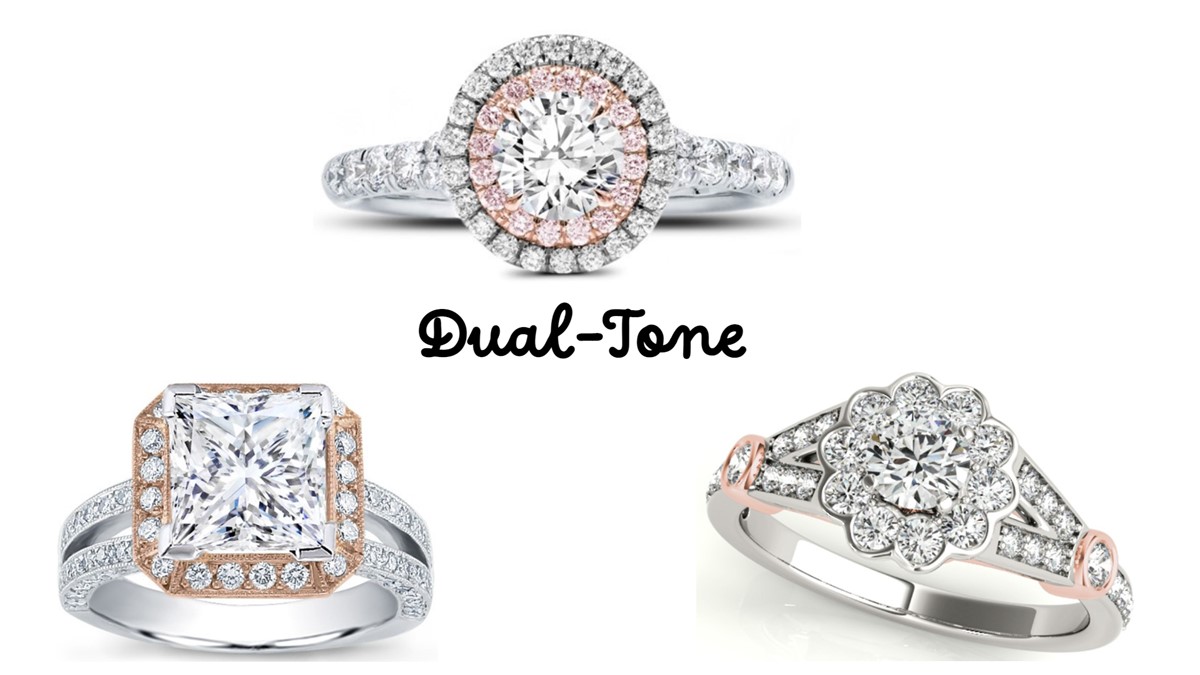 Here we can have fun with the color. Dual tone settings are going to be two different tones of gold in one ring. Contrast is great when you have a colorless (or near) diamond.
And finally, some outliers that deserve credit too. Hidden halos are the same idea, but instead of the accent diamonds surrounding the center stone, they are actually underneath it. Surprise! Double halos will have two rows of accent stones unsteady of just one like we were talking about here. This creates big, bold and very much a statement piece. Sometimes this many stones can be a little overwhelming though, so use your judgment here on if this is a ring you want to be able to wear every day.