The emerald or "step-cut" diamond could quite possibly be the most glamorous of all the diamond shapes. Don't believe me? Ask Beyonce or the ghost of Elizabeth Taylor. The emerald-cut has long been associated with old Hollywood glamour and sported by the likes of Angelina Jolie and Grace Kelly, as well as the aforementioned glamazons. With its 49 (or more) facets creating chic, clean lines and a "hall of mirrors" effect you can imagine why this diamond shape gained so much attention during the Art Deco movement. In all reality, the emerald cut is one of the oldest stone shapes with origins tracing back to the table cut of the 1500s.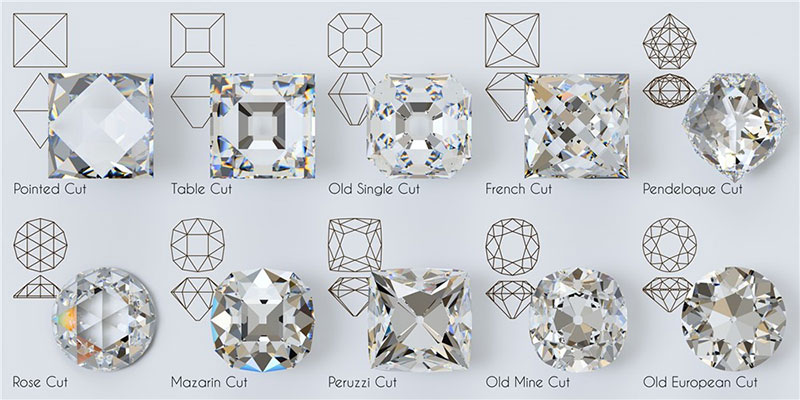 True to its name, the shape was originally used for emerald stones! Stonecutters noticed that the "step cut," used on emeralds, reduced the pressure during the cutting process which ended up preventing chips in the gems. Eventually, diamond cutters incorporated the shape into diamonds. Since the 1920s, the emerald cut has been one of the more popular diamond shapes and is a favorite among celebrities.
Though the emerald-cut diamond shape is quite unique, it complements a lot of ring settings and makes it easy to find a fit for every preference. Below are some ideas ranging from classic and glamorous to stunning and on-trend.
Solitaire Setting
Ah, the quintessential solitaire! If you prefer to spend the majority of your budget on a high-quality stone this is the perfect setting for you. The solitaire setting will let your emerald-cut stone be the star of the show and highlight the glitzy glow that made this cut famous. Level up your solitaire setting with statement prongs for a stylish twist or use white gold to make your stone look bigger.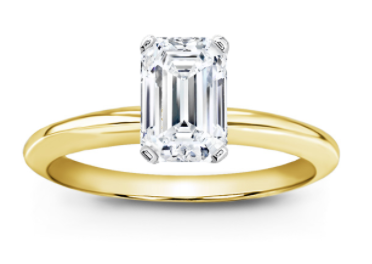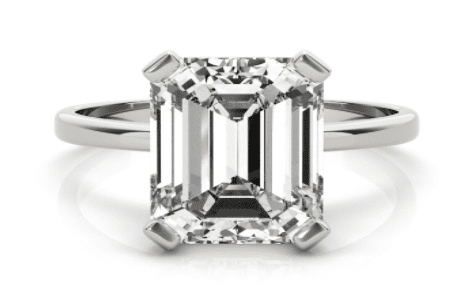 Three Stone Setting
If you're looking for a little more drama but want to keep it classic, the three-stone setting will sweep you off your feet. Setting your diamond with two flanking baguettes will add sparkle and make it pop! While adding more diamonds means more money, you can keep your ring affordable by using smaller diamonds! If you're less worried about the cost and want more volume, adding two smaller emerald-cut diamonds to the sides is also a great option.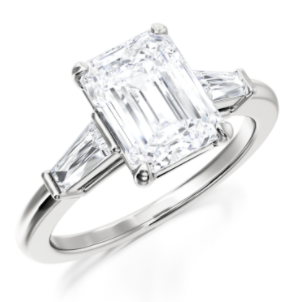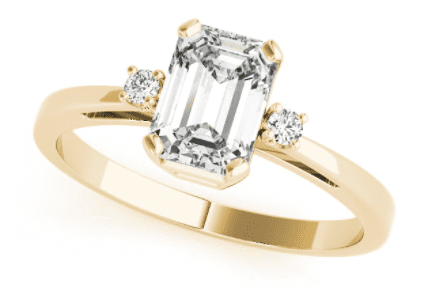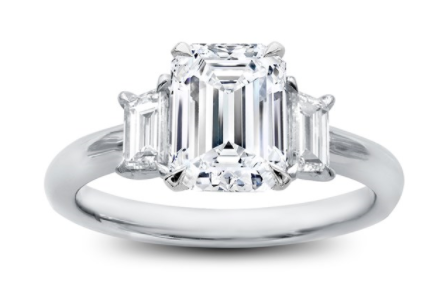 Halo Setting
If "more is more" is your life motto, a halo setting will have your name written all over it. This luxe style can be tailored to any budget. Whether you're trying to maximize the real estate on your finger with a smaller stone and a double halo or highlight a bigger one with a single halo and pave band, this setting will make anyone feel like a million dollars. When tiny diamonds border your emerald-cut center stone they mimic the star-shaped facets of the brilliant or cushion-cut diamonds which typically reflect more light than a step cut. A halo setting will give you the best of both worlds!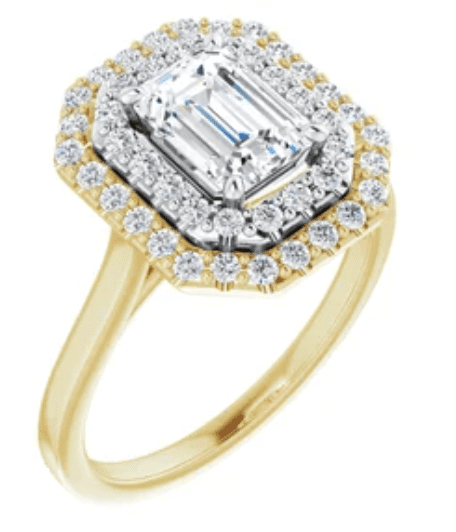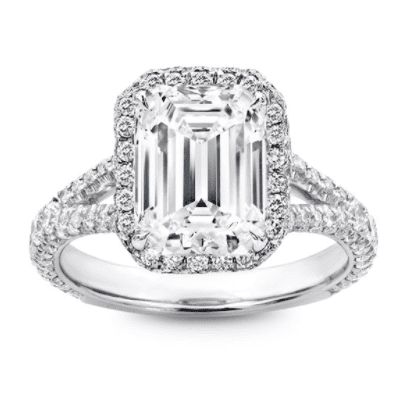 Bezel Setting
In the last few years, the bezel setting has become a cool-girl staple. Sienna Miller, Leighton Meester, and Emma Roberts have all worn this stylish setting. A bezel is a type of setting where the metal completely surrounds the stone and is also known for its durability. You can really show off the sleek geometric shape of an emerald-cut diamond and sometimes make it look bigger with a bezel setting.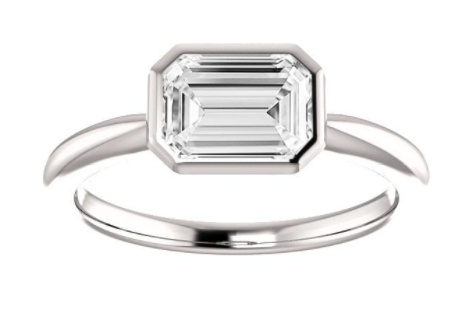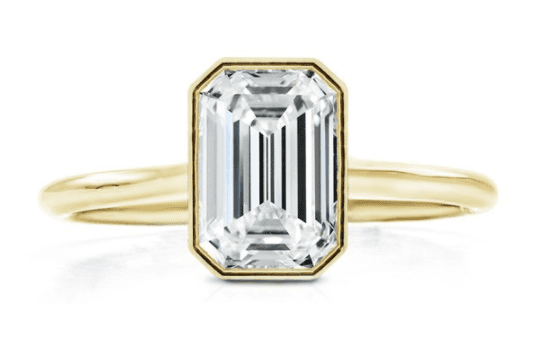 For more tips on buying emerald-cut diamonds, check out our emerald-cut diamond buying guide.