Diamond is a girl's best friend. So what's better than to have a beautiful emerald cut diamond engagement ring to be the perfect start to a happily ever after with your loved one.
The Features of an Emerald Cut Diamond Explained
As we know, an emerald cut diamond has long rectangular step-like facets (flat surface on the diamond) arranged parallel downward. These vertical facets give the diamond a 'hall of mirrors' like effect, with chiseled corners. While it may not be the sparkliest diamond, it sure does create a flattering, slenderizing and glamorous effect on the finger. If these features were not enough, this cut's rectangular shape makes the diamond look bigger than it is. Therefore, a 2 carat emerald will look bigger than a 2 carat round, while being easier on the pocket! Thus, if you or your soon-to-be fiancé is yearning for a diamond ring that's classy, that makes a stylish statement all while being cost-effective - you should definitely consider an emerald cut diamond ring.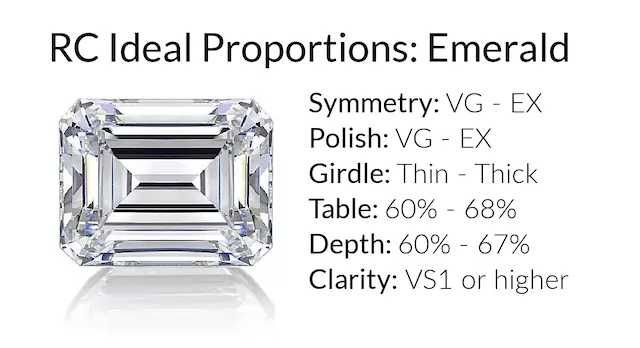 Types of settings used in rings for an emerald cut diamond:
If the points above have made you consider that an emerald cut ring would be the best, then let's delve into closely looking at different ring settings that would highlight and add more beauty to your emerald cut diamond.
Solitaire Setting:
In this, the piece of jewelry is set with a single emerald cut solitaire. The solitaire is held in position with minimal quantity of metal ,and usually is set in four or eight prongs. It's the perfect setting to bring out the beauty of the diamond.
Pave Setting:
A pavé (pronounced as pah-vay) emerald engagement ring is an attractive option for someone who wants that extra sparkle and elegance to the emerald diamond solitaire and its beauty.
Three Stone Setting:
Also known as trinity or trilogy ring, it symbolizes past, present and future -- thus, making it the perfect choice of many couples! The ring has three diamonds set horizontally in a row with the emerald cut solitaire placed as a center stone.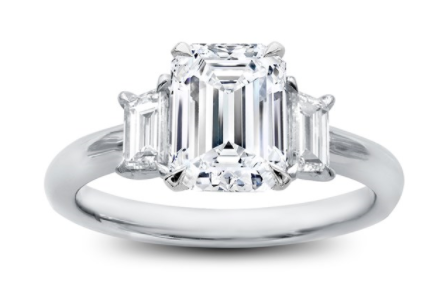 Baguette Stone Setting:
Here baguette (long, rectangle shaped) diamonds have been set horizontally. One baguette is placed on either side, highlighting the emerald cut in the center. Since baguettes like the emerald cut have rectangular facets, this is a great combination.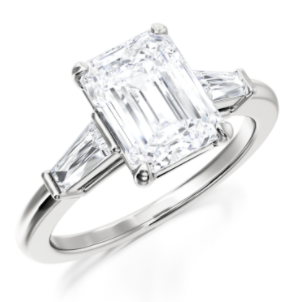 East West Setting:
It is a style of ring setting where the emerald solitaire is aligned in a horizontal way on the ring's band.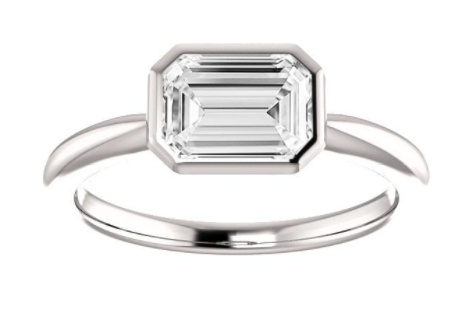 Halo Setting:
This is a setting with a small accent (small diamonds placed beside larger stone in jewelry) diamonds, usually pavé diamonds, that surround the emerald cut solitaire.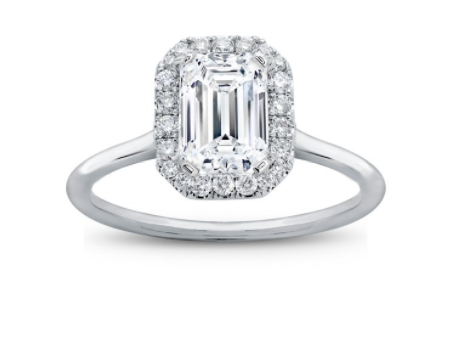 Split Shank Band Setting:
In this setting, the shank (band) is split into two, creating two separate metal pieces that emerge from the center stone (the emerald cut).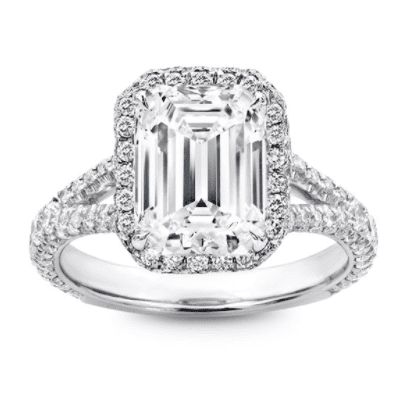 Choice and Color of Metal
To finish off, like the icing on a (wedding) cake, the choice of metal and color of metal are important, as they not only bring out the beauty to the ring's style, but also play an important role in your solitaire's look. So Let's look at your options below:
Platinum or White Gold:
Both of them are white metals. White gold is the most preferred and popular choice for couples. This metal allows the diamond to shine and show off its incredible clarity and color, enhancing its beauty. But you have to remember that because of white gold and platinum's metal color, they are very unforgiving with emerald cut diamonds with a lower color grade than H, making their color more protuberant.
Yellow Gold:
Emerald cut solitaire set in yellow gold is a good choice for those who want a classy, vintage look for their solitaire ring.
Rose Gold:
If chosen, rose gold is considered an exclusive choice for an emerald cut diamond because it provides you with a beautiful combination of an elegant diamond cut with modern metal. Since diamonds pick up color from yellow and rose gold settings, choosing a lower color grade is a great choice because there is less difference between the stone and the metal.
An engagement ring should be more enduring and lasting than any other jewelry piece that you own, so choose discerningly! Check out all of the amazing emerald cut diamonds we have listed on our site.