(pictured above - 4 prong basket style studs with friction backs)
Now that you've picked out your matching pair of diamonds, it's time to think about the setting style that you prefer (click here to see matched pairs). There are quite a few options to choose from, but here are the most common options listed on Rare Carat.
Selecting your prong style
3 Prong
The 3 prong setting, otherwise known as the 'martini setting' because it's shaped like a cone and resembles a martini glass when viewed from the side, is a popular choice that provides the most diamond visibility but still keeps it securely in place. Some people aren't a fan of the cone shape and feel that it stretches out the ear hole if worn for extended periods of time. (Available in 14 karat white or yellow gold or platinum)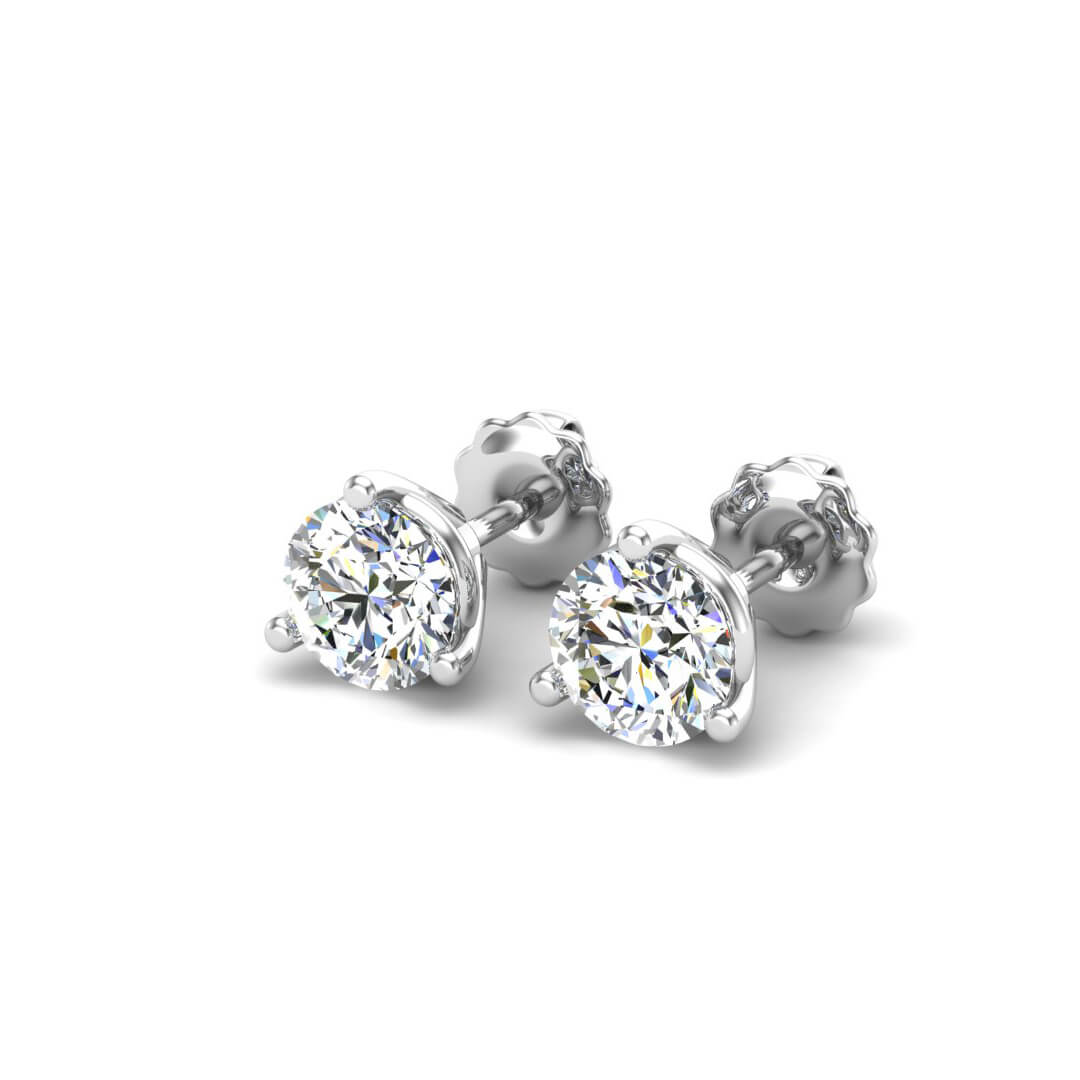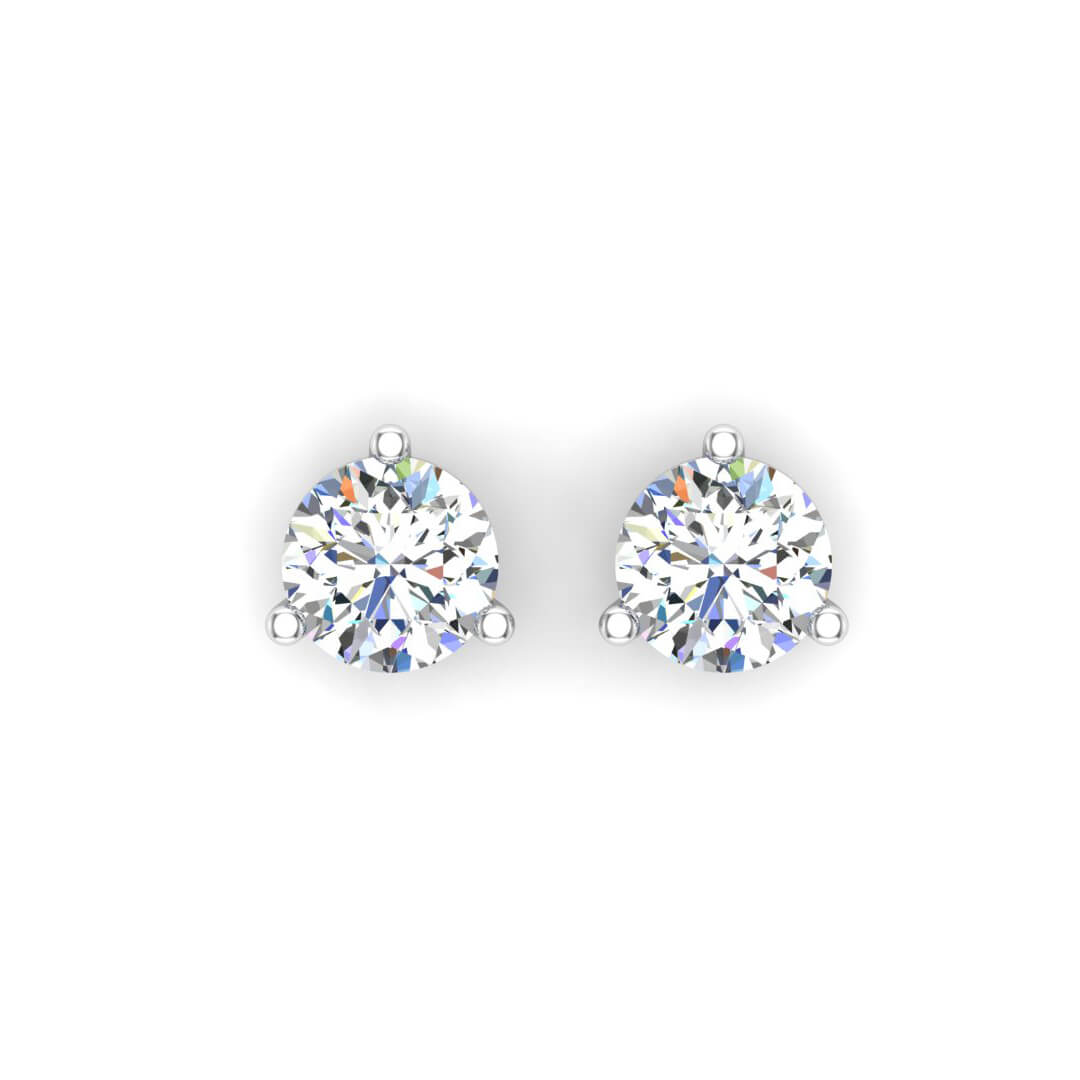 (Photos are for reference only. Styles may vary.)
4 Prong
The 4 prong, or basket style, is the most popular setting when it comes to diamond studs. The base is flat and sits snugly against the ear, and will not pull or stretch the ear. This style is great for an active lifestyle, and some consider it more secure than 3 prongs - if one prong breaks or wears down, the diamond should still be secure in the setting until you can get it into the jeweler for repair. This goes without saying, but if you do notice one of your prongs is missing do not continue to wear your earrings until they are repaired. (available in 14 karat white or yellow gold or platinum)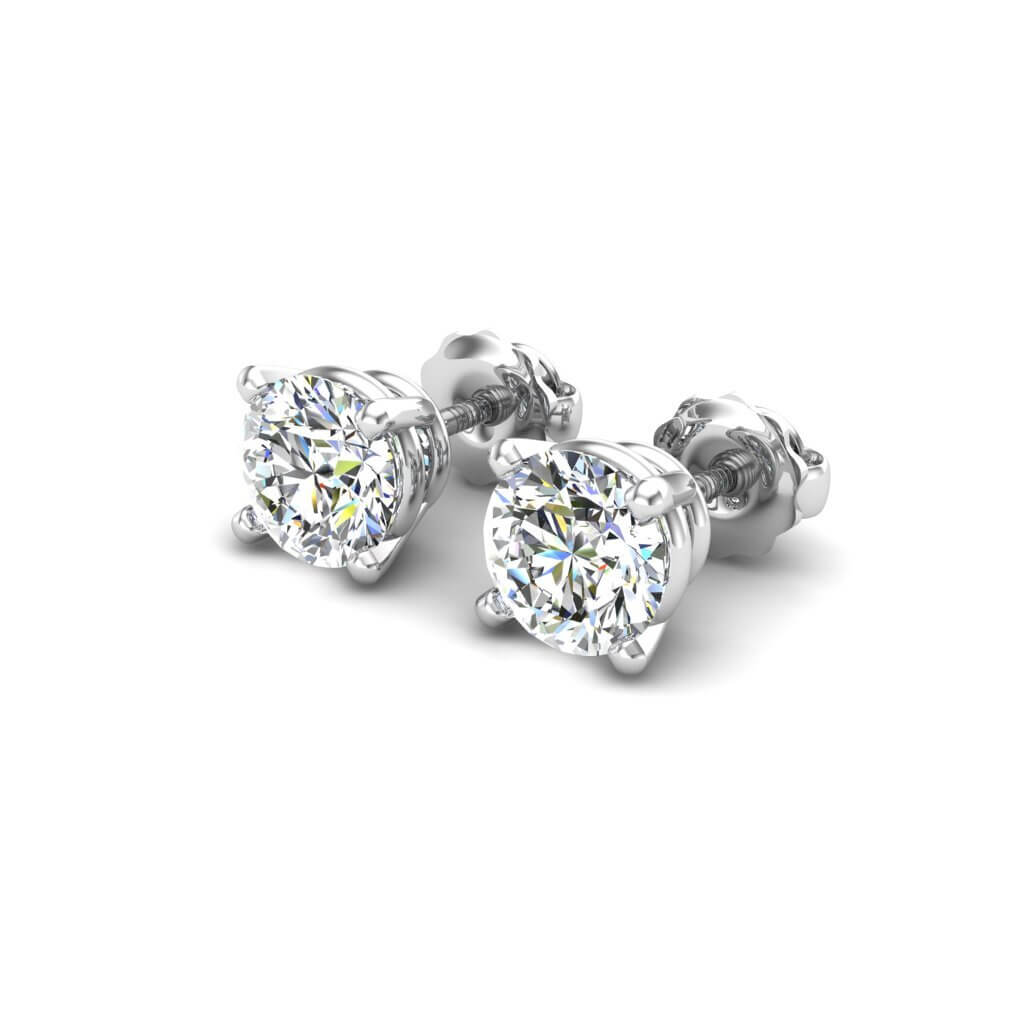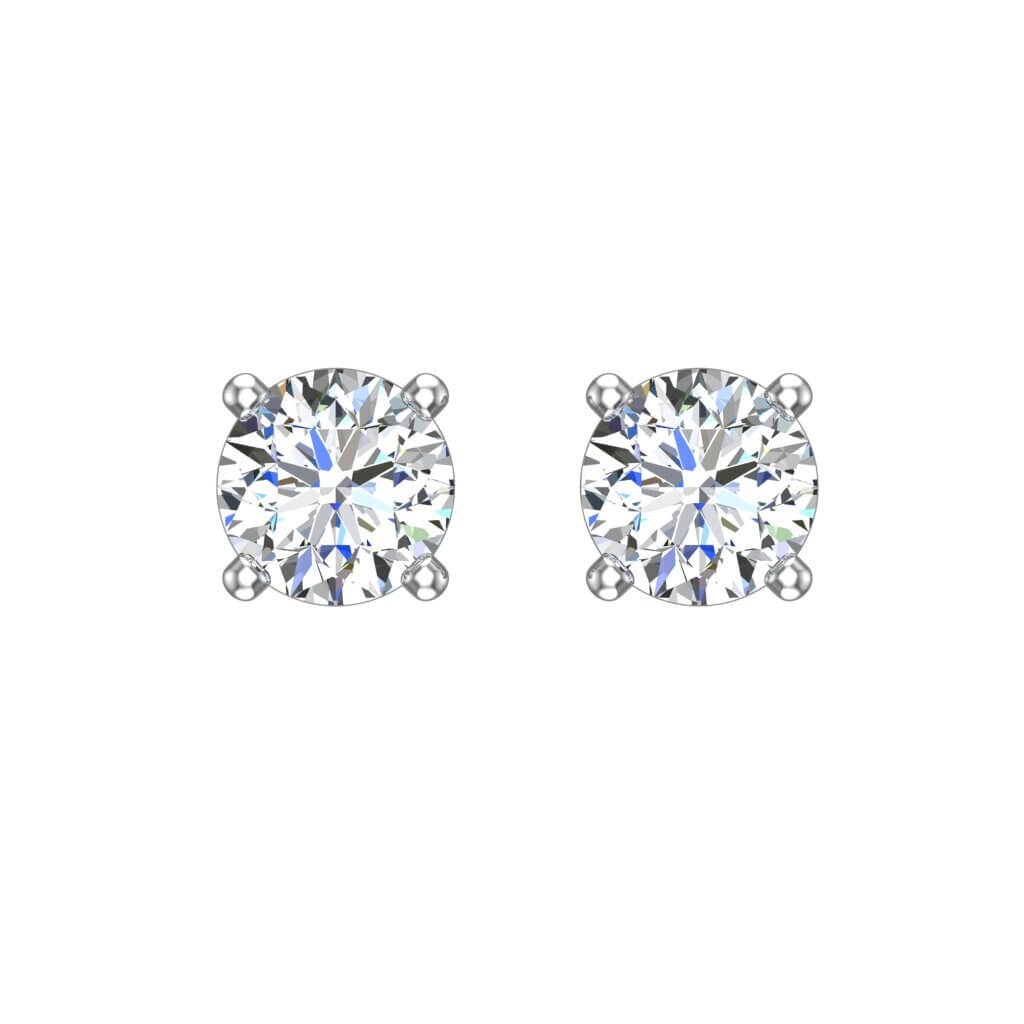 (Photos are for reference only. Styles may vary.)
Selecting your earring backs
After you've picked out your setting style, it's time to select your earring back. There are 3 different types of backs to choose from, each with its own set of pros and cons.
Friction (push) Back
The first style, and most common, is the traditional friction or pushback. This style of back pushes into place, holding your earrings in place with friction. There is a small notch at the end of the post to help ensure it doesn't fall off during wear. This is not the most secure back, but definitely the easiest to use. It's recommended to take your studs out (if you have friction backs) during high levels of activity like watersports, tennis, basketball, etc. so they don't accidentally loosen and fall out.
Suggested Use: 1.25 carat or lower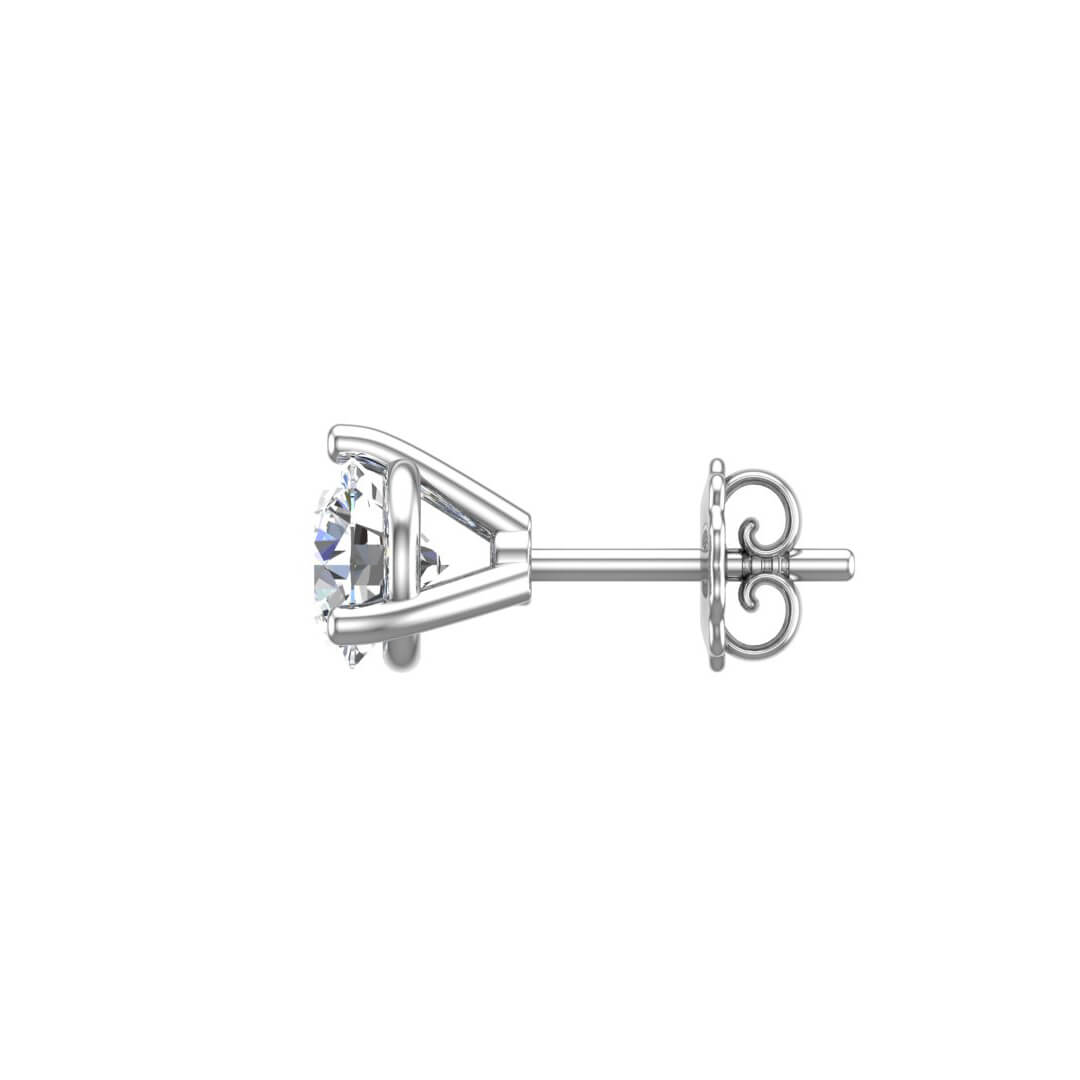 (Photo is for reference only. Styles may vary.)
Screw Back
The screw-back offers mid-level security but is a little trickier to put on and sometimes may be uncomfortable after long periods of wear. This type of back uses a threaded post that the earring back screws onto. This style can be difficult to use if you have mobility issues in your hands or even long fingernails.
Suggested Use: All carat weights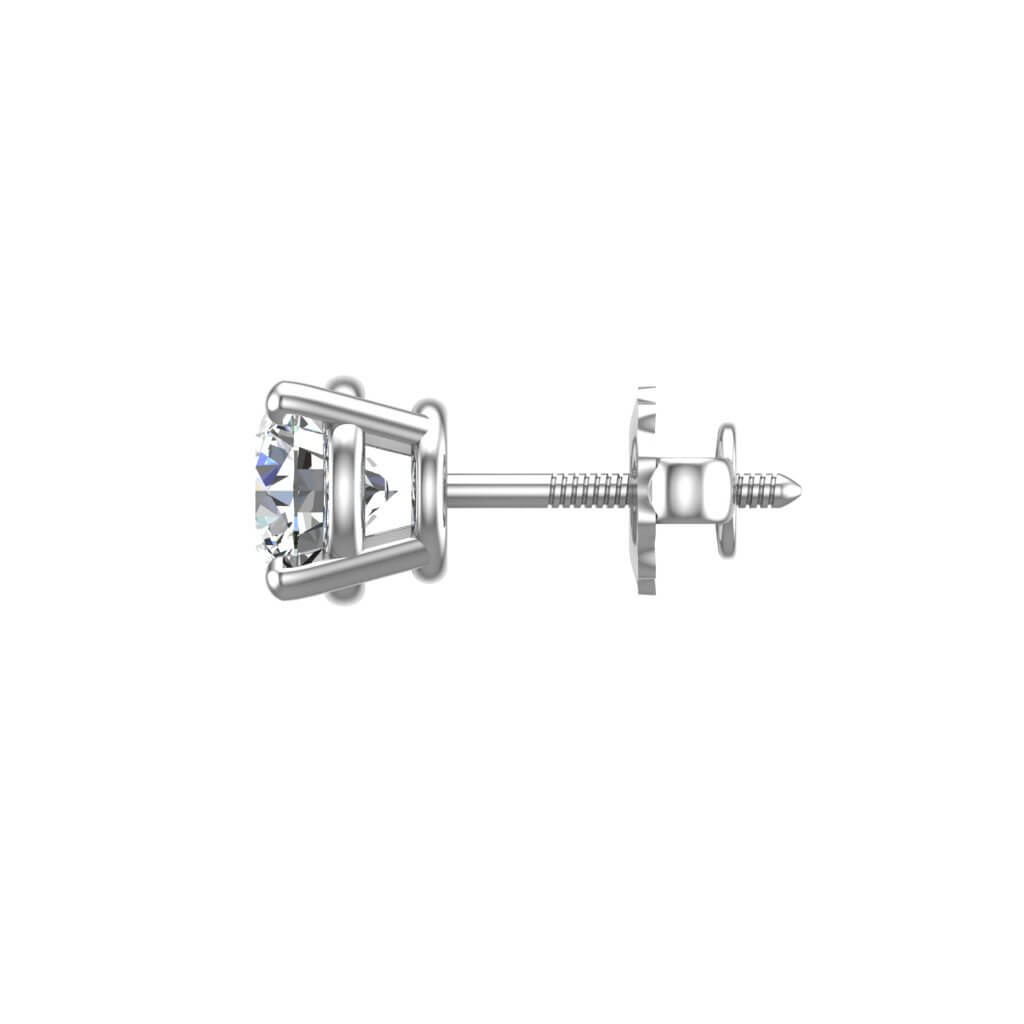 (Photo is for reference only. Styles may vary.)
Locking (guardian) Back
The locking back is the most secure type of earring back, but also the least user-friendly. This style consists of a back that has to be squeezed open on both sides slips onto the earring post, and secures in place through the use of a double-groove locking mechanism. This can be a more comfortable option for a larger diamond since it prevents sagging but can sometimes be visible on a person that has a smaller ear lobe since it is wider than the traditional friction or screw back.
Suggested Use: 1.50 carat or larger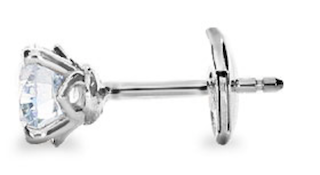 (Photo is for reference only. Styles may vary.)
If you have any questions about the setting styles offered or would like your diamonds looked over by a graduate gemologist prior to placing your order, please feel free to reach out to us via chat! We are here to help as needed.