Let's learn about cavities!

Cavity as represented on GIA report
What is a Cavity?
A cavity is a jagged indent in a diamond which can occur when another type of inclusion (perhaps a knot, a crystal or a feather) has becomes. If the stone gets a knock or a bang, the blunt force can cause the original inclusion to simply fall out (yup!) leaving a little hole or crevasse in its place.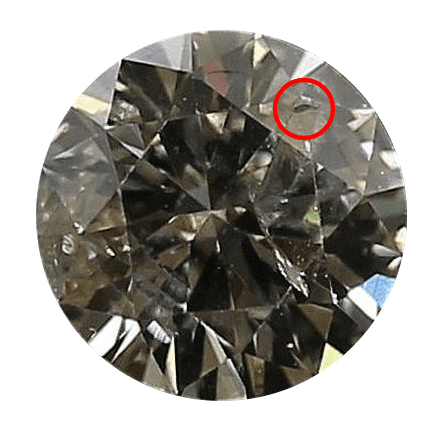 Cavities can be found pretty much anywhere on a diamond, but there are some places that are less of a problem than others (but still not great if we're honest about it). For instance, if there is a cavity on the crown or the girdle of your diamond (the outer sides of the stone towards the top) then it shouldn't affect the clarity (unless it's HUGE of course). This does NOT mean that a cavity won't affect the overall integrity of the diamond in the future though.
Are Cavities a Problem?
If the cavity is sitting underneath the table (like the one above) or the pavilion (the sloping sides moving down towards the point at the bottom), avoid it at all costs.. This is because it can reflect inwards into the stone and in turn affect how the light bounces around inside the stone, and that's even before thinking about how it will affect the durability of the diamond in the future – one substantial bang and it could land you in a new dimension of crap.
As if that doesn't sound bad enough, the other way a cavity could cause you pain (no matter where it is found on the diamond), is simply by providing a little hiding place for dirt and grime to build up, which can make your gorgeous stone look at a little, well, grubby. So, if you're planning on buying a diamond with a cavity, we suggest you think long and hard before handing over you cash. Ask our team of gemologists for their opinion on a specific stone if you're not sure.