Welcome to the next installment of our riveting series on diamond inclusions! Today we are going to get to grips with those external blemishes called 'burn marks', but before we do I want to make sure you are all up-to-date on the basics of diamond inclusions.
Do you know the difference between an internal and an external inclusion? Do you know how to spot these on a diamond grading report? Do you know what the comments section on a grading report is for? Click here immediately before I judge you any further. Back? Cool. Let's feel the burn (marks).
What is a burn mark?
Like most of these external 'blemishes' (imperfections that occur on the outside of the diamond rather than inside the stone), burn marks are a result of the stone being polished far too quickly, or if the stone has been subjected to far too much heat. Burn marks result in a nasty stain-like situation on the diamond. Think of it like when a glass top stove gets strange marks on it when it gets burnt, like this: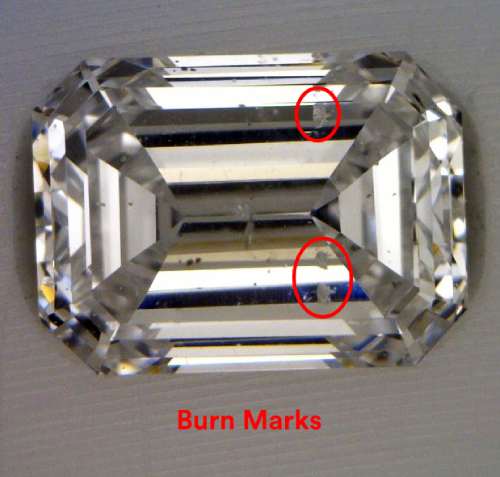 These burn marks on diamonds produce a sort of hazy or cloudy look to the area of the diamond that was exposed to the overheating/polishing. These marks aren't always translucent either, but can actually add some discoloration to the burnt area of the stone. BUMMER.
The good news is that these blemishes will not impact the durability of the diamond, and can even be removed after a good polishing. Kind of like those pecky scratches you get on the hood of your car, they don't affect how the car drives, and are removed with a good buffing. RESULT!