Saying there is an ideal GIA diamond proportion is like suggesting that there is a magic pair of jeans that fits you, and your mom and your uncle Charlie all at the same time.
Just like this ridiculous-sounding pair of jeans, in reality there is no 'one size fits all' ideal diamond proportion. This is because an ideal diamond is based on a delicate balance of all the different characteristics working together to provide the perfect environment for light to bounce around inside the stone. It is like a balance scales of sort, with the aim being to find the perfect (or 'ideal') balance between proportions.
Recipe for an Ideal Diamond
To put this another way, think of it like a recipe. Let's say you are making a lemon pie, and the recipe calls for ½ cup of lemon juice but you drank too many eggnogs and mistakenly added ¾ cup. This pie is going to be much too sour. Not so fast! A little added sugar will cancel out that extra lemon in no time.
The same can be said for diamond proportions; a diamond with a shallow pavilion can be compensated for by a slightly steeper crown angle, or indeed vice versa. So rather than worry about a stationary 'ideal' number for each proportion, think of it like this instead.
There needs to be the right balance between all of the different proportions for a diamond's cut to be ideal

All of the proportions (table size, crown height etc.) have ideal 'ranges' rather than any one specific number, which leaves room for a balance to occur
Need more detail? No problem! We have so much more to show you on diamond cut here.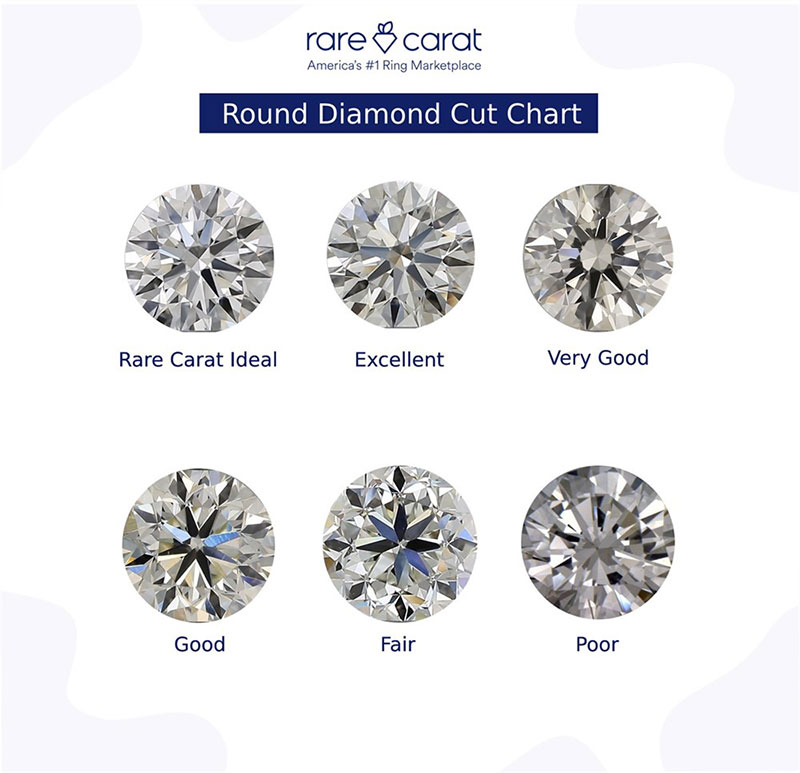 We've made it easy. Go over the numbers, but when you go to search, just click on the Rare Carat Ideal filter, and it'll help you have all those ideal proportions set to search!
Table Size
Excellent to Poor - 52% to 62%
Very Good to Poor - 50% to 66%
Good to Poor - 47% to 69%
Fair to Poor - 44% to 72%
Poor - <44% to > 72%
Crown Angle
Excellent to Poor - 31.5° to 36.5°
Very Good to Poor - 26.5° to 38.5°
Good to Poor - 22.0° to 40.0°
Fair to Poor - 20.0° to 41.5°
Poor - <20.0° to > 41.5°
Pavilion Angle
Excellent to Poor - 40.6° to 41.8°
Very Good to Poor - 39.8° to 42.4°
Good to Poor - 38.8° to 43.0°
Fair to Poor - 37.4° to 44.0°
Poor - <37.4° to > 44.0°
Culet Size
Excellent to Poor - none to small
Very Good to Poor - none to medium
Good to Poor - none to large
Fair to Poor - none to very large
Poor - none to extremely large
Star Facet Length
Excellent to Poor - 45% to 65%
Very Good to Poor - 40% to 70%
Good to Poor - any value
Fair to Poor - any value
Poor - any value
Lower Half Facet Length
Excellent to Poor - 70% to 85%
Very Good to Poor - 65% to 90%
Good to Poor - any value
Fair to Poor - any value
Poor - any value