Top 10 Wedding Bands for Her (2018)
Looking for wedding bands for women? Here are our top 10 picks from some of our partner retailers for the Winter season in 2018.
If you're like me, you don't want to be 'rocking' a big diamond engagement ring every day. Cue the wedding band. Simpler and more discreet – and more durable for every day wear.
But picking the wedding band's a whole other ball game compared to the diamond engagement ring was one challenge. Here are our recs and tips to get you started:
1. When in doubt, go classic. You just can't go wrong with the traditional wedding band. You'll find the style at all retailers. Different widths, and different levels of flat or curved on top.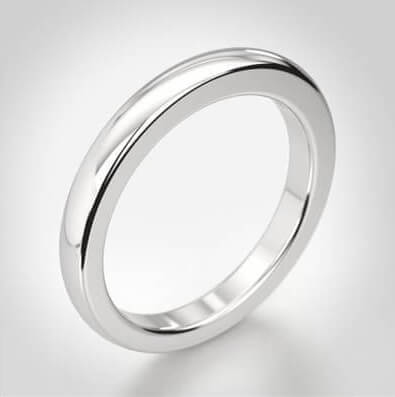 2.  If you want a little nice, go classic WITH diamonds. Quick piece of advice: you can get these bands with the diamond on the top half, or all over (obviously more expensive). This is a case where less is more - the ones with just the top half are often more comfortable, since you have a smooth bottom that doesn't snag on stuff.
It's another classic style by the way. You'll find it at most retailers, and can easily save by going thinner if you like.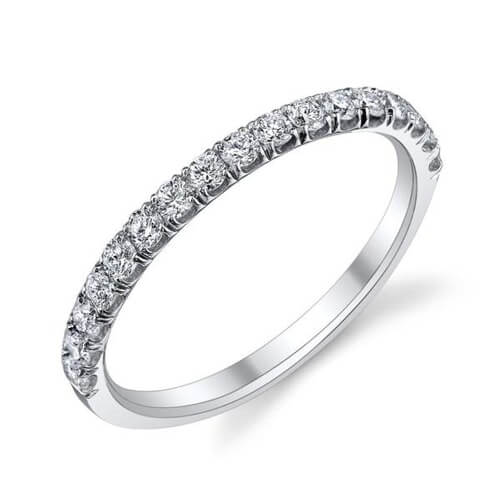 3.  Sometimes you want something classic… and sometime you want a twist. Just because it's a classic, doesn't mean you can't put a little spin in it.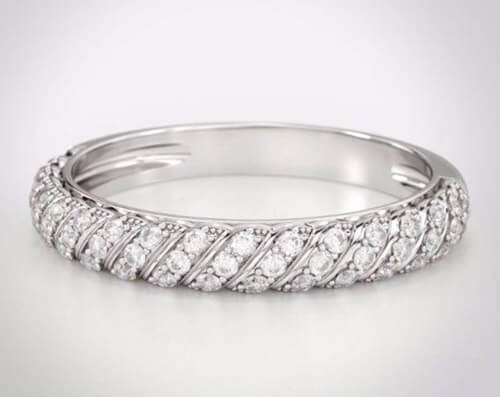 4.  Match it to the ring. Find the matching wedding band, or design it yourself. Try retailers who do custom design if you can't find a pre-existing match (which often does exist – just ask). You can wear it with the ring – some extra bling never hurt nobody.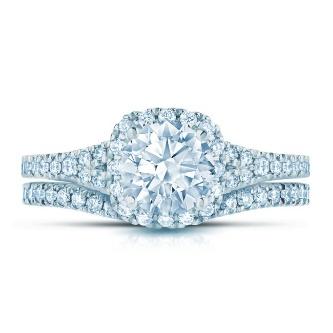 $1,002
5.  OK so the thing about wedding bands is I want to wear them every day. BUT I also have a slightly irrational fear about a diamond popping out.
If you feel me, go for a channel setting or a setting like this rather than a 'prong setting' – look at the metal bits that hold in the diamond and you'll see what I mean.
6.  You had me at 'milgrain'. You see the little details on the edges? That's milgrain. It comes from the French for thousand grains. Tiny beads are placed in a little border. It's beautiful, elegant and just the right amount of personality.
$1,010+
7.  So I get this question a lot. What's the difference between 14K, 18K gold and Platinum? Which one should you go for. Visually, there's not much difference – they're all white. But it matters for durability. 
14K is softer and cheaper than 18K gold (more other metal is mixed with '24 karat gold') – but sometimes intricate designs need 14 K.
Platinum is harder than gold, and more durable – and my personal favorite by far.
By the way – there's a matching one for men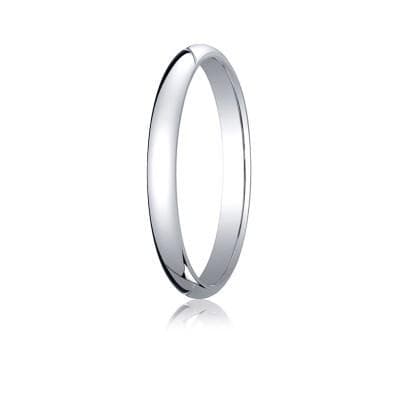 8.  Thin and elegant. Minimalist, clean vibes. I'm a fan, are you?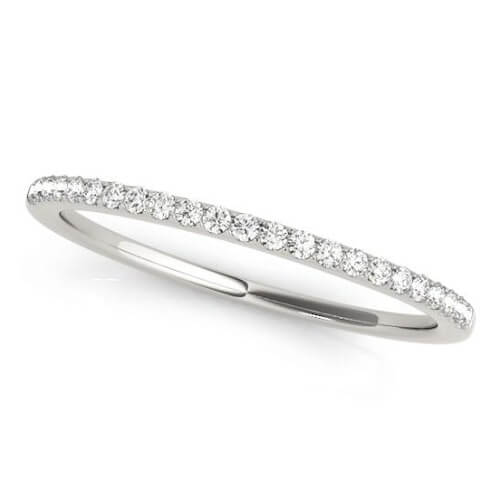 9.  Alternatively, chunky and bling. Five is my favorite number. Really the main reason I picked this.  I guess you could also go for seven.
10.  OK, here's my two cents: if you're going to splurge, splurge smart. Go for some bling for your buck – as in big rocks all around. Big chunky, round, classic diamonds. Avoid the tiny diamonds set in 'pave', baguettes and other 'not round' diamonds – go for some massive round diamond bling. Value.
Search and compare prices and deal scores from over 20 retailers with a click
SEARCH NOW