The Perfect Holiday Gift Giving Guide for Every Jewelry Lover
As the air chills, the leaves begin to change colors, and the mall gets progressively crazier, we realize the holiday season has fallen upon us! With our thoughts turning to pumpkin patches and cinnamon scented candles and holiday feasts, we can start to soak in all the warmth and happiness of the season. Which means now - being the super amazing, not last minute waiting, gift-giving prodigies we are, we begin the search for the ultimate present!
This list that I have personally crafted for you guys is the golden guide to the gift of gifts. Organized in a very convenient price point breakdown ranging from $500- $10,000, I've included some basic gift ideas, the best gemstone options for each price category, plus direct links to my favorite picks for gifts themselves! If you do happen to find something you like on one of our retailer's pages, let us know and we'll write it up for you on our site- that way you can take advantage of the Rare Carat + PayPal guarantee. Go ahead and get that fireplace crackling, grab a cozy blanket to snuggle up with, and warm up your favorite apple cider because we are diving deep into the gift-giving spirit of the holidays!
$500 (and under)
Listen fam, despite the rumors you don't have to spend a lot of money to have a beautiful piece of jewelry. My favorite gifts are always the thoughtful or sentimental ones. Incorporating a birthstone into a necklace or ring would be a great way to integrate personalization. For example, a solitaire citrine quartz pendant necklace for someone born in the month of November would be both personal and beautiful.
Keeping the jewelry simple and elegant without gemstones will also be a good option for us! I'm thinking of pieces like a dainty silver bar necklace, a golden locket (with a picture of their furbaby), or a couple of rose gold bangles. Opting for white gold over platinum, or a 14k gold over 18k gold, will also go a long way in helping maintain our budget.
Best Gemstone Options
Amethyst Quartz, Citrine Quartz, Rose Quartz, Topaz, Garnet, Agates, Lab Grown Gems (Diamond, Ruby, Sapphire, & Emerald)
My Picks
Adele 14k White Gold Lab Grown Diamond Ring ($182): Both this ring and the next ring are great everyday options! Three sparkling diamonds placed on delicate white gold metal strips that gently line across the finger are really aesthetically pleasing.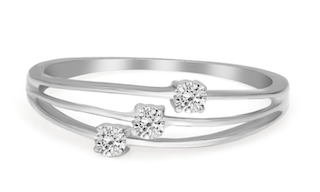 Miah 14k White Gold Lab Grown Diamond Ring ($194): Similar to the previous ring, the gaps in the band between the middle row of diamonds and the two enclosing strips of white gold add to the interest of this design.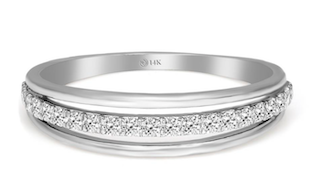 Pamela 14k White Gold Lab Grown Diamond Pendant ($400): A solitaire diamond pendant is a classic, timeless, effortless piece that can (and should) be worn all the time!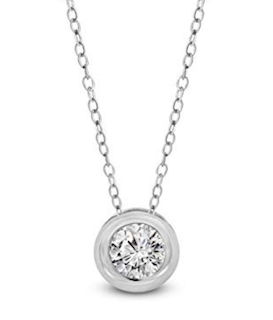 Elliott Sterling Silver Lab Diamond Bracelet ($450): If you are looking for a super glam diamond bracelet without the super glam price tag - this is for you! It is simple, sparkly, and casual enough to dress up or down.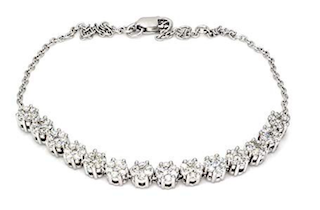 $1,000
Taking a similar approach as the previous section - thoughtful and simple, but we can jazz it up a bit more here. I'm thinking a few more stones and slightly more intricate designs. For instance, if you are buying for someone with children then creating a necklace with the birthstone of each child would be a very sweet, potentially tear worthy gesture.
Another fun idea, especially for any color lover out there, are color graduated, ombré, or rainbow set gemstone bracelets. As a color fanatic myself, these are cute and vibrant and great for stacking with other bracelets or bangles.
Best Gemstone Options
Aquamarine, Morganite, Peridot, Zircon, Topaz, Tourmaline, Spinel, Turquoise, Lab Grown Gems (Diamond, Ruby, Sapphire, & Emerald)
My Picks
Joelle Sterling Silver Lab Grown Diamond Cluster Ring ($682): Not all diamond rings are engagement rings…and this 3 ct. cluster ring is a stunner. Sparkles, fire, and brilliance oh my!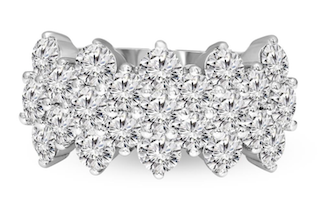 Star & Moon Diamond Pendant ($825): Calling all celestial lovers! This diamond necklace is so cute and such a subtle tribute to the heavenly bodies.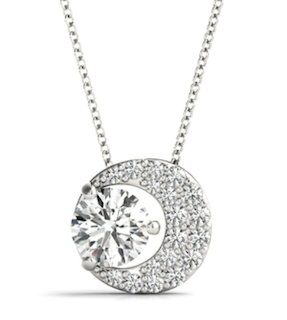 Three Stone Journey Diamond Pendant ($875): What's better than one solitaire diamond?? Well, three diamonds of course! A total classic just slightly elevated, giving us a little extra flash.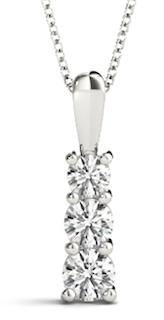 $2,500
The bigger the budget, the bigger the stones! Okay technically that's not necessarily a guarantee but we are starting to get into the bougier side of our price points. This is a great price range to showcase exciting solitaire gems of high quality or to have several smaller but more valuable stones set within a piece.
A good quality, natural, color changing alexandrite would be such an amazing stone to set as a solitaire necklace! Or an exciting black opal ring would be of the caliber gemstone we are looking at.
Best Gemstone Options
Golden Beryl, Opal, Alexandrite, Pearl, Jadeite, Tanzanite, Diamond, Sapphire, Ruby, Emerald, Lab Grown Gems (Diamond, Ruby, Sapphire, & Emerald)
My Picks
Blue Sapphire & Diamond Necklace ($2,200): Sapphire is one of my favorite gems, not only because it is extremely hard and basically scratch resistant, but also because it feels romantic and dreamy and mysterious.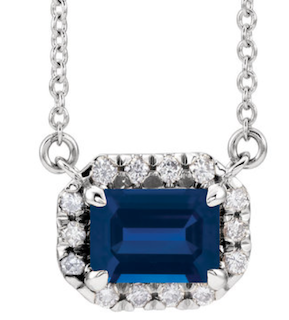 Classic Dimond Tennis Bracelet ($2,225): The ultimate classic staple of any jewelry collection, a 2 ct. diamond tennis bracelet will never ever disappoint. Feel free to up the carat weight if you really want to impress!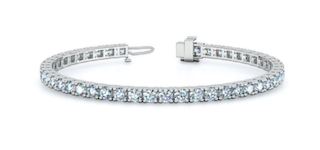 Asscher Cut Diamond Stud Earrings ($2,700): Another absolutely timeless jewelry essential is the diamond stud earring. I went with beautiful asscher cut diamonds for a fun twist on the classic round shaped diamond studs.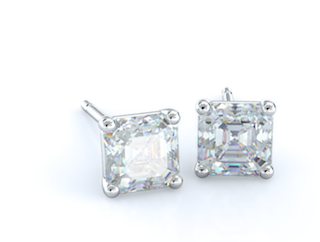 Diamond Bangle Bracelet ($2,800): This custom diamond and white gold bangle bracelet is delicate in the best way. It is perfect for a special occasion or just to wear around the house on a typical Tuesday.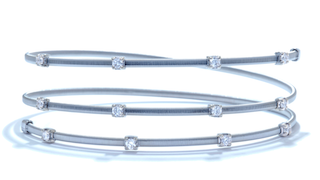 $5,000
While all jewelry is beautiful, especially when given from the heart, there is just something extra perfect about fine jewelry. Maybe it's the quality of work, maybe it's the quality of gems, or maybe it's all in my head… it's not… but it definitely has something special about it.
This price range allows us to look into more valuable gems, like the electric blue Paraíba tourmaline. To me, these amazingly colored stones that are created by nature are just magical. If you have a fellow Earth lover at home I would highly recommend looking into these uniquely colored, rarer stones…I know this person would fully appreciate the captivating gems as the natural beauts they truly are!
Best Gemstone Options
Diamond, Sapphire, Ruby, Emerald, Pearl, Opal, Jadeite, Red Beryl, Padparadscha Sapphire, Paraíba Tourmaline
My Picks
Solitaire Diamond Pendant ($3,500): A timeless, iconic, elegant piece of jewelry that can be worn all day every day for life. I really love when fine gems get to be featured as the beautiful stones they are.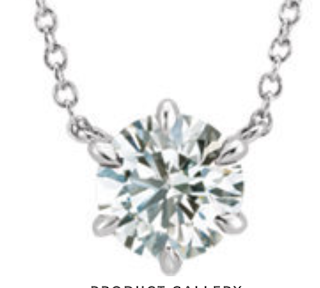 Sapphire & Diamond Earrings ($4,400): Another twist on the common stud earrings, these will be a true show-stopper at any event. Plus, blue sapphires are always drool worthy gems.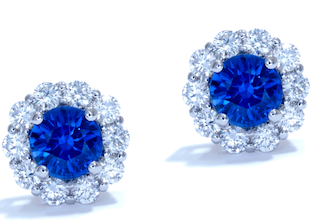 18k Yellow Gold & Diamond Bracelet ($5,500): If you are buying for a fashionista, this stylish bracelet is perfect for you! Hardware designed jewelry, especially the chain link, are huge right now - which puts this lavish bracelet right on trend.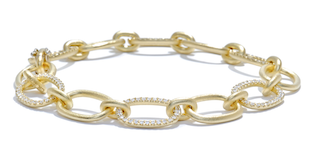 Diamond Floral Cluster Bracelet ($5,950): The wintery feel of this floral style, almost like dazzling snowflakes glittering across the wrist, is perfect as a gift for the snowy holidays! (or really any time of the year let's be real)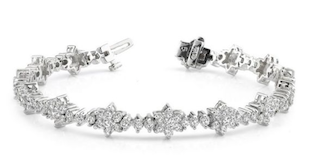 $10,000
We have reached the peak of our budget! …and talk about a truly stunning gift. The finest stones are available to you at this level, including being able to load up on luxurious diamonds. I'm envisioning an emerald and diamond tennis bracelet for an emerald lover, or a ruby pendant necklace surrounded by a halo of glitzy diamonds for those of us who love a good ruby.
If you have a watch lover to gift, inlaying petite diamonds or sapphires (or any other stone) into a watch face, or finding a watch with a gem set bezel, would be a fabulous way to incorporate these gorgeous stones.
Best Gemstone Options
Diamond, Sapphire, Ruby, Emerald, Pearl, Opal, Jadeite, Red Beryl, Padparadscha Sapphire, Paraíba Tourmaline
My Picks
Graduated Diamond Necklace ($6,750): I picked a few diamond necklaces within this price range- and they are all amazing. This necklace spaces out the diamonds, allowing for more of a simplistic, yet still sophisticated, style design that stuns.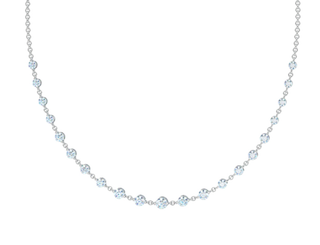 Marquise Diamond Earrings ($7,900): Here we have marquise cut diamonds placed in an elegant floral design… and for serious diamond lovers only! These are very cute, upscale, and easy to wear on a daily.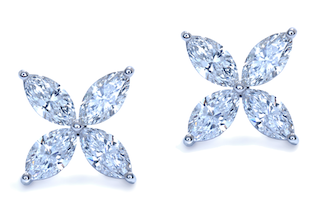 Graduated Diamond Tennis Necklace ($9,500): This necklace is definitely a captivating statement piece! Having the diamonds graduate in size draws attention to the center stone, then leads the eye along the rest of the brilliant, sparkling diamonds- giving us a graceful, lavish design.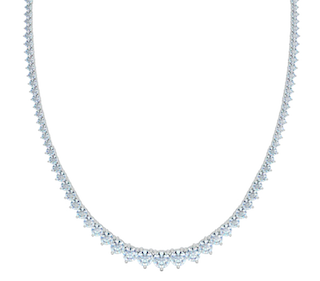 Four Row Diamond Tennis Bracelet ($10,050): Let's just say your person already owns the standard tennis bracelet… well this is the ultimate upgrade to the classic. With four strands of diamonds, this glittering bracelet would dazzle anyone.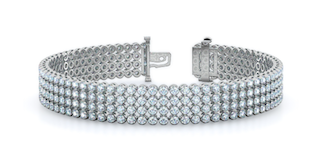 Diamond Tennis Necklace ($10,200): This piece is another one of my favorites on this list- not because it is the most expensive gift, but because it is so fun. I love a modest line of diamonds draped around my entire neck (or wrist or finger). Plus, because this necklace design is so simple, it can be used to layer up with any other necklaces deemed worthy.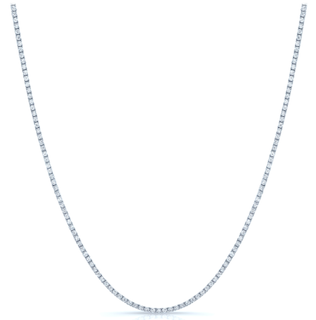 Other Thoughts, Tips, & Tricks
Many pieces of jewelry can be found across multiple price points. For instance - a diamond tennis bracelet can literally range from $500-$10,000+ depending on if you're using lab grown or natural diamonds, the quality and carat weight of said diamonds, plus the metal material used. If you find a jewelry style you love, don't be afraid to swap out natural gems for lab grown gems or opt for a different metal if it helps maintain budget.

On the other hand, adding more gemstones, opting for bigger, rarer, and higher quality gems, or selecting elaborate pieces will most definitely boost the value (and price) of a finished piece.

Finding a special way to give the present is such a great way to add to the moment. Hiding the perfectly wrapped box in their stocking, or under a carefully folded napkin at dinner, is sure to be beyond a memorable moment.

Custom designing your own thoughtful piece is always an option! Don't be afraid or intimidated - I promise it's super simple. Find a design you like and then consult with a local jeweler or jewelry store (or build it online) for a truly custom, personalized gift.

Gifting sets are always a fantastic idea! Pairing a beautiful necklace with perfectly matching earrings or bracelet definitely ups the gift giving ante.

Start early! Some jewelry pieces are made to order so the earlier you begin your shopping, the more options you will have, and the less stressed you'll be! Promise!
One of the best parts of the holidays, for me at least, is the gift giving! I love to try to find the perfect gift for those who mean the most to me. It feels fulfilling to be able to watch someone you care about explode with excitement, tears, or even disbelief that they were gifted something so perfect (and it's always perfect when it's from the heart). So! Dressed in a flannel and big fluffy socks, with a pumpkin spice latte in one hand and a sugar cookie in the other, I officially declare it the start of the holiday season! May your gift giving be the best it has ever been, and may your holidays be merry and bright!
Search and compare prices and deal scores from over 20 retailers with a click
SEARCH NOW