Okay boys! We're always over here talking about diamonds and engagement rings and what not… well today pigs are flying high, and you are getting all the attention! We are discussing unique wedding band options for men… so if you have always wanted to find something a little different - get ready to take it all in! I'm going to start with the standard, most popular wedding band (so we know our foundation), but we will quickly move on to the distinctively alternative and unique options you are looking for. And then before we finish, I will leave you with some brief thoughts about how much wedding bands should cost in general. I know having all the attention being directly placed on our men doesn't happen too often, especially when it comes to any of the wedding details, so this gets to be one of those fun times that should definitely be taken advantage of!
The Standard Band
Okay so I feel like if you have put any thought into this then you probably have a 50/50 shot at guessing what the most popular wedding band is (or at least what color it is). If you thought gold - then you would be correct! I would say rings in yellow gold, white gold, and then platinum, are easily the top standard metal choices for band selections.
Besides just being a classic though, gold is relatively easy to resize, it can be tarnish resistant, and it comes in those 3 basic colors (yellow, white, and rose) which covers all the style basis anyone might have. Another huge reason I think gold is so popular is because it's one of our OG ring metals… I mean we have literally been using it since the Ancient Greeks and Romans… which is kind of charming but also kind of… old. So, in the spirit of creativity, let's talk the new and unique choices we have!
Unique Band Options
Fortunately, we have quite a few possibilities when looking for a distinctive wedding band. We can achieve this look by either choosing rarely used materials for the band itself, or through our creative design choices (of any preferred metal).
Band Materials
Tungsten Carbide
One of the better alternative metal options, from purely a durability standpoint, is the tungsten carbide ring. This is not the same as tungsten… tungsten itself is a pure element (and also offered as an option for rings), whereas tungsten carbide is an alloy mix. The alloy difference is important because it makes the carbide much stronger, more durable, and creates a higher melting point than just pure tungsten alone. Actually, a huge pro is that tungsten carbide is one of the hardest metals used in all of jewelry- so it is extremely scratch resistant and will maintain its polish really well. A major downside however is that this metal can't be easily resized (or resized at all) if were to be too big or too small, which can be slightly inconvenient.
Damascus Steel
So have you ever heard of Damascus steel?! It actually has a long history of being used as knife blades and swords but has also been on the rise fairly recently as a unique ring option for men. Damascus steel is made by the folding and twisting and forging of two metals, creating a single metal that has this really awesome wood grain look to it. This type of hand crafted ring can be customized, and is also very durable, so it is pretty good as a band choice. Same problem as tungsten carbide though in that resizing is extremely difficult.
Palladium
Another interesting material used in wedding bands is palladium. This metal is somewhat rare and looks very similar to platinum but is lighter in weight. The silvery-white sheen won't tarnish and it won't need to be replated over time, which is a huuuuge pro to palladium, as is its durability and hypoallergenic nature. Recently however, the prices have been drastically rising because of the demand by the industrial sector (cars, electronics, etc.), making this material more expensive than it was only a few years ago.
Carbon Fiber
Carbon fiber is also a pretty unique substance in that it is made of tightly woven fibers instead of being a solid metal like our other materials. The intertwined fibers are made of an organic polymer, so this interlaced carbon fiber mashup creates an incredibly hard wedding band. This material it is both affordable and can come in a ton of design options as either pure carbon fiber or intermixed with other metals. On the downside, it will always be colored black (unless you like black!) and it definitely cannot be resized.
Wood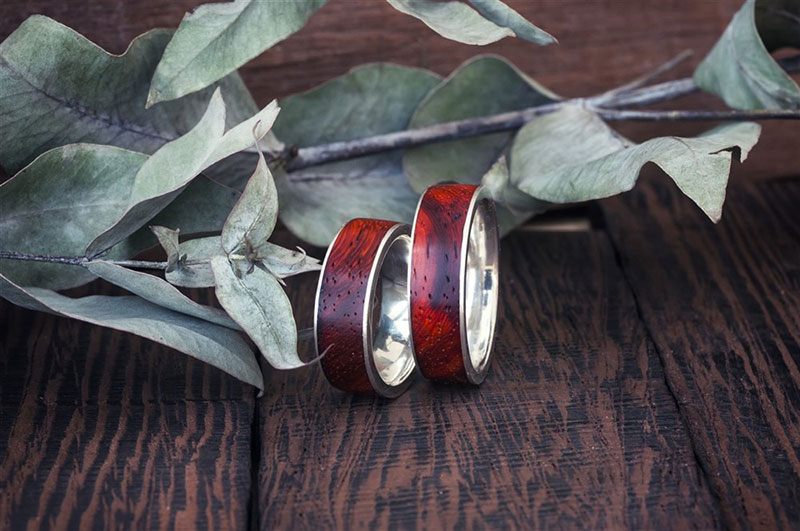 Wood rings are an interesting material that we come across for a wedding band. We can see a metal ring accented with wood, a wood ring accented in metal, or just a pure wooden band (which is pretty legit if you happen have a metal allergy). Wooden rings are eco-friendly and hand crafted, which are two huge pros for me, but I don't know if I would necessarily suggest a solid wooden wedding band because of the overall hardness of it. Wood is most definitely a distinctive option though!
Silicon
Okay this one may not be as unique as some of the others, but I think it is still worth a mention. Silicon is ideal for a man with an active lifestyle because it is soft, malleable, and won't snag on corners or rocks or other random things. Honestly it isn't a bad idea in general to have a silicon ring as a backup or a second option anyways for any vigorous type events that occur throughout life. Oh, and because silicon isn't conductive, this is perfect for anyone who works with electricity or heat (in case you were curious).
Design Choices
Besides interesting materials, uniquely designed bands are really cool too. I have actually started seeing gold wedding bands that have really exciting textures to them. For example, one that sticks out in my mind is this crackled look, like the thirsty bank of a dried-up river or the top of an over cooked cheesecake. I don't know why but I just find the crackles interesting to look at.
Within that same thought, textures that are also patterns are really fun - like a herringbone pattern engraved around the entirety of the ring. While herringbone isn't everyone's favorite so it may not be the best example, you get the idea. Finding what you like is part of the fun!
Changing the shape of the ring, like a square shape where the ring is literally a square instead of a circle, or even flat top rings that are half square half circle, are two basic examples of how design can really generate individuality as well.
And then there is the ultimate distinctiveness in a custom wedding band- which includes anything that is made with specific personal details. For example: anything etched, sketched, or engraved, I would consider unique. Bonus points for imprinting something creative like a converted voice memo or music notes or morse code as your unique and special design element.
How Much Should A Wedding Band Cost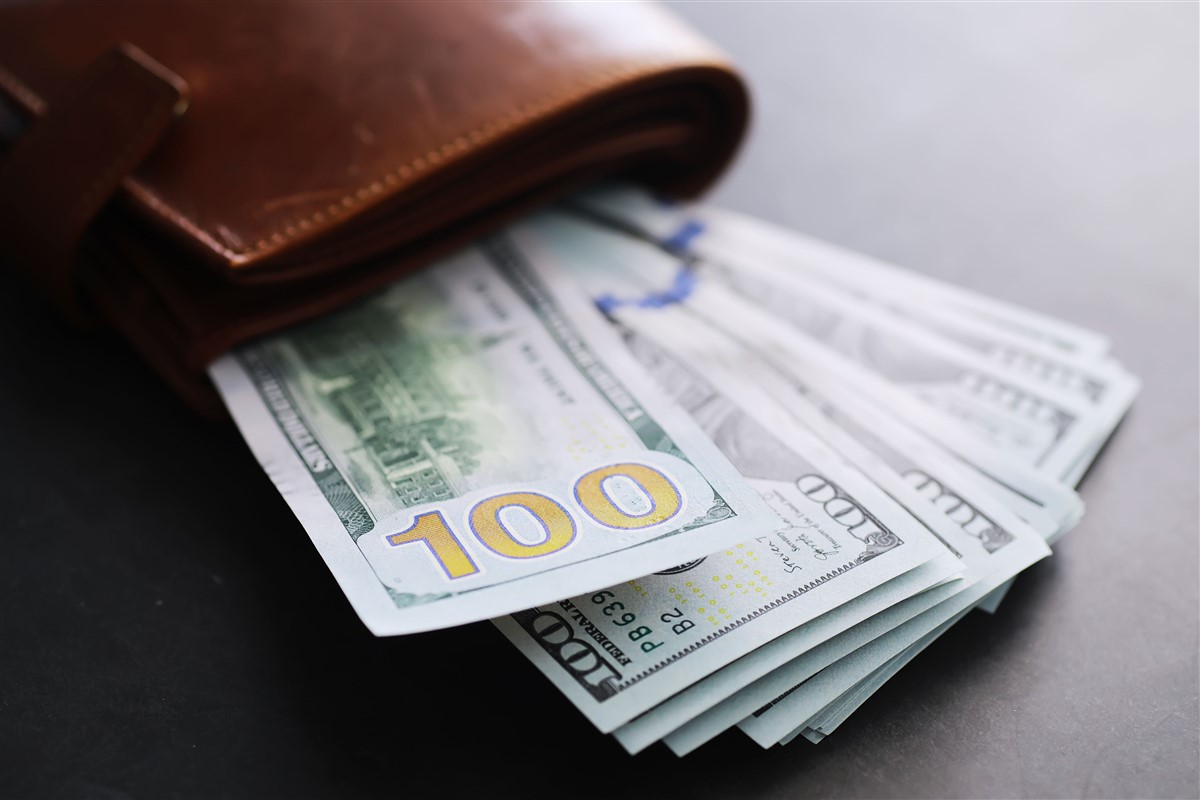 So, just as a reference for you guys, I have asked around for a real time answer on this… and the consensus seems that on average people are spending around 20% of what the engagement ring cost was. This is for both wedding bands though! For instance, let's say the engagement ring was $7000, then two wedding bands would be around $1400. This can be divided however you feel it should be but yeah this seems to be the current basic general guideline on wedding band cost.
I low key love the thought of men getting imaginative with their wedding bands. With endless options for a unique wedding band there really is something for everybody… so just relax and enjoy the process of find interesting materials or ring concepts that speak to you. Hopefully I have at least given you a solid starting point and a little good juju for your ring hunt… and may you find a ring you love (almost) as much as you love your significant other!