Congratulations! You have started your search for the perfect engagement ring! More than ever, people are looking to mark the occasion with unique rings that feature customized details which reflect their individual style. As a result, many have turned to virtual shopping to find an item which checks all of their boxes. The key to quick and efficient shopping on the vast online universe is to know which specific terms and keywords to enter in your search. To help you learn this terminology and narrow down your options, let's discuss some of the fundamental keywords related to engagement ring designs.
The Solitaire
We begin with one of the most popular and enduring of all designs – the solitaire ring. Tiffany & Co. forever changed how we envision engagement rings in the year 1886 when they introduced their raised, single round diamond ring. This classic design uses an open prong-setting to allow light into the stone from the sides as well as the crown. The idea was to distill the design as much as possible to represent the purity of love and let the naked beauty of the diamond shine. The ring caused an immediate sensation and continues to sell unchanged to this day. From this basic template there are a number of alterations and additions which you can use to modify your search.

The first change that you can make to your "solitaire" search is the shape of the featured diamond. The basic Tiffany design showcases a modern round brilliant diamond, a mathematically precise faceted stone which twinkles from any direction. However, you can substitute any shape that you want onto a solitaire setting. Recently, cushion and pear cuts have become popular alternatives. You may already have a vintage or heirloom piece and want to reset the original stone into a new design. Vintage stones that are old mine and old european cuts can be a creative option as each one is distinctive.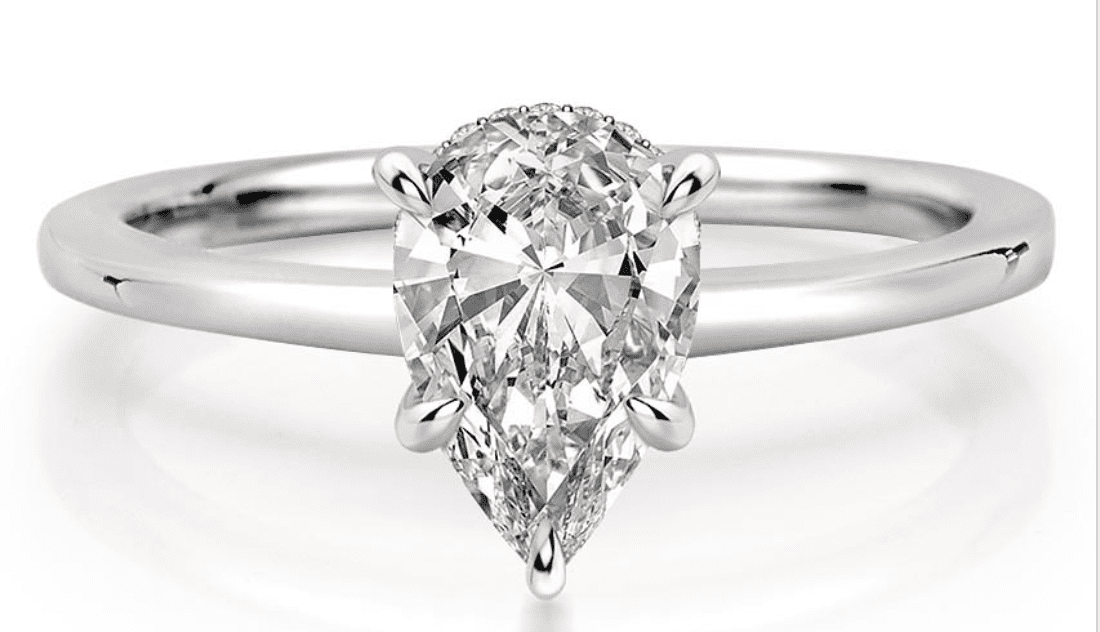 The Bezel Setting
A practical consideration when choosing a raised setting, such as the classic Tiffany design, is that it is always at risk of snagging and banging. This risk is compounded if you are looking for a cut that has angles, such as princess, emerald, or heart shapes. To better protect these diamonds, you can add the term "bezel-set" to your search. Bezel settings are a design that surround the stones in metal. They may or may not be set deeply into the band. Most iterations of bezel settings don't let as much light into the stone as raised prongs do, but they add a great deal of protection and can give you better peace of mind. This is a good option for those who work with their hands.
The Halo Setting
Let's say that you are looking for a ring with the clean outline of a solitaire but want to add a bit more flash. A "halo" setting may be right for you! Halo settings surround the central stone with smaller diamonds. This design changes a few things; it makes the center stone look bigger and it adds much more sparkle. Halos are a good way to add impact to your ring without the major bump in pricing that you would see by simply purchasing a larger diamond. Also, as they encircle the central stone, halo settings offer maximum protection.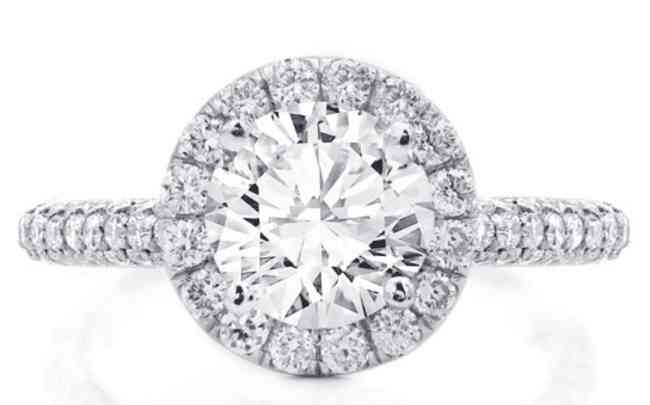 East/West settings
If you are looking for a ring which showcases a large, central stone, I recommend taking a minute to search for "east-west" or "transverse" designs. These rings set the stone so that it stretches across your finger, rather than running lengthwise. Such horizontal designs are modern, fresh, highly unique, and are also relatively unusual. Odds are that you would be the only person that you know who owns one.
Multi-stone settings
Now that we have covered the various ways that you can wear a single center stone, let's address different types of multi-stone settings. A timeless design that has gained much visibility lately is the three-stone look. With celebrities like Meghan Markle wearing such engagement rings, demand for this design is high. Three stone rings are a versatile option that can be customized in many ways. The traditional silhouette of a three-stone ring is to feature a larger, central stone with two smaller stones flanking each side. Here you can feel free to mix and match cuts and choose side stones that are not the same as the central stone. For a tight, fitted look, you can pair cuts with straight sides adjacent to each other. For a ring with more curves, look for designs with rounded stones. For a truly unique and special look, you can search for a ring that pairs non-traditional cuts with each other, like hearts with pears or squares with trapezoids.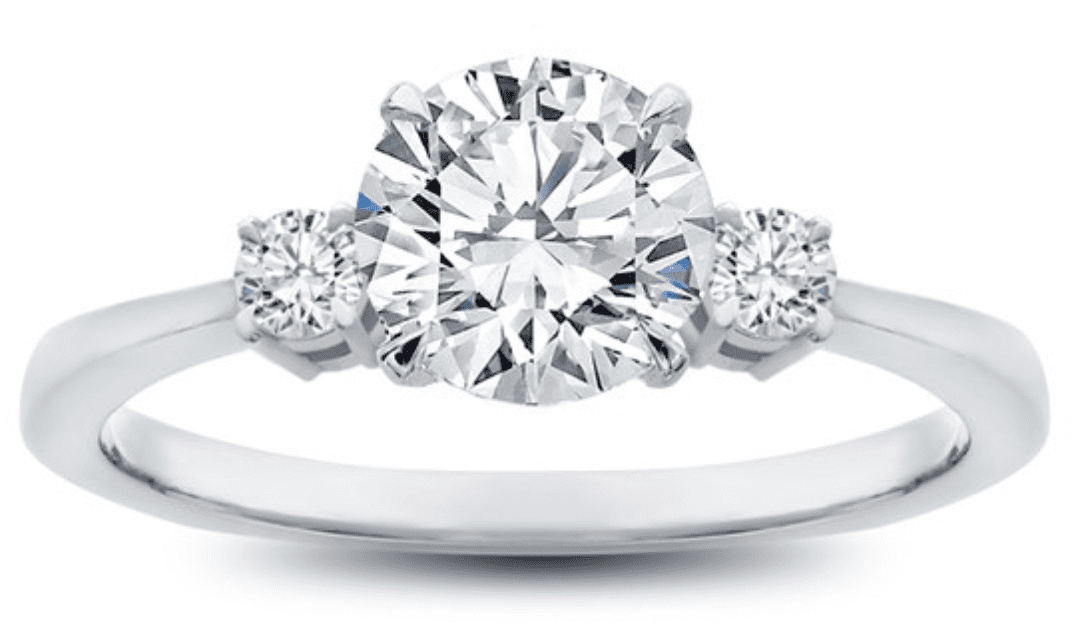 Similar to the three-stone look, five-stone rings have the same fundamental design principle. You can opt for a delicate look featuring smaller stones that reach across the width of your finger or wear a truly stunning version that carries significant carat weight!
There is no need to stop at five stones! You can perform a search for rings with just the term "sidestones" and not specify a number at all. Some rings designs may have many diamonds running along the band of the ring. It all depends on how much sparkle you want to wear.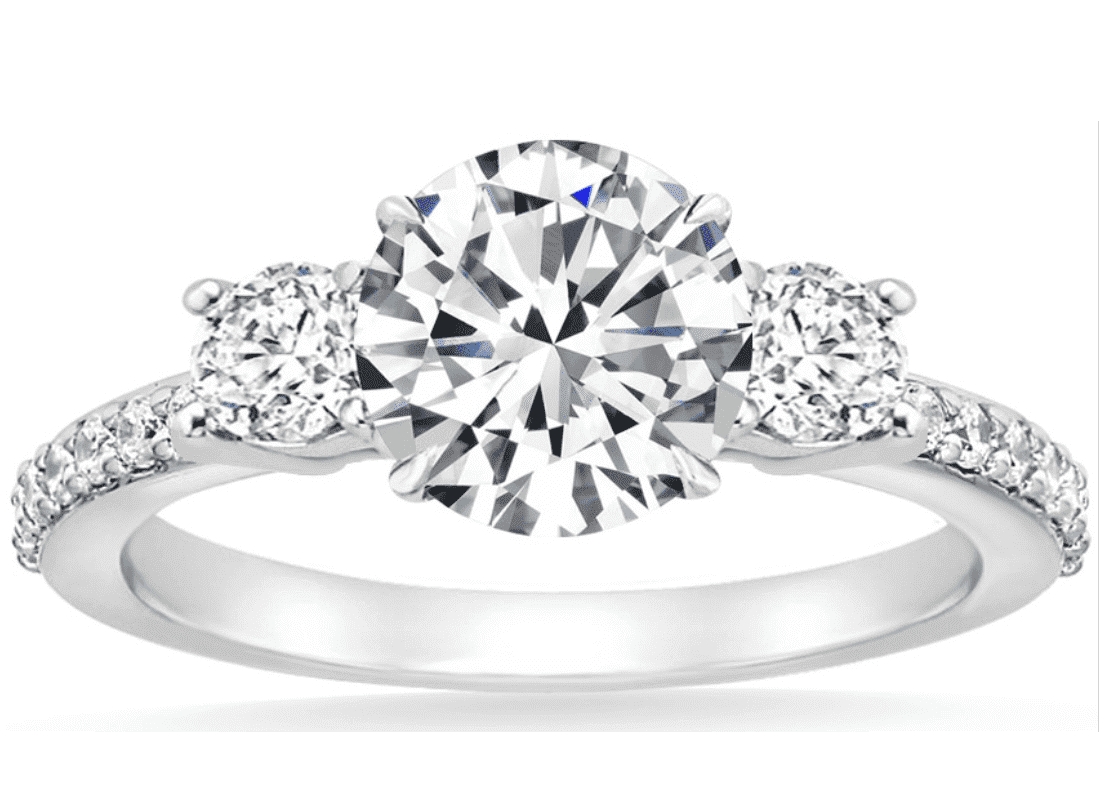 In addition to the different ways to showcase larger central diamonds, you can also choose to decorate the band of your ring. This can be accomplished with engraving, fine metal work, mixing of different colored metals, and/or the addition of much smaller diamonds called "melee". There are a few different ways of setting melee into your band. The "pave" style setting is commonly used when embellishing bands because it keeps the stones safely secured in the mounting with small prongs while providing lots of shine from all angles. Another option is "channel" setting which lines up diamonds together in single rows with no metal between them. While you can find engagement rings that are lined with stones all around, keep in mind that sizing those rings is difficult, if not impossible. If you are concerned about potentially needing to size your ring at some point in the future, it makes sense to purchase one which has at least some exposed metal on the shank for jewelers to work with.
You can always modify any of these search options by looking for rings that have stones other than diamonds. In fact, some of the world's most famous engagement rings feature other types of gemstones. Sapphires and rubies are a great possibility because they are available in a rainbow of different colors and are second only to diamonds in terms of durability. You can place any gemstone in an engagement ring, just remember that these are all going to be less durable than diamonds and it is advisable to have them set in protective mountings. Happy searching!