How to Measure Ring Size at Home:
To accurately measure your ring size at home, use a non-stretchy string or a thin strip of paper. Wrap it snugly around the base of the intended finger, ensuring it slides comfortably over the knuckle. Mark the point where the string or paper meets its end. Lay it flat and measure the length in millimeters using a ruler. Match this measurement to a standardized ring size chart to determine your ring size. For the most precise measurement, consider visiting a professional jeweler or using a ring sizer tool.
Find the Correct Size with Our Printable Ring Sizing Guide
To find your size right away, print out this handy printable ring sizing guide (be sure to check that the page scaling is set to 'none' on your printer dialog box).
Other Ways to Find the Ring Size
Ask Her (or Him): The easiest way to find the correct ring size is to just ask her (or him) for it! Chances are, you've chatted about getting engaged/married once or twice by now so you can casually ask about the size.
Ask Family/Friends: If this is going to be a complete surprise, you can try asking her sisters, mom, best friends for help. If anyone (aside from her) is going to know, it'll be one of them. Trust me, girls talk about everything lol. Use the String and Ruler Method:** Wrap a string or thin piece of paper around the base of the finger (be sure it's the left ring finger for an engagement ring). Mark where the ends meet with a pen. Lay it flat and measure with the printable ring sizer from above.
Use the String and Ruler Method: Wrap a string or thin piece of paper around the base of the finger (be sure it's the left ring finger for an engagement ring). Mark where the ends meet with a pen. Lay it flat and measure with the printable ring sizer.
Use a Ring She Already Owns: This one is a little tougher because you have to be sure it's a ring she wears on 'that' finger otherwise it's useless. If you can get your hands on a ring, you can match it up with our printable ring sizer:
Printable Ring Size Chart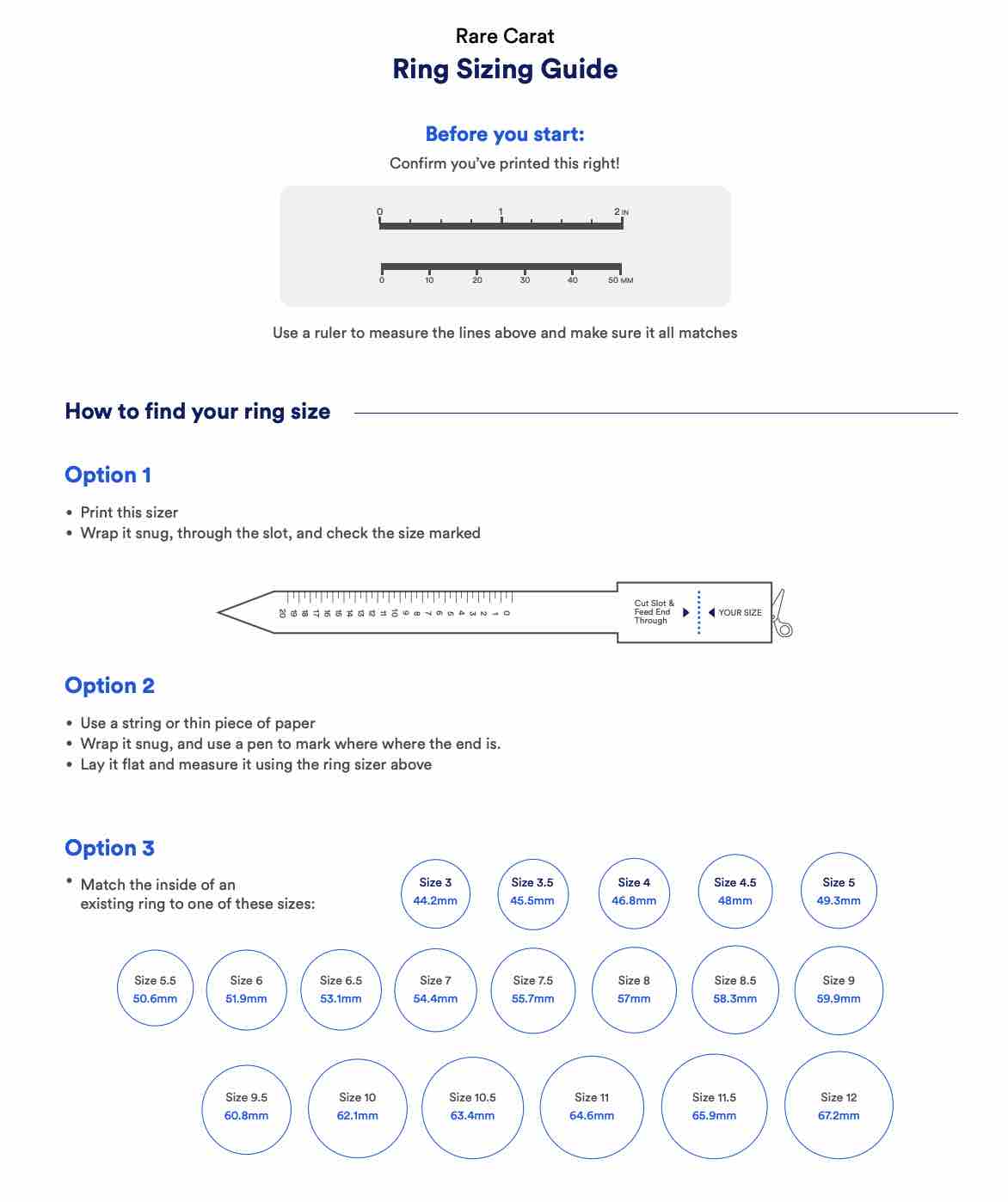 Get a Complimentary Ring Sizer for Free from Rare Carat
We are pleased to provide you with a complimentary ring sizer, so you can accurately determine your ring size from the comfort of your home. US and Canadian orders are typically delivered within five to seven business days.

What Happens if I Need the Ring Resized?
Nothing to worry about here, we've got you covered! All of our retailers offer a free 60-day resizing policy that includes free shipping both ways to ensure you get the exact size you need. This begins on the day you receive the ring...just reach out to our gemologists via chat or email marketplace@rarecarat.com to get the process started. In order to expedite your request, be sure to have the new size you need as well as your order number or name and email that the order was placed under.
How Does Resizing Work Exactly?
To ensure the best possible fit, a ring will either have metal added or removed at the bottom, depending on if you are going up or down in size. As a result, your ring could be slightly thicker or thinner. These changes are not usually perceptible to the naked eye nor will they affect the way the ring feels when wearing it (unless the size is changed drastically). This also does not affect the durability of the ring.
Rare Carat stands behind all of the work of our manufacturers to ensure you get a high-quality product that looks amazing and also fits perfectly. After the ring is resized, it gets a deep cleaning and high polish before being sent back to you.
What if My Ring Can't be Resized?
Some rings can't be resized because of their design like eternity bands. You still have 30 days from the date you receive the ring to exchange it for the proper size. If the ring does not fit, chat in with a gemologist or email marketplace@rarecarat.com right away to get the exchange process started.
Some Helpful Sizing Tips
Don't get confused between diameter and circumference when getting your measure on; the diameter of a ring is the length of the inside of the ring (i.e. the size of the finger), whereas the circumference is the length of the entire band. You want the diameter.
The fingers on your dominant hand will be a little larger (the one you write/pick up a wine glass with). So what fits on the third finger of the right hand (if you are right-handed), might be too big on the left. The opposite applies if you are left-handed.
Finger size can change depending on the season or even the time of day! Hot weather will mean swollen fingers, while cold weather means shrunken fingers. We also tend to have puffier fingers in the morning (especially if we've had a few martinis the night before). Keep that in mind when taking your measurements...it's best to measure later in the day rather than right when you wake up. Also, if pregnant, wait until after the baby is born to get an accurate ring size.
Don't just blindly guess their ring size. If you can't use one of our methods from above, go with the average ring size of 6 or 6.5.
When in doubt, always go for the ring that's a larger size rather than too small. It can always be sized later, but you at least want it to fit for the pictures when you propose.
Now go get measuring and, as always, if you have any questions at all definitely reach out to our team of graduate gemologists!