What Diamond Size is Right for You?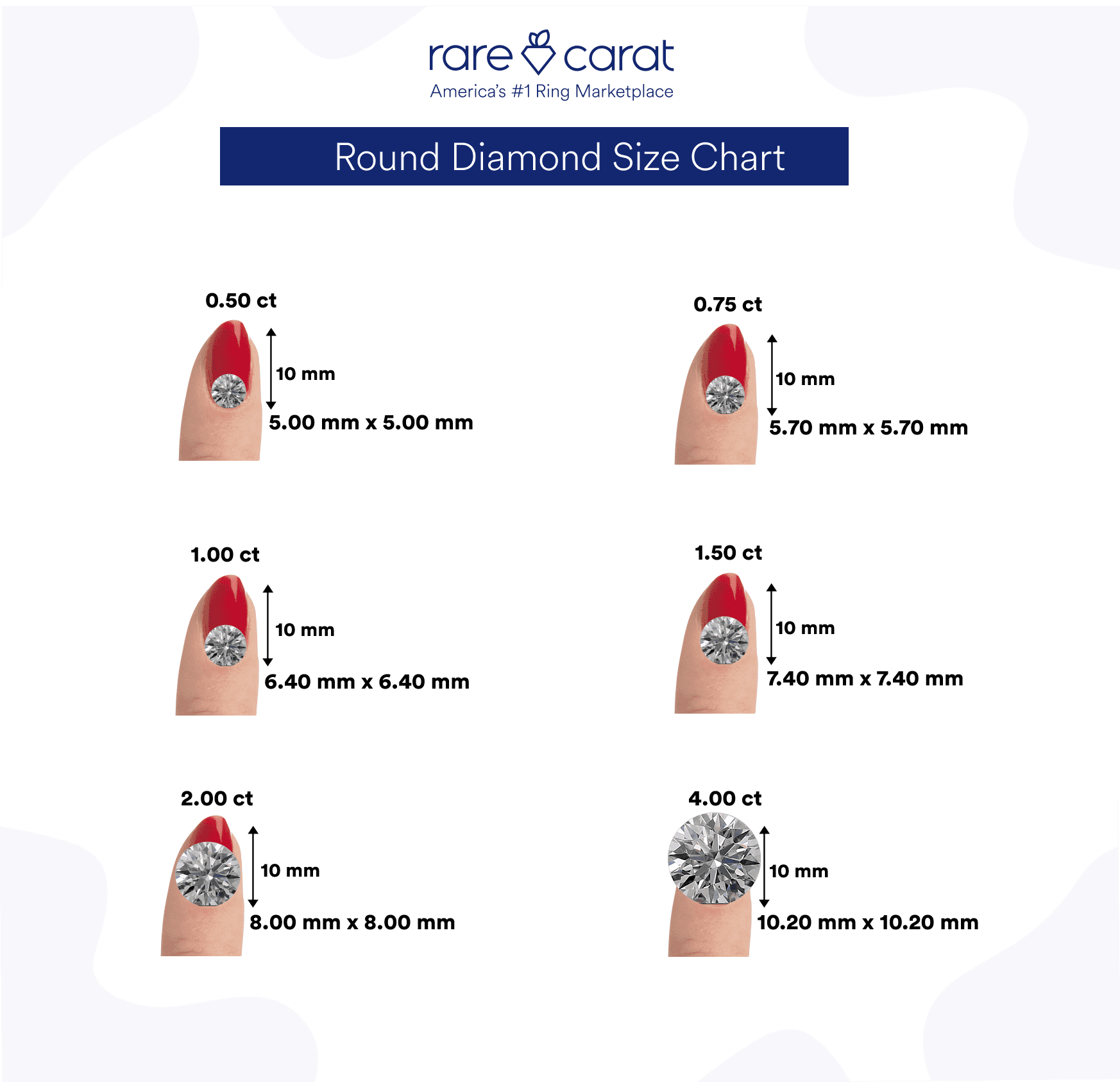 So, you're ready to pop the question - Congratulations! 
But, before you break out the bubbly, there are a few things to consider starting with, "how on Earth does one know what size diamond is the 'right' size?" You've asked friends, jewelers and good old Google, only to hear the not-so-helpful, "it depends". Well pal, sorry to say - we're with them. It truly does depend, and no carat weight or diamond size is right for all situations or all couples. A number of factors, including budget, style preferences and even what daily life looks like for the babe who'll be wearing this sparkler, are key to finding the right diamond. Don't worry, we won't leave you hanging… we've gathered up the questions you need to answer, before you ask the big one!
These 5 questions will help you turn down the noise of expectation and "norm", and tune into what size diamond is just right for you and your SO! 
How to choose the right size diamond for your engagement ring:
How much are you comfortable spending?
First up, you need to determine (on your own or with your partner, however you're running this proposal play) what diamond budget feels comfortable. Then, does your bank account allow for that to be spent right now, or is financing an option? We've all heard the old, "spend three months salary" rule, but that's not a modern standard by any means and was born of a marketing campaign. So, don't let that nonsense inform what you feel you "should" spend. If you're looking for a reference point, somewhere to go up or down from based on your personal circumstances - the average wedding ring costs around $6,000. 
Does your SO have a certain style in mind?
You've seen the Pinterest board and the inspiration screenshots… do they have a theme? Are the rings clusters of small diamonds in unique settings or are they big, bold solitaires? Your partner may not even know their diamond size preference, but you can get a great idea of their expectations by evaluating the visual hints they've dropped! Keep in mind that carat weight is not the only measure of a diamond and doesn't necessarily define how large the rock looks! To get a good idea of how different size and shaped diamonds look on the hand, try our "view on hand" feature!
Are you willing to give on quality for quantity?
If your bae is into big style statements and likes attention, bigger may be better! Of course, depending on the aforementioned budget, you may have to compromise a little for a rock that'll be seen from across a football field. If you need to make a little wiggle room in the budget to get a bigger diamond, use the 4 Cs to your advantage. Consider choosing a diamond that comes in just under a standard carat weight or opting for a gem in the G-J color range. Save a pretty penny and still snag a divine diamond!
What will the daily life of this diamond look like?
Sounds silly, we know. Hear us out… Thinking through what your significant others day looks like can really help you determine the size and style of diamond that'll work best! Ideally, this ring will be worn every day with little need to take it off. If your partner works with their hands you may want to think twice before getting a diamond whose profile is tall. Consider a style and size that's more flush with the hand, and thus won't be an issue when wearing gloves and isn't likely to get caught or knocked.
There you have it! While, yes - "it depends" is still the answer to what size diamond you should choose, you're now armed with exactly what it depends on. Once you've defined what size diamond is right for you, come back here and we'll help you get just the right rock!
Search and compare prices and deal scores from over 20 retailers with a click
SEARCH NOW