The Diamond District
Diamonds are quite a special international commodity. They are nature's toughest and most sparkling gemstones, formed for thousands of years under immense pressure and heat only to be mined, cut, polished, bought and sold, until one lands in your hands to place in your special piece of jewelry. Because of the international appeal of diamonds and luxury jewelry, most cities have a diamond district where many of the wholesalers and top retailers are on site to sell you live goods (live meaning physical diamonds that are on the premises). What is nice about buying a diamond in person from a vendor is that you can physically see a number of stone options. Also, you have someone there that can guide and help you to find exactly what you are looking for and maybe even help you to envision and create your final piece of jewelry.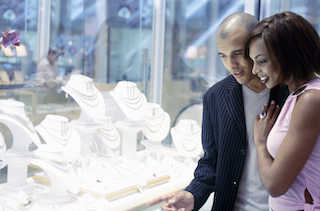 Most salespeople have a good idea of their inventory and can pinpoint stones that they know you will like. In the diamond district, you have many options of retailers, meaning you may not find a stone you like with one but you can go just a few offices down and find what you are looking for. Some vendors in the district deal strictly with certain types of stones so if you know what you are looking for, you can find a specialized company that sells, for example, cushion cuts or specifically yellow diamonds. Another positive thing about being in the diamond district is that there is premade jewelry there, already designed, for you to choose from. This way, if you want to purchase a ring that you see, it is always an option, and you can probably have it customized if needed as well. All this being said, for some people, being in the diamond district, with all of the glitz and endless options can be very stressful and overwhelming. Offices are usually small, and inventories large, sometimes it can all feel a bit confusing. Salespeople are hungry to make the sale and sometimes it can be hard to break away. Also, many times the diamond district is far from home or less accessible making the internet another fantastic route to begin your search.
Diamonds Online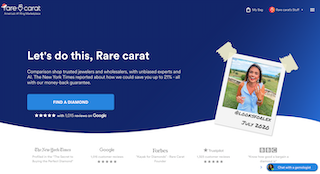 The internet has opened the world of diamonds up to us and brought it right to our computer screens. Once we had to go to the diamond district or the jeweler to buy a stone, but now we can also search and potentially purchase online as well. Many physical retailers now have websites where you can search their inventory virtually and see pictures and videos of all the diamonds and settings. You can see prices and compare stones as well as see them digitally placed into ring styles and other jewelry designs. When buying online, there is no pressure to purchase and you can take as much time as you need looking through pictures of loose diamonds and their certificates, as well as finished jewels. All of the information is there for you to see and check online and changes and customizations can usually be made. The only negatives to online purchasing is that you don't see the physical stone until after you have purchased it and it arrives to you. Shipping can take time (2-3 weeks on our site) and there is always the chance that it will arrive and not be to your liking. That being said, usually there are policies in place that will take returns or exchanges depending on the company policy and your situation. Here at Rare Carat, all of our retailers offer a 30 day, no questions asked, 100% money back guarantee on everything other than custom design. Also, keep in mind that inventory online may not always be updated, which is why we don't take any funds until after the diamond is confirmed available from the retailer (they have up to 72 hours after the order is placed to secure the stone for you). As industry retailers strengthen their online databases, diamond buying online has been made easier and safer than ever. One thing that sets our website apart from others is the live gemologists available to help with any and all questions that you may have. The experience of buying a diamond online will always be different than buying one in person, but it really depends on the type of shopper you are.
Whichever route you decide to go, happy Diamond Shopping!!! To get started shopping at Rare Carat, click HERE.