Marriage is big business in the U.S. Find out where wedding businesses are best off.
We're calling it: The COVID wedding slump is officially over and 2022 is the biggest year ever for weddings. An unprecedented 2.5 million weddings are set to take place this year, a boom not seen since 1984. And we are right in the thick of it as October is the No. 1 most popular month to get married.
Between the venue, dinner, drinks, music, flowers, photography, attire – and of course, the ring – tying the knot comes with a hefty price tag. Americans will spend a record $68.7 billion on weddings this year, a $16.4 billion increase over pre-pandemic levels in 2019.
The pandemic was tough on the wedding industry, as some couples opted for micro-weddings or skipped the party altogether. About 800,000 fewer people got hitched in 2020 than in 2019, and sales plummeted by more than half.
But with the pandemic in the rearview mirror, millions of couples are ready to finally tie the knot in style with family and friends. Couples will put down an estimated $24,300 each to get hitched this year. And as onlookers this season prepare for their own dream weddings in 2023 and beyond, experts predict that their price tags will go up, too.
That's good news for those who make careers out of celebrating other people's nuptials. Over the next decade, event planner employment is expected to soar by 18% across the U.S., while demand for bakers and photographers will also rise.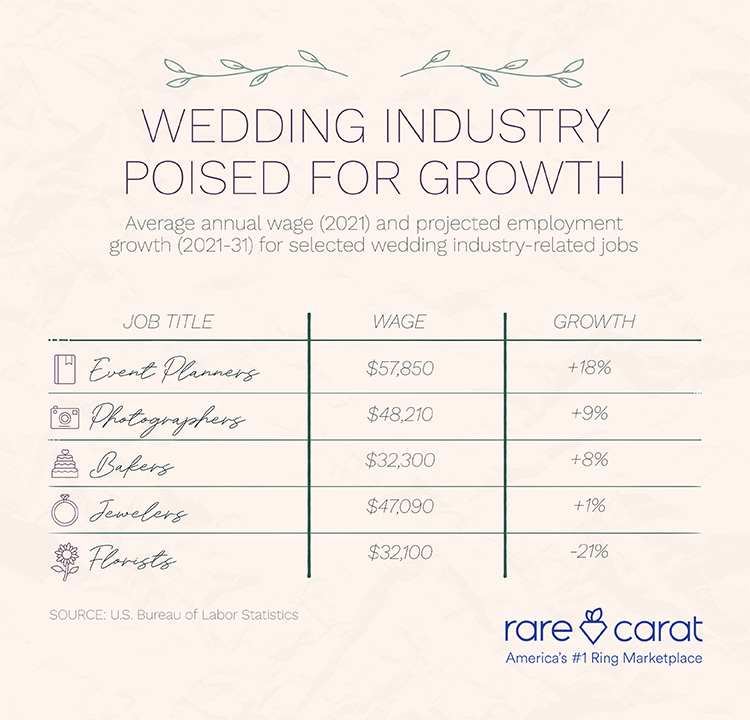 Rare Carat America's #1 lab & natural diamonds marketplace, conducted an analysis to find out where the wedding industry is back in full swing and where it's lagging behind across all 50 states. We examined federal pay and employment data for the personnel who ensure the big day goes off without a hitch: event planners, jewelers, florists, photographers, and bakers. Check out the full methodology at the bottom of the page.
Here's what we found:
New York is the best state to be in the wedding industry, followed by Washington, Rhode Island, Massachusetts and Hawaii. On the other end of the spectrum, West Virginia is the worst state for the wedding industry, with Mississippi, Kentucky, Alabama and New Mexico rounding out the bottom five.
The best states for the wedding industry tend to be coastal states with stronger economies and higher incomes in general – but not exclusively, with Utah, North Dakota and Montana all scoring above average.
No state is the perfect place to work in the wedding industry, and some states that score poorly overall shine for certain careers – and vice-versa. No. 40 South Dakota ranks fifth in the country for florists, for example, while No. 7 Hawaii is 35th for jewelers.
Best and worst states
New York came in as the No. 1 wedding industry state overall, with top employment and wage scores for event planners, jewelers and photographers, despite landing in the middle of the pack for florists. While other states excelled for either pay or job rates, New York scored fairly well for both metrics across career paths.
Yet even within the top-ranked state, there are major gaps between jobs in the wedding industry: Event planners in New York take home an average of $78,490 annually, more than double the average florist's salary of $36,200. And while New York stacks up better against other states for photographers than it does for bakers, the Empire State has only 39.1 photographers for every 100,000 jobs overall, compared with 133.9 bakers.
Runner-up Washington, meanwhile, is among the top five states for event planners, jewelers, photographers and bakers, though it didn't make the cut for florists. No. 3 Rhode Island scores well due to high employment rates, and neighbor Massachusetts ranks No. 4 overall because of its high average pay across the board. Hawaii, meanwhile, was propelled to the No. 5 slot by comparatively good pay for florists ($38,790), as well as high employment rates for photographers and bakers.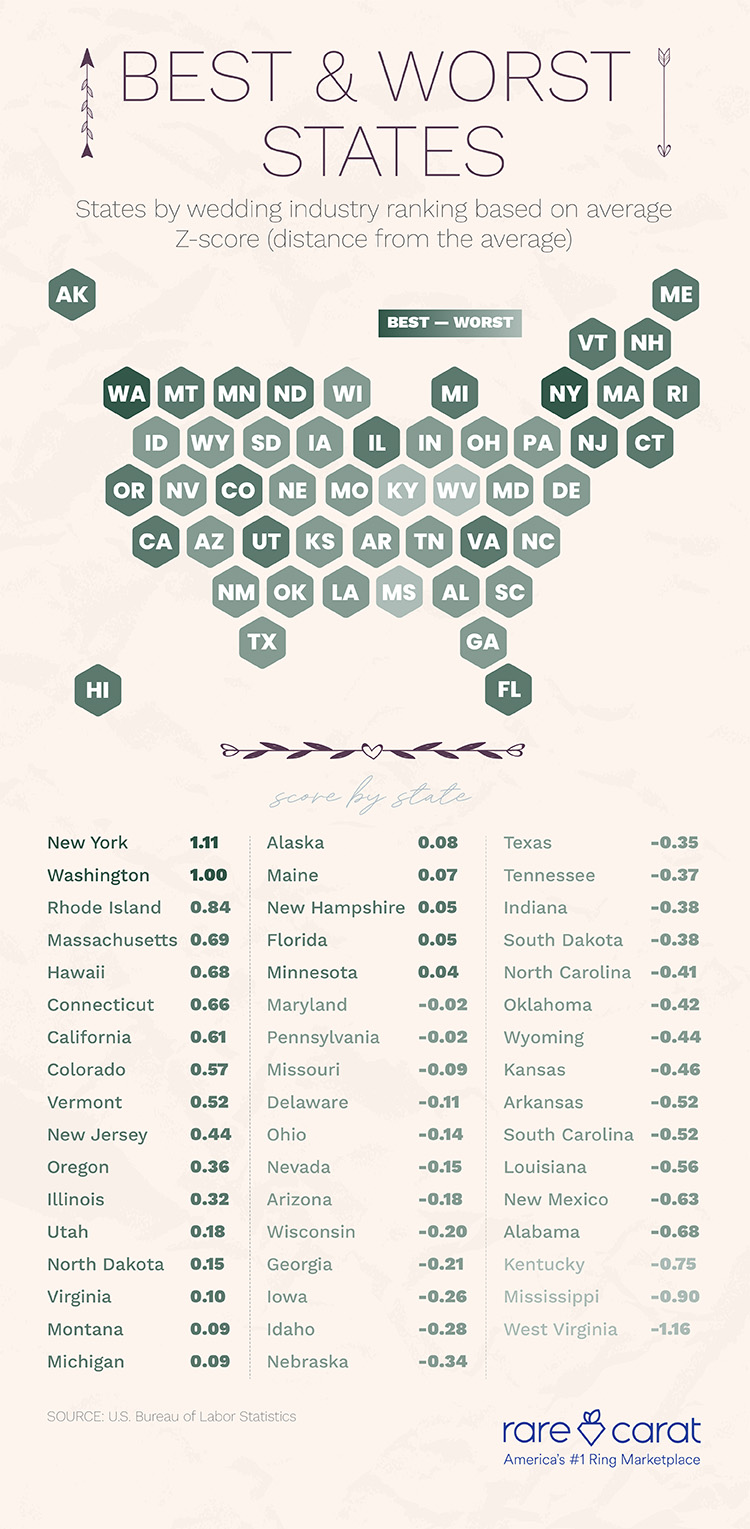 Meanwhile, No. 50 West Virginia landed at the bottom of the list for nearly every career path. Event planners, jewelers, photographers and florists make less money in West Virginia than anywhere else in the U.S., and job prospects are slim – except for florists, who boast a higher employment rate than in most states.
The other bottom-ranked states fared poorly overall, but particularly for some gigs. No. 49 Mississippi is worst for bakers, with an average annual salary of $24,430 and an employment rate of 83.3 per 100,000 jobs. Even so, that's much higher than in Kentucky, which ranked No. 48 overall and has 49.9 bakers per 100,000 jobs.
No. 47 Alabama also landed at the bottom due to its poor pay for bakers ($25,970), despite scoring in the middle for florists and jewelers. And No. 46 New Mexico was dragged down by its low scores for event planners and photographers.
Event planners and jewelers and bakers, oh my
New York landed as the top state for event planners due to their annual salary of $78,490, the highest in the country. But employment is hottest in Colorado, where for every 100,000 jobs, there are 128.9 people who earn a living by organizing logistics around weddings, conventions and other milestones.
New York also took the top slot for jewelers and photographers, with a better happy medium between employment and pay despite other states scoring better for one or the other. Rhode Island has the most jewelers, at 120.1 per 100,000 jobs, while their annual pay is highest in Massachusetts at $54,330 per year. Hawaii employs the most photographers, at 41.9 per 100,000 jobs – no surprise there, given the views – while Connecticut offers them the most take-home pay at $66,580 per year.
Connecticut also pays florists better than anywhere else: an average of $41,540 per year, making it the best state for artists who work with flowers and other greenery. But they're most likely to find a job in Idaho, where there are 53.1 florists per 100,000 jobs.
Finally, bakers should look no further than Vermont, where they're employed at a rate of 261.7 per 100,000 jobs. If they're chasing a paycheck, though, bakers should turn to New Jersey, where they make an average of $37,950 per year.
Diamonds in the rough
A few states with low rankings overall stand out for one or two career paths. No. 47 Louisiana, for example, scores 11th for florists due to their relatively high employment rate in the state. Meanwhile, No. 45 Arkansas has the fifth-highest average salary for jewelers, at $51,780 per year. Just don't expect a job – it's an exclusive club with 62 jewelers per 100,000 jobs, one of the lowest rates in the country.
Nebraska, which ranks 34th overall, is second-best in the country for florists due to their high employment rate in the Cornhusker State compared with elsewhere in the U.S.: ​​50.2 per 100,000 jobs. And No. 31 Georgia ranks second for photographers, with a high annual pay of $59,420, on average, and a strong employment rate.
Some of the best states for wedding industry careers overall also have some standout jobs – but on the other end of the spectrum. North Dakota ranks 14th overall, but lands among the worst states for event planners due to a low job rate and average salary. Meanwhile, No. 3 Rhode Island ranks in the top 10 for every job except florists, where it comes in 29th because of the scarcity of jobs, despite the high pay.
Methodology
We used data from the U.S. Bureau of Labor Statistics to determine where the wedding industry is booming. We chose five occupations central to the industry – event planners, jewelers, florists, photographers and bakers – and identified their average annual pay and employment per 1,000 jobs, a rate we converted to measure employment per 100,000 jobs. The data is from May 2021, the most recent state-level data. Washington, D.C., was excluded from the analysis to avoid unfair comparisons between city and state employment data.
We used a Z-score distribution to scale each metric relative to the average across all 50 states, capping outliers at 3. The rankings were calculated using the states' average Z-scores across the ten metrics. For states with some missing data, the overall Z-score was determined by averaging the remaining metrics. To compare states across jobs, Z-scores for employment and wage metrics were averaged.