Inside the workshop behind 77diamonds.com, the biggest online diamond jewellers in Europe CREDIT: GEOFF PUGH
In a tiny nondescript room, up a musty and yellowing staircase behind a Mexican restaurant in Mayfair, a group of master craftsmen are painstakingly working on multi-million-pounds' worth of diamonds. Given the glistening factory belt, it pays the security bills to be discreet.
With Valentine's Day just around the corner it's little wonder the workshop – one of only a handful left in Britain, now 90 per cent of jewellery purchased here is made abroad – is alive with activity.
Stones of every size, colour and clarity are being set, mounted, buffed and shaped; the air tastes thick with gold filings and buzzes to the tune of myriad miniature drill bits.
However, rather than ending up in Hatton Garden or a strobe-lit showroom off Sloane Square, these diamonds will be couriered into the hands of an online shopper who may never have seen it in – or on – the flesh before purchase, or asked a harried shop assistant time-honoured questions, such as "What's a marquise cut?" and "Aren't colour and clarity basically the same thing?".
Welcome to the brave new world of diamond buying; and a growing breed of consumer who – perhaps having swiped right to find their partner in the first place – thinks nothing of spending six figures on the jewel to seal the deal, at the click of a mouse.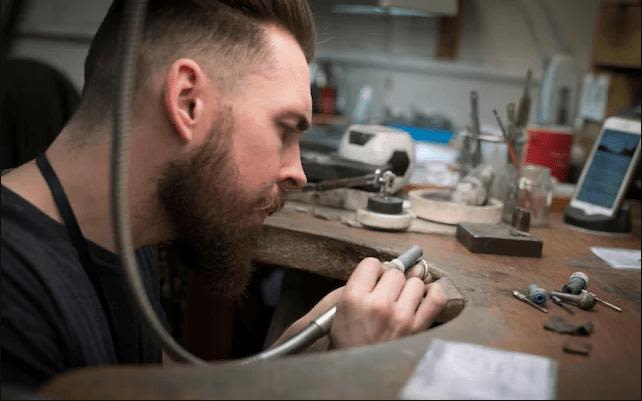 Increasing numbers of people are buying diamonds without seeing them in - or on- the flesh CREDIT: GEOFF PUGH
According to 77 Diamonds, Europe's largest online diamond jeweller, business has never been brisker. "This January was off the charts," enthuses co-founder Tobias Kormind, a former investment banker at Morgan Stanley, who remortgaged his flat to launch the business in 2006 alongside Vadim Weinig, a former diamond polisher and risk manager. "We are ridiculously over target."
The company boasts the biggest selection of diamonds of any website worldwide, and was last year reported to be on course to turn over £25million.
As well as off-the-peg rings, necklaces, earrings, cufflinks and bracelets, they offer a bespoke service where clients can click to design engagement and wedding rings or pendants, tweaking the stone's shape, cut, colour and clarity, while chat box windows pop up to ask whether you need help with the design, before a 360 degree video displays your final choice.
The aim was to compete with the world's finest jewellery companies at a price that would blow them out of the water by cutting out the middleman wholesale market; buying direct from manufacturers and cutters from all over the world and passing the savings onto consumers.
The result has been a business model that touts up to 76 per cent cheaper deals than high street stores such as Tiffany or Graff, and is part of a sea change in consumer spending habits on high-ticket jewellery.
It's Kormind's belief that consumers have never been savvier and old models of in store consultations and hidden price hiking are outdated. "We are trying to get ahead of the curve. It has happened in every other space: look at Amazon. Price transparency brings consumers who are empowered and have never been more demanding."
Given the decline of Hatton Garden amid rising rents and falling profit margins – not to mention multi-million pound heists – theirs is an unlikely Cinderella story.
The most anyone has paid for a diamond without viewing it, only flying in for the final stage of production, is £500,000, and more than half of 77 Diamond customers will part with as much as £3,000. Already they've been deluged with enquiries for look-a-like Meghan Markle engagement rings based on her three-stone design with a cushion shaped centre diamond.
Cushions are, apparently, very in. Pippa Matthews, nee Middleton's Asscher cut sparkler caused a similar ruckus; orders for their Art Deco-inspired design went through the roof.
But what of millennials? Surely they are too cash strapped with student debt, too worried about spiraling house prices, and too busy spending what's left on avocado brunches and city breaks to dig deep for diamonds – internet-bought or otherwise? Kormind doesn't buy this.
"Millennials still consider diamond jewellery as one of the main aspirational gifts you can give. The attitude of different generations hasn't changed. If anything, social media and Hollywood's influence through these platforms has put more pressure on them. There are so many people that you reach out to when you get engaged and there's a lot of awareness about the jewellery than goes with that."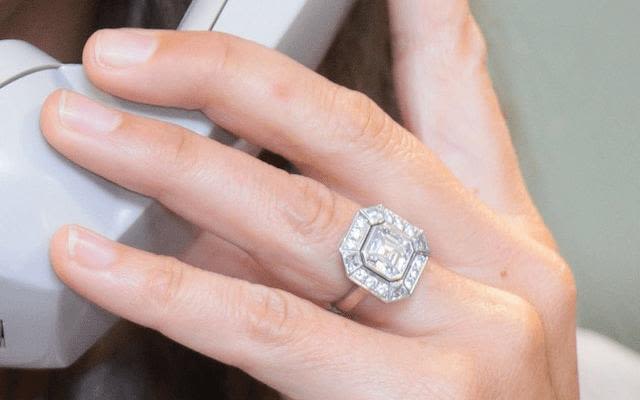 Pippa Matthews' Asscher cut engagement ring CREDIT: JONATHAN HORDLE/REX/SHUTTERSTOCK
A 2016 report by De Beers, the jewellers who coined the 1940s slogan "a diamond is forever", found millennials spent $26bn (£18.6bn) on new diamond jewellery in its four key markets (China, India, Japan and the United States); more than any other generation.
The market has also not been dented by falling marriage rates or right-on would-be-weds eschewing traditional engagement rings - as signs of 'ownership' - altogether. Last year it was reported that global diamond sales inched up to $80bn (£62bn) in 2016, despite gloomy forcasts.
Of course, not everyone buys diamonds for someone else - or waits for someone to give them to them.
"We're finding people, women especially, are more empowered to purchase these things for themselves," explains Kormind. "Classic diamond jewellery – studs and the eternity ring – are also rewards when you've had a good year or a good bonus for yourself."
What's more, while the Brexit vote caused diamond prices to soar by around 20 per cent as sterling struggled against the dollar, against which diamonds are generally priced, 77 Diamonds saw no drop in sales. Customers simply spent the same, but on smaller and less high quality items.
Back in the workshop, I meet master craftsman Stephen Barnard, an enchanting man with 50 years' experience in the jewellery business, who has worked on creations for Victoria Beckham and Princess Diana as well as the famous Burton-Taylor pear shaped gem that was valued at a cool £14.4 million. After passing through Boodles and Garrard, he settled here five years ago, for a future cutting internet-bought gems.
"This is the way trade is going," he insists. "People want simplicity. Tastes have changed. It's like architecture. In the old days I'd spend days making an elaborate ring, but now they want something simple and to invest in the stone."
Someone plops a ring into a high frequency cleaning bath and Barnard smiles. "They are more fussy here than Boodles. I used to get away with way more there."
The New Ways to Buy Gems
---
Man-made diamonds
In the last decade, the science of creating gem-quality diamonds in a modern-day lab has been perfected – offering peace of mind that they'll be conflict free, with flawless clarity and the same chemical composition of their geologically created counterparts. Try brilliantinc.co.uk
Recycle heirlooms
Transforming Granny's centrepiece sapphire from a broken necklace into a bespoke piece of jewellery cuts the cost and ups the sentiment. Look up geewoods.com or hattierickards.com
Compare the market
Plug in your preference for cut, price, carat, shape and colour and let Rarecarat.com – described as 'Kayak for diamonds' – aggregate the results. There's an artificial intelligence chatbot called 'Rocky' on hand if you get stuck.
Go vintage
Vintage designs increase in value over time whereas recreations do not. Ensure you go to a reputable dealer – antiquejewellerycompany.com and graysantiques.com are safe bets – and ask if it has been restored in any way, which can affect price.