Rare Carat's Ajay Anand in Dating Advice
The Short Version: If you're thinking about popping the big question, the first step is to find the right diamond to take her breath away. Most guys start by choosing a price range, carat size, and stone shape before embarking on the journey of researching jewelers. However, even if you think you've found the best ring, you may find yourself in need of some advice on how to get the biggest bang for your buck. For consumer-focused tips and ring-hunting help, people often turn to Rare Carat. This free online search tool makes it easy to sort results by price, value, retailer, or any of the 4 Cs. Rare Carat facilitates over $100 million in engagement ring sales annually thanks to its connections with a broad range of jewelers, from local boutiques to major brands and online-only retailers.
A few years ago, Ajay Anand decided to ask his girlfriend to marry him, and he began looking for the perfect engagement ring. He had accepted the fact that he'd be spending a lot of money — which he viewed as an investment in his future — but he still wanted to research all the options. After deciding on a budget and a stone shape his soon-to-be fiancée would love, Ajay took to the internet to find a diamond.
"When I was getting engaged, I was like every guy out there: You have to spend an amazing amount of money on a stone, and you don't even know where to start," he said. "You're just hopping sites, manually putting in the same criteria over and over. It was super annoying, and I couldn't believe no one had built anything for that."
After Ajay bought a ring — and his now-wife said yes — he decided he wanted to make it easier for other guys to impress the loves of their lives. He enlisted the help of software engineers, certified gemologists, and other business-savvy folks to launch his project Rare Carat. In the last two years alone, Rare Carat has facilitated more than $100 million in engagement ring sales – even though Rare Carat itself doesn't actually sell jewelry. Instead, the business is focused on helping potential ring buyers more easily navigate the experience with as much information as possible.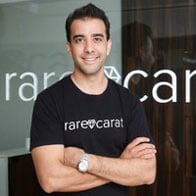 Ajay Anand founded Rare Carat to help guys find the right engagement diamond.
"We are totally aligned with consumers," Ajay said. "We have a search engine that includes a million different diamonds from the retailers we have listed — but the beauty is they're all competing against each other for users on our platform, so the prices are pretty amazing even compared to some of the bigger sites that are out there."
Read the whole article here.