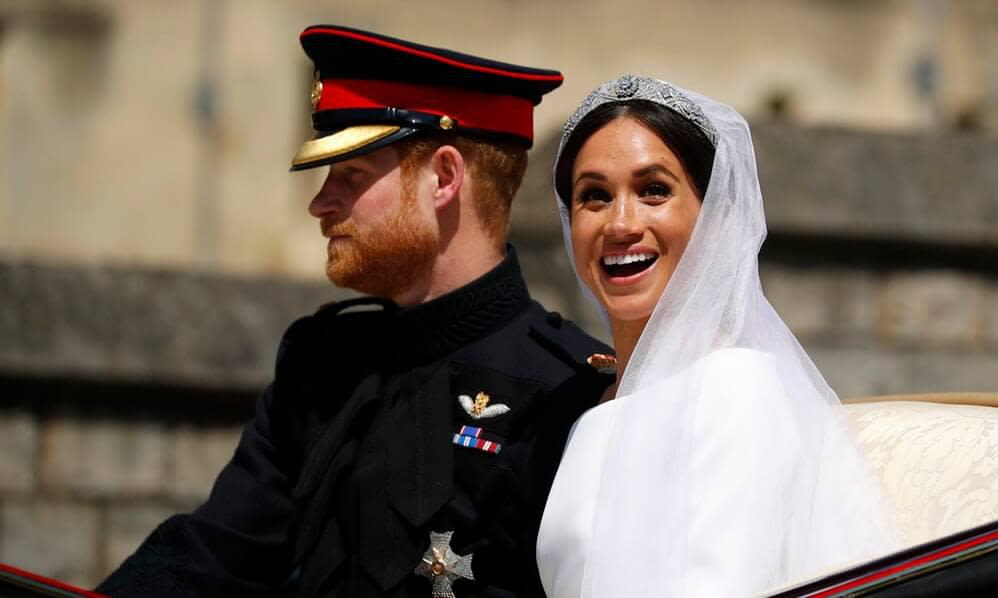 How Much Did Meghan Markle's Wedding Band Cost? It's Probably More Than You Think
---

Genevieve Wheeler  //  May 20, 2018   
It's official: Prince Harry and Meghan Markle became the Duke and Duchess of Sussex after tying the knot at a glorious ceremony on Saturday today. The couple will make their vows at the gorgeous St. George's Chapel of Windsor Castle. But with that newlywed glow practically pouring from their pores, it's easy to miss the shine of Harry and Meghan's wedding bands.
Wedding bands, to be specific, is an important — men in the Windsor family generally choose not to wear wedding bands at all, but it appears that Harry opted to don his. The choice seems partly due to personal preference and partly because it's become a bit of a royal tradition. While Harry's father, Prince Charles, has worn wedding bands to mark both of his marriages, neither Prince Phillip nor Prince William have chosen to don Welsh gold on their ring fingers. I guess you don't really need to sport a wedding band when the world watched your nuptials, right?
That said, Meghan Markle's new wedding band is made of Clogau-Welsh gold, which has been a wedding tradition in the family since 1923. It's arguably the world's most precious metal and it's literally priceless.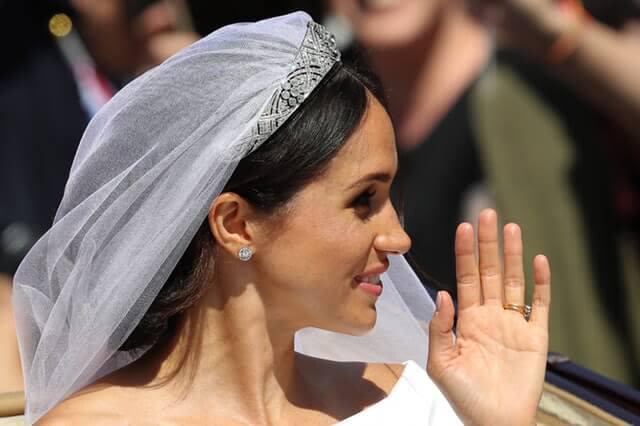 The incredibly valuable metal is said to have a richer, more golden hue — sometimes described as rosy (though it's not rose gold) — than your average yellow or white gold. According to The Guardian, the gold used to create bands worn by the Queen Mother, the Queen, Princess Margaret, and Princess Diana (and, presumably, Kate Middleton) were all pulled from the same golden nugget, sourced from St David's mine at Bontddu in North Wales.
As mineral and mining expert Dr. Mike Bassett shared with the BBC,
From its discovery by the Romans, up until when the colonial gold rushes of the 19th century opened up new sources, the gold produced in Wales played a reasonable part in the British economy; though it was never regarded as anything distinct from gold in general... Welsh gold only became fashionable when the Queen Mother chose it for her wedding ring in 1923.
When Kate Middleton and Prince William wed back in 2011, only Kate opted to slide a wedding ring beneath that sapphire glacier on her left hand. Like Meghan, Kate's band is also made of 18-karat Welsh gold, designed and crafted by English jeweler Wartski, as reported by People. It was created from a block of such gold that the Queen reportedly gave to Prince William shortly after he and Kate got engaged.
Wartski was also responsible for designing Prince Charles' and Camilla Parker-Bowles' rings when the pair wed in a civil ceremony in 2005 (their rings are also of Welsh gold, because of course).
"It's almost impossible to get your hands on a Welsh gold ring of the sort Kate Middleton wears," says Erica Hirsch, Rare Carat's GIA Gemologist. "The mine that produces the gold is nearly dry. What is sold as 'Welsh gold' is often just a very small amount of Welsh gold mixed in with normal gold, estimated at $300."
The gold of Meghan's new wedding band will perfectly match her engagement ring, which was made from gold and diamonds, including diamonds from the personal jewelry collection of Diana, Princess of Wales.
And honestly, that baby looks pretty darn good beneath the new Duchess of Sussex's custom-made engagement ring. Which, to refresh your memory, is valued at approximately $350,000, pays tribute to the late Princess Diana, and was thoughtfully designed by Prince Harry himself.
What can I say? I'm gold with envy. Time for me to go find a prince of my own.